Tone your butt in 28 Days with the new Booty Busting Fitness Challenge coming to the Healthy Mummy App this April!
There's a brand new  Booty Busting 28 Day Fitness Challenge coming to the Healthy Mummy App! We start on March 28th and by following this exercise plan your butt is going to be firmer this Easter!
This new program includes a mix of some of our BEST booty workouts!
There will be 4 different styles of booty workouts in the program every week throughout the month which will  include high intensity and low impact workouts.
Along with this new Fitness Program, there will also be new recipes for Easter, new Real Mums Meal Plans all in the Healthy Mummy App in April! Drop a dress size this April and join the 28 Day Weight Loss Challenge!
Take a look at some of the workouts below!

Booty Busting Fitness Challenge
All the exercise programs in the April's Booty Busting Fitness Challenge focus on working your glutes, hips, adductors, abductors, hamstrings and quadriceps  – that is, the butt and thighs! Not only will this program strengthen your legs and tone your butt, they are also particularly helpful in regaining core strength following pregnancy.
Each week, there will be four different styles of Booty Busting exercises led by four of our amazing trainers, Shauna, Laura, Jade and Jo.  The mix of different workouts means your body will be challenged in different ways plus, it will give you the opportunity to try exercises you may not have tried before! Some of the exercises will include:-
Hamstring Strength and Stretch with Shauna
Shauna heads up our 28 Day Power Yoga Program which is a powerful vinyasa yoga. Her teaching is authentic and strong and aims to balance the mind, body and spirit in each practise.
The Hamstring Strength and Stretch Workout in Week 1 focuses on an all over workout with particular attention to the  three major hamstrings in your legs, lengthening and stretching, to tone and strengthen.
Kettlebell Lower Body Strength with Laura
Our awesome trainer Laura runs the Kettlebell workouts in the Healthy Mummy App which are a great form of strength and cardio whilst being a fun and different type of workout.  These type of workouts can improve endurance and strength, whilst burning calories and fat. If you don't have a kettlebell you can also use handweights.
In Week 2 Laura will be running a Lower Body Kettlebell Workout, focussing on the legs, glutes and thighs.
Pilates: Core Balance and Glutes with Jo
Jo runs our amazing Pilates program to help you increase your muscle strength and tone,  particularly of your abdominal muscles, lower back, hips and buttocks and improve balanced muscular strength on both sides of your body. It can also improve your posture and stabilisation of your spine.
In Week 3, the Booty Busting Fitness Challenge will include a Pilates Class that focusses on your core balance, glutes and legs.
Step Intermediate Cardio and Strength with Jade
Along with lots of different styles of exercises, our fabulous fitness trainer Jade heads up the Take 10 Step classes designed to have maximum workouts in minimal time.
This cardio workout in Week 4 will get your heart beating fast and with resistance from the Step will strengthen your legs, glutes and thigh muscles for a great lower body workout.
Other workouts in the Booty Busting Fitness program include:
HIIT Lower Body Cardio and Core
Handweights:Legs
Tabata Booty Blast
Kickboxing Tabata Total Body Blast
Legs and Booty Blast
Handweights Glutes
Afterburn Abs Butt & Thigh
Ready to up your fitness and lose weight on the 28 Day Weight Loss Challenge?
There are now over 500 workout videos to choose from as part of the 28 Day Weight Loss Challenge. There is an exercise video to suit everyone no matter your fitness level!
Real Mums Workouts
Pregnancy Workouts
Total Body with Weights
Fit Programs
Tabata
Dancefit
Box jump Workouts
Butt and Thigh/Belly Blater/Core
Resistance Bands
Get Moving with the 28 Day Weight Loss Challenge!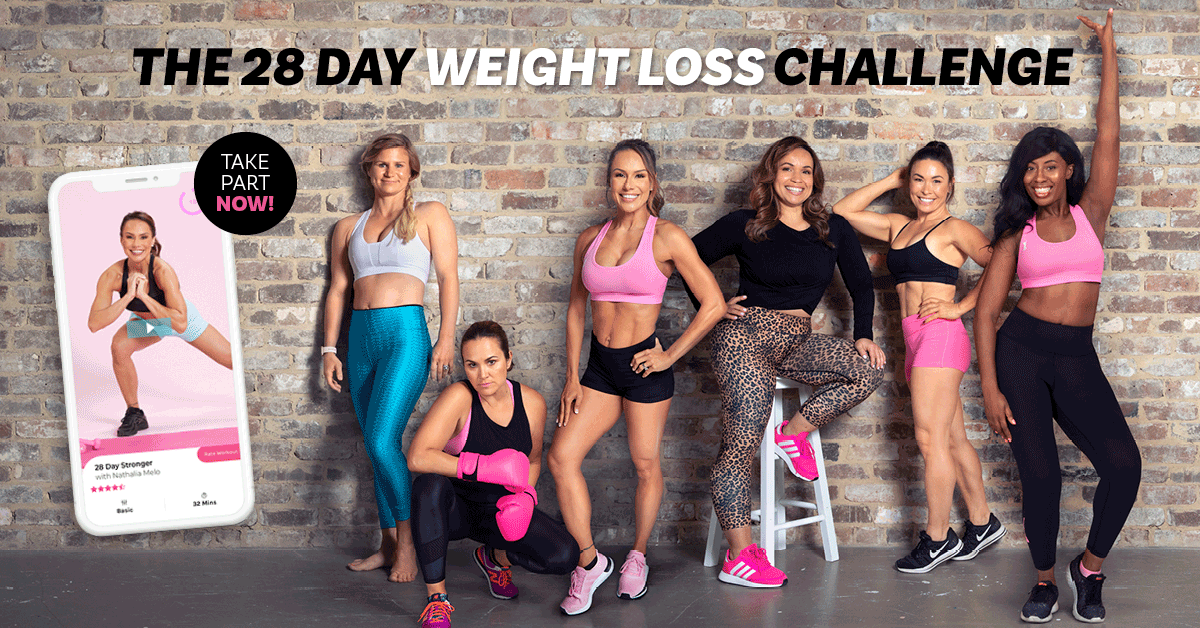 If you are inspired to get moving and want to take charge of your own health and weight – then join our 28 Day Weight Loss Challenge TODAY.
With more than 6000 delicious (and healthy) recipes, 500 exercises & 24/7 support – the 28 Day Weight Loss Challenge is designed (and proven) to help busy mums like you lose weight!
For more information on the 28 Day Weight Loss Challenge, click here.