Aussie Mum Designs Incredibly Lifelike Breastfeeding Doll
When Brisbane mum-of-two Betty Strachan noticed the lack of breastfeeding dolls on the market, she decided to do something about it. The talented Aussie mum says she was determined to end the stigma surrounding public breastfeeding.
So she created a Breastfeeding Barbie lookalike, a customised doll that's being hailed as a powerful teaching tool for little girls around the country.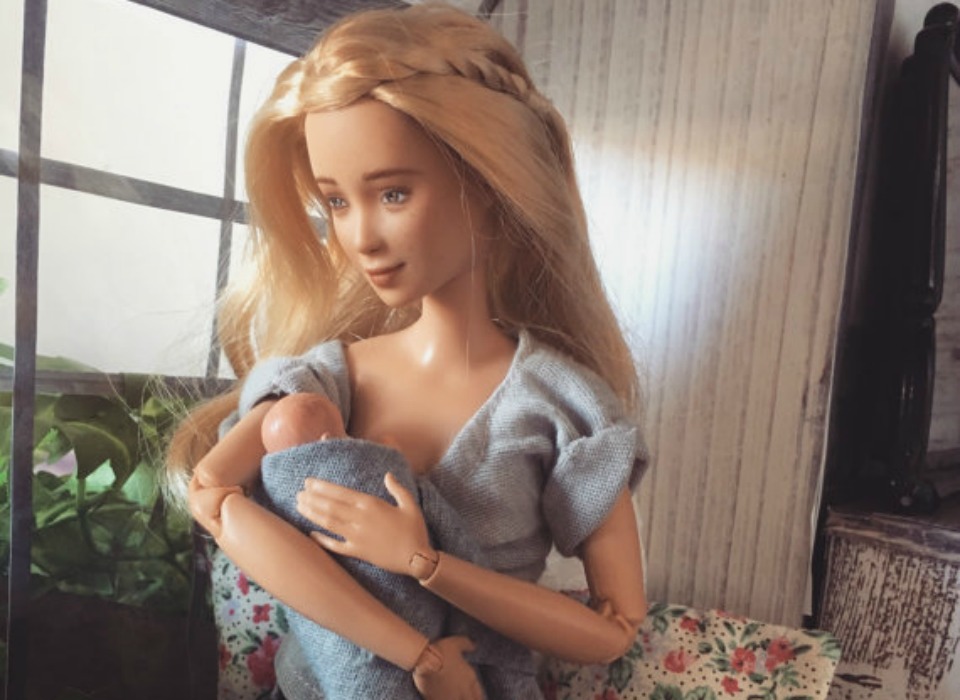 The Doll That Reflects Modern Day Motherhood
Let's face it; Barbie has grown a lot since we were children. She's taken on several suitors, held down several careers and undergone several transformations.
But to many mums this iconic doll remains a symbol of unattainable perfection. In addition, many of us see it as an unsuitable role model for our young children. 
There have been plenty of more lifelike dolls that have entered the market in recent years. Some have acne, stretch marks and average body types.
But it seems few celebrate the beauty of motherhood quite like Breastfeeding Barbie lookalike.
An Attempt To End Stigma Around Public Breastfeeding
Inspired by her mothers' group, Betty Strachen created Breastfeeding Barbie lookalike. She did so partly to help end the stigma surrounding public breastfeeding.
With soft features, comfortable clothing and a make-up free face, the Barbie lookalike is a beautiful reflection of today's typical mum. As a result she's natural, peaceful and content.
The breastfeeding doll is one of the many life-like ones in the collection. Betty has already created a gorgeous Pregnant Barbie lookalike. It comes complete with the popped belly button and linea nigra.
The dolls have been repainted from original Barbies and therefore reflect a more diverse and real society than most on the market.
They are especially relevant because many come with freckles, glasses and gaps in their teeth. The dolls feature many of the naturally occurring features that make us unique.
Embracing The Imperfections
"Growing up it always struck me as odd that there wasn't as much diversity in the doll world as there could or should be. Not every child is born with blonde hair and blue eyes," Betty says.
"When I became a mother, seeing the effect of the toys children are exposed to firsthand, I noticed that the lack of diversity could be potentially damaging psychologically.
"A girl with brown skin and dark eyes may look at a light skinned doll and wonder why it's classed as beautiful and she is not."
Education Through Imaginative Play
Betty's Breastfeeding Barbie lookalike was designed to help normalise breastfeeding and celebrate diversity in society. It's also a valuable tool that can educate young children on the act of breastfeeding.
"These breastfeeding dolls have been created to celebrate breastfeeding in an educational and comprehensive way for children," she says.
The Breastfeeding Barbie lookalike truly is a beautiful gift and teaching tool for any child. We think it's especially relevant for today's kids.
Check out Betty's range of other equally creative and natural dolls through her Instagram or Etsy pages.