14 beach-friendly weight loss recipes
Heading to the beach? Grab 14 healthy weight loss recipes for foods you can easily pack in a picnic basket and enjoy on-the-go. Delicious, nutritious, and beach-friendly!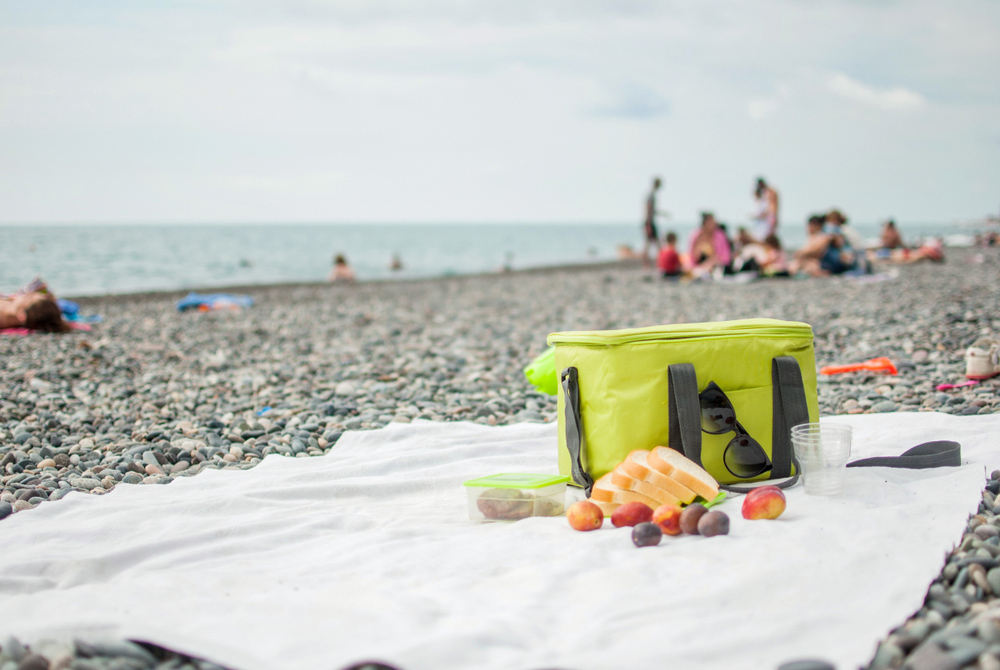 With summer in full swing, it's time for some beach days! But if you're trying to stay healthy on-the-go, you'll need to find easy, packable snacks and lunches to stay on track with your weight loss goals. Plus avoid the temptations of frosty drinks and ice cream!
In this article, we'll talk about our top tips for staying focused, then round-up some of the best summer and beach-friendly weight loss recipes from The Healthy Mummy.
Jump ahead to read more:
Beachside temptations to watch out for!
Why do so many people lose track of their healthy meal plans when they visit the beach? Well, they're surrounded by temptations…
The ice cream truck pulls up… and when it's a hot day, it can take some real willpower to resist getting a cone or an icy cold thick shake. Even though you'd normally enjoy a Healthy Mummy Smoothie, your trusty food processor is nowhere in sight.
And then you've got the fish n' chip shop across the road. You can smell the greasy fish and chips cooking in the deep fryers and if you're hungry and didn't pack lunch, it can be tempting to stroll across and order a pack. Plus, a sugary cold beverage or two.
How to stay focused on your weight loss goals
Here are a few tips to help you avoid temptation and stay focused on your health:
Pack an amazing and delicious picnic before you leave home
Pick healthy weight loss recipes that include the right mix of ingredients and nutrients for your body
Meal prep so you don't have to worry about what to eat once you get home, too
Let friends and family who are coming know that you're on a healthy eating plan so they don't offer you their packet of chips or soft drink
Enjoy your gorgeous beach body and celebrate all that you've achieved from your weight loss already
Okay, so let's get practical and talk about how you can find foods that support those goals!
Weight loss recipe essentials (for the beach)
Meal planning for the beach in summer is a little different to meal prepping for home, work, or school lunches. Here are some essential factors to consider:
Cold and refreshing – Make sure it's suitable for spending a few hours in the sky
Satisfying and filling – Because beach days are hungry days and your weight loss recipes need to be filling, too!
Kid-friendly – So your kids can focus on having a good time with a full belly and you don't have to do extra meal prep
Nutritious – Make sure it contains enough fibres, protein, and good fat to help you feel full for longer so you don't give in to cravings
Our favourite beach-friendly recipes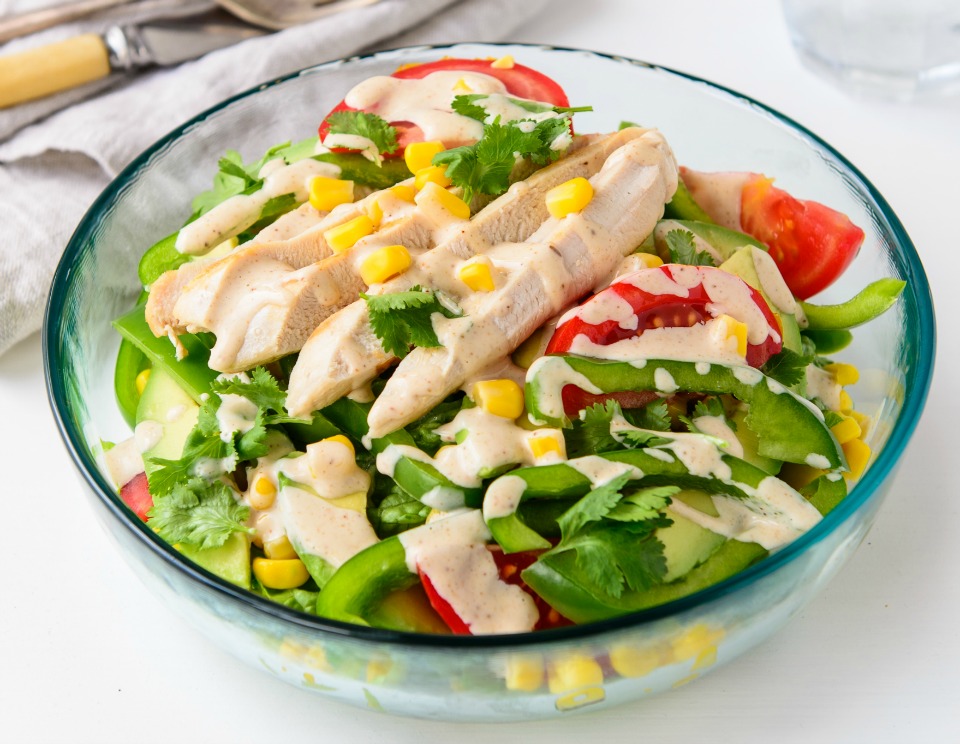 We've gone through our collection of weight loss recipes to find the top 14 most beach-friendly foods you can easily prep and pack for a day at the seaside. From sweet and savoury snacks to tasty lunches and salads, we've got your whole day covered.
Sweet snacks
These better-for-you sweet snacks make a lovely morning or afternoon tea. With a mixture of cool, no-bake options and home-baked goodness, you'll get an extra boost of energy that's also full of nutrients.
Savoury snacks
Forget the packet of chips (or hot chips). These savoury snacks will fill you up just enough without ruining lunch. And they're easy to eat on the go so your kids don't have to stop for long when they're busy playing in the water!
Lunches
These delicious lunches taste AMAZING cold, will fill you up in all the right places, and won't weigh you down in the water. They're perfect to add to your beachside menu (and any leftovers make a great packed lunch the next day).
If you bring a healthy selection of lunch foods and snack options, you'll find it so much easier to avoid the local fish n' chip shop and ice cream truck! Want more weight loss recipes and picnic ideas? Check out our healthy food ideas you can take to a summer BBQ.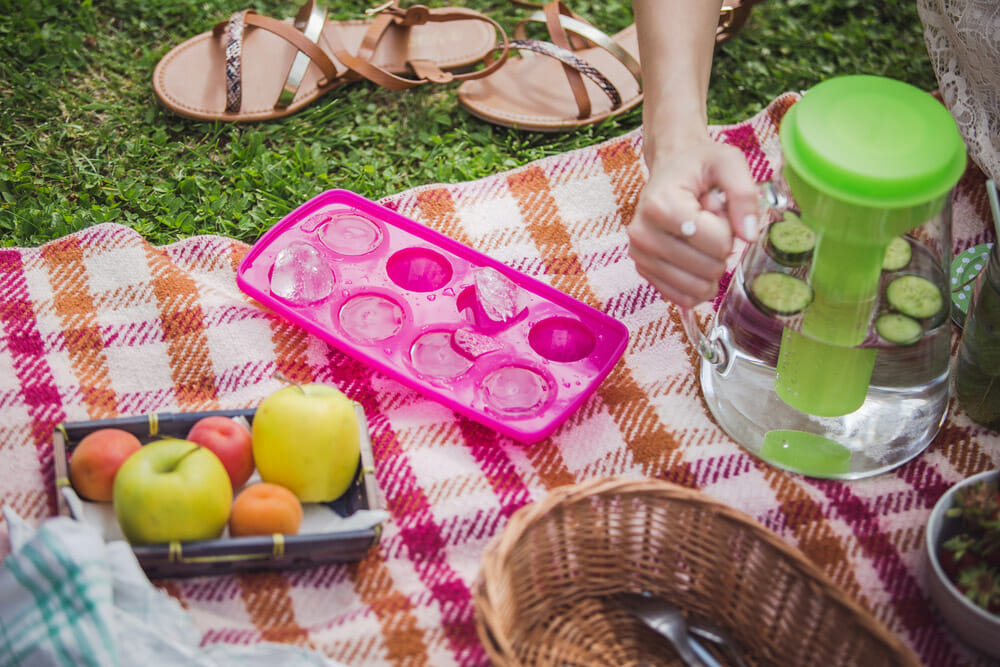 What to bring on your picnic
If you go on picnics pretty regularly, chances are, you already have a set pack list (or a pre-packed bag ready to go). But if you're a bit rusty and haven't picnicked in a while, follow our pack-list to make sure you've got everything covered:
Sunscreen and insect repellent
Blanket and table cloth
Bottles of water
Napkins
Chopping board
Cups, plates, and cutlery
Sauces
Bin bag
Esky and ice bricks
Healthy meals and snacks to last your whole day
Baby wipes
Beach towels (because even if it's not in the plans, your kids WILL end up in the ocean)
Swimmers and changes of clothes for the kids (plus nappies if they're little)
Hats
You might also want to bring a beach shelter or portable gazebo if you're planning a long day in the sun.
How to pack your food for the beach
This is important because you want your food to arrive safely (cold enough to keep the bacteria at bay on a hot day) and looking delicious (not all jumbled up and messy). So here are a few tips to help you pack your food for the beach:
Pack your food in airtight containers that are just the right size
Use greaseproof paper between layers if you need to stack foods (like cut sandwiches, brownies, or pizza scrolls)
Invest in a good cooler bag and a few ice bricks to keep everything together and cold until you're ready to eat
Eat any perishable/cold items earlier in the day; for example, you might eat stuff with dairy or meat in them within the first 3-4 hours after leaving home
Take your time with foods that are relatively stable at room temperature (like an uncut piece of fruit or a cookie)
Get beach food ready with The Healthy Mummy

Love the weight loss recipes you saw here? They're a sneak preview of what's to come when you join the Healthy Mummy's 28 Day Challenge. There you'll get access to amazing community support and thousands of delicious, nutritious weight loss recipes you'll love to cook again and again.
As a Healthy Mummy, you'll have the confidence and support you need to stick to healthy eating plans, even when you're surrounded by lots of temptations (like at the beach). Ready to finally get the results you've wanted? Join our next round today!