Whether you are a working mum or dad or you have toddlers who refuse to stay in a pram or be minded at a gym crèche, exercising with kids can be tricky. And a regimented exercise plan is often near impossible! Sometimes the best way to exercise is through 'organised incidental' exercise.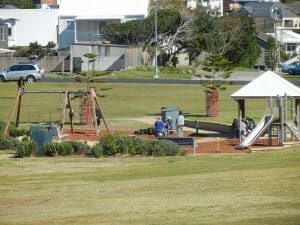 I have posted about incidental exercise before, but today I wanted to show you some organised incidental exercises in the park.
In the last couple of months as my 3 year old has become a lot more squirmy in the pram, this has been a fortnightly or weekly occurrence. If you work all week and all you want to do is play with your kids, then this is also a great way to fit in some 'organised incidental' exercise on the weekend.
The above photo is your working and playing ground. Trust me on two things, your kids will LOVE it, and people will look at you. But you know what, you are the one who has laughing and smiling kids and the mumma who leaves feeling GREAT!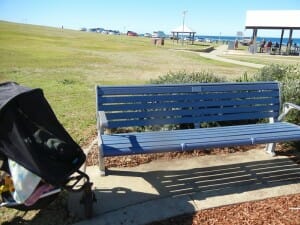 Look to your left. That is NOT a chair to sit down and watch the kids play. This is not a chair to sit down and have a natter or whinge to yourself that your pants are tight. This is a chair to do:
If you have done neither before, use the higher back rest of the chair as your support so you don't have to dip so low. Start with repetitions of 10 and 1 set and build your way up.
I am shocking at tricep dips. I am only up to 2 sets of 20 and they are killing!
You can also use the chair as support for doing some lunges too! Go chair!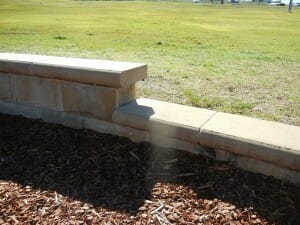 To your right is not some beautiful sandstone steps. They are two types of step ups you could do. Step ups are a great all over leg and buttock work out.
Firstly you could do low fast step ups
Secondly slower higher step ups
The day after I ever do step ups, my legs burn, especially my calves. But I love it.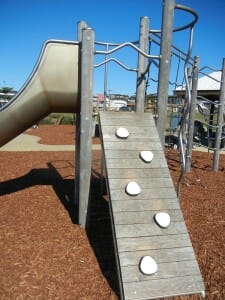 Being an ex defence wife, this looks like an army obstacle course! Perfect for running and climbing over. Chase the kids round and round and you will be puffed, I assure you. Lifting your legs over bars and bending down under child sized gaps. Puft! It is intense and fun. Just try not to fall over in giggles of laughter!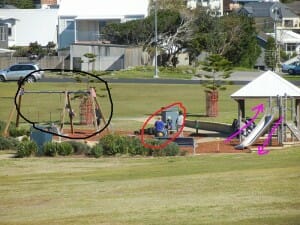 The black circle: push your kids in the swing and then run around to boo them. Better yet, run around the whole swing set.
The red circle: a see saw. Bending and straightening your back and abs are a great core workout. Crunch and crunch. I adore the see saw, always have. But I can never get the song right. See saw majorie door, johnny shall have a good master…..
And the pink arrows: Climb up and down the slide. Up and down, just like your kids do. It is full on especially if you keep slipping, but so much fun!
I am by no stretch of the imagination an expert in exercise. Food is more my style. So if you would like some more structured advice to exercise from a professional, have a look at our 28 exercise and diet plan which keeps mothers, including new mothers, in mind. This Is one of the enjoyable moment of exercise with your kids.
I don't really need to say it as I know you will, but have some fun with this one and tell me what your suggestions are!
Mandy dos Santos (BSc. Food Science and Nutrition, Grad. Cert. Human Nutrition)
Don't forget to post me a question on Facebook about food or nutrition so you can read more about what you want to read!