What Do The Family Tax Benefit Changes Mean For YOU?
There have been some recent changes to Family Tax Benefit that have flown under the radar for many people. Governments don't tend to like to make big media announcements when they cut payments, but we've checked it all out and have summarised it for you.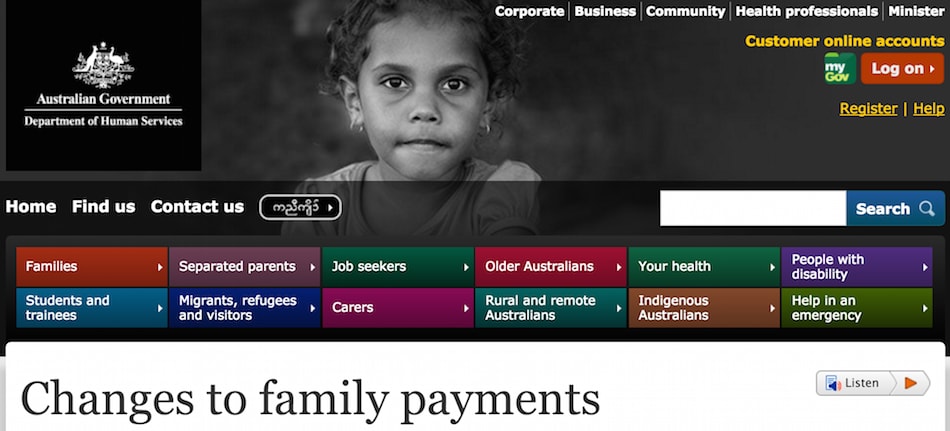 What Changes Are Being Made To Family Tax Benefit
Change in income cut off for end of year FTB A supplements
Up until now, the supplement of up to $726.35 for each child was paid once your payments had been balanced, after the end of the financial year. The income test was the same for the supplement as it was for fortnightly payments and was based on the number of children you had, their ages and your family income.
The new changes mean that NO supplements will be paid for any children where the household income (both parents combined) is over $80,000 before tax.
Yearly cost: Up to $726.35 per child.
Changes to how taxable income is assessed
If you salary sacrifice, your taxable income will now include 100% of the grossed up value of any reportable fringe benefit unless your workplace is a charity or other excluded organisation. Talk to Centrelink about what this will actually mean for your fortnight payments as it will vary on a case by case basis.
Yearly cost: Affects fortnightly payments, varies on a case by case basis.
Single income family supplement
The payment of up to $300 a year will not be paid to any new customers. Existing customers may continue to receive the payment. Individual cases will need to be checked with Centerlink.
Yearly cost: Up to $300
Parental leave/ Dad & partner pay leave
These payments will now be considered part of your assessable income for income support payments. It's not likely this will have a huge effect for most people, although those on minimum wage and/or with irregular incomes may notice a small decrease in their overall income support for the year.  You will need to check with Centrelink to confirm how this might affect you.
Yearly cost: Minimal
Pauses to indexation
The salary cut off limits for payments are usually subject to indexation each year. This ensures that a family whose income goes up by only the amount of inflation (and thus is not actually able to do any more with the money they receive as other costs rise at a similar rate) isn't disadvantaged by losing out on payments.
Indexation won't be applied until the 1st July 2020, meaning the following cut offs won't increase, effectively meaning families whose incomes are only just within the eligibility range for FTB will lose benefits.
FTB Part A higher income free area, which is currently $94,316
FTB Part B primary earner income limit, which is currently $100,000
We got our information from Centerlink HERE.
Yearly cost: Varies, potentially hundreds, if not thousands of dollars a year for some families.
School Kids bonus
Technically this change came in during July but many parents won't notice it until the next round of payments isn't paid!
The final payments of the school kids bonus was paid in July and no further payments will be made.
"FTB changes: FTB Part A supplement is now subject to an income test of $80,000.  The supplement will be paid to eligible customers from July 2017 after we balance their family assistance payments.  If your family's income for the 2016-17 financial year is over $80,000, you won't get the supplement." Taken from the Centerlink website HERE.
Yearly cost: $215 for each child in primary school and $428 for each child in secondary school.
If you are still unsure you can read more about the changes on Centrelink's website HERE.
Changes to family payout
School kids bonus payments are ending