Hi Healthy Mummy team, I wanted to send in my health and weight loss story after starting on The Healthy Mummy plans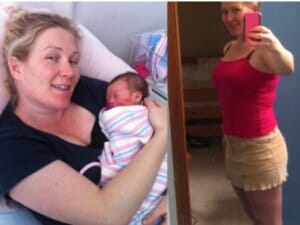 I gained a normal 15kg of pregnancy weight in my pregnancy and I am now down to 69 kg after using the Healthy Mummy Smoothies which I bought  after a friend recommended.
Having the Healthy Mummy smoothies was also a great way to get fruit and calcium in my diet as well as the vitamins and minerals and protein from the smoothie mix.
Following the plans has also made it easy to eat lunch as I now do not have to organise to cook a healthy lunch which can be really hard with time being so tight.
I have also made sure I have fresh fruit on hand and veg cut up in the fridge. Each night we have a large salad or steamed veg with either fish, chicken or red meat whether that be in the form of stirfry, veggie bake, salmon patties or just steamed veg.
I also walk 3 times a week about 8km each time and have started boot camp for an hour once a week.
I feel healthy, am getting more toned and am handling the challenges of mother hood better than I would if I didn't eat well and exercise.
Thanks for all the tips and motivation from seeing other mums achieve their goals!
Beck Enright
Thank you so much, Beck (and you can see more amazing weight loss results and stories here)
If you are ready to lose weight then the Healthy Mummy plans offer a healthy and safe exercise and diet routine that are safe in breastfeeding.