Written by Amanda Abel
This is kind of a Part 2 to a previous piece I wrote about taking the time to slow down and look after yourself.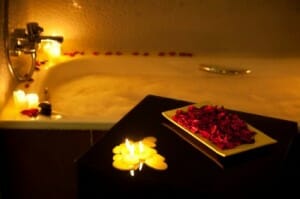 After I wrote that piece, I really started thinking about how I look after myself and realised that although I do try to allocate a few minutes to myself to do my nails, read a book or call a friend, my whole day is filled with what I like to call "Incidental Indulgences".
If you've heard the term "Incidental Exercise" thrown around before you'll understand what I mean! However as well as taking the opportunity to add exercise into my day incidentally, I try to add little luxuries or indulgences in between running the household and looking after my daughter.
Things like having hand cream next to each tap in the house so that every time I wash my hands I can throw some hand cream on to keep my (over-washed) mitts in good condition.
Another indulgence is having luxury tea bags as I no longer have the time to make a pot of tea every time I want a cup, but a good quality tea bag is my compromise. I also make sure I've always got some body lotion (at the moment its stretch mark cream…) to put on after my shower. These are the kind of luxuries that when I'm not incorporating them into my day, I know I'm not looking after myself and I need to stop and regroup.
So I've been racking my brain to think of other low and no cost Incidental Indulgences that might work for other people – here are some I've come up with:
Top incidental indulgences
Add a few drops of essential oil to your shower and enjoy the sensory benefits
Burn a scented candle while you go about your daily chores at home
Have a bath instead of a shower at night once the kids are in bed
Write with a nice pen
Warm your towel for after your shower or bath
Have your cup of tea of coffee somewhere different to usual like the balcony or garden
Invest in a scented hand wash or make your own – Google search how.
Keep a sample card of your favourite perfume (those ones the "snipers" at department stores practically throw at you!) in your handbag to keep it smelling nice
What kinds of Incidental Indulgences do you incorporate into your day?
This article was written by Amanda Abel from Abel Psychology
If you are ready to lose weight then The Healthy Mummy plans offer a healthy and safe exercise and diet routine that are safe if you are breastfeeding.
And don't forget to check out our current promotions and discounts page to see what specials we have on this week on our Healthy Mummy product range