Mum who lost 16kg reveals her go-to recipe when she's in need of a chocolate fix
After finding a picture of herself with her newborn daughter that made her 'ashamed' of  how much she had 'let herself go', Ashleigh decided to sign up for the 28 Day Weight Loss Challenge and try The Healthy Mummy products in January.
The mum of 2 has lost 16kg in 5 MONTHS! Starting her journey at 119kg, Ashleigh currently weighs 101.6kg. Go girl!!
Ashleigh tells of how she has started to overcome her habit of comfort eating and how she doesn't need to give up chocolate in order to maintain her healthy eating plan below!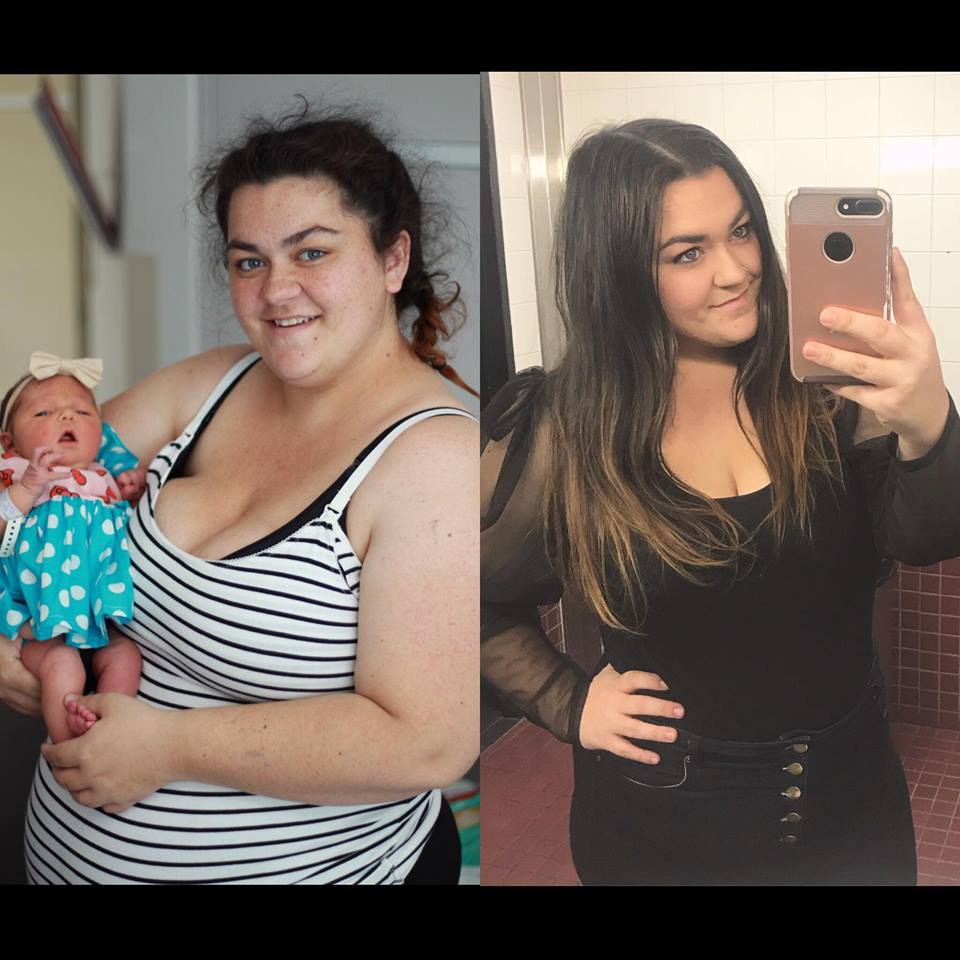 How Ashleigh lost 16kg in 5 months
Comfort eating was a huge obstacle for Ashleigh that she needed to overcome.
She says, "I separated from my husband in February and the 3rd birthday of my stillborn twin daughters was in May. I really struggled through these periods as food has always been my comfort." 
After seeing the Challenge app, Ashleigh said she loved how simple and easy to use it was so decided to take the plunge and give it a go!
"I no longer tear myself to shreds when I look in the mirror, I can look at myself and see how far I've come. My mental health has never been better!" she says
Changing habits
Admitting she is not the biggest fan of exercise, Ashleigh is working on trying to do at least one Healthy Mummy exercise video a day.
With no goal weight in mind, Ashleigh would aims to be healthy and comfortable in her clothes and is practicing this by customising her meal plan.
"I don't have a time frame to achieve it by, I'm just taking my time and enjoying the journey!" Ashleigh says.
When it comes to cooking, Ashleigh has found her grocery shop has been reduced since joining the Healthy Mummy and finds she uses up all her ingredients and has less wastage now that she customises her meal plan.
Ashleigh meal preps by making 4 serves of a dinner instead 2 and freezing the extra for the nights that she can't be bothered cooking. Effortless!
"Hands down best chocolate fix I could ask for"
Some of her favourite recipes are Weetbix slice which she says is "hands down best chocolate fix I could ask for."
Her go-to meal is Chicken and chorizo pasta, so simple yet so tasty and a Healthy Mummy chocolate smoothie.
Ashleigh's eldest daughter is also getting involved in the kitchen as she says, "she used to love snacking on things like chips and biscuits, now she gets involved in cooking and baking and loves all the Healthy Mummy meals."
"The Healthy Mummy Facebook group has honestly been one of the biggest tools in keeping me positive throughout my journey. Seeing all these amazing, inspirational, strong women just motivate me everyday," Ashleigh said.
Join the support group HERE!
Join the 28 Day Weight Loss Challenge
The 28 Day Weight Loss Challenge includes over 4,000 family-friendly, budget-friendly recipes, 350+ work out videos for all levels of fitness, support from over 200,000 mums around Australia and much, much more!