This Inspiring Mum Shares Her Tips For Staying Fit During Pregnancy
Healthy Mummy Community member and mum to be Danielle shares her story on how she has managed to continue exercising with her growing belly during her healthy pregnancy.
Over to you Danielle!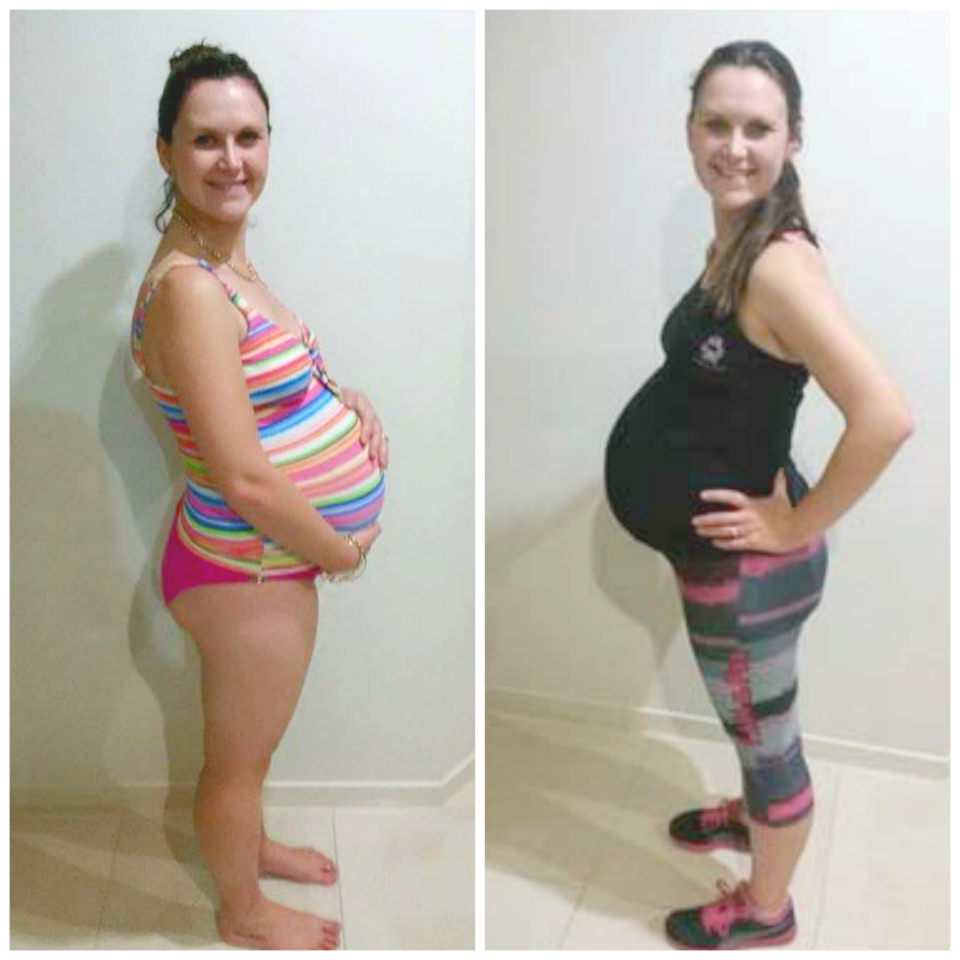 Danielle's story
Hi ladies!
Being 38 weeks pregnant and still being 'able' to exercise has been a huge factor for me in remaining healthy and happy throughout my pregnancy journey.
When we fell pregnant this time I made the commitment to myself that I would maintain a healthy and active pregnancy – unlike with our first when I ate lots and my only form of exercise was moving from the couch to the fridge for more chocolate!
Part of my personality is such that I need variety so that I don't get bored – I can't diet and eat the same foods day in and day out and expect to stay motivated and on track. I simply lose interest and willpower. Exercise for me has been the same.
I love variety and I love trying a few different things to keep me interested. I am by NO means an elite athlete and actually have very little in the way of coordination, but trying new activities keeps me enjoying it.
Vary your exercise program
The most important factor in me being 'able' to exercise is that I have used my love of variety to my advantage throughout my pregnancy.
First trimester
When I first fell pregnant I was attending a high intensity bootcamp 2-3 times per week and was a little hesitant in attending these classes during that first trimester. I didn't think that I would be able to slow down and not push myself too hard so while I attended the bootcamps I cut back during that time.
I went for slow and steady jogs and as my pregnancy progressed I used an app on my phone so that I would jog for 2 mins and then walk for 1 min and did loops around our estate at home. I continued to take my toddler for her walks to the park and hopped in the pool a few times to do some laps.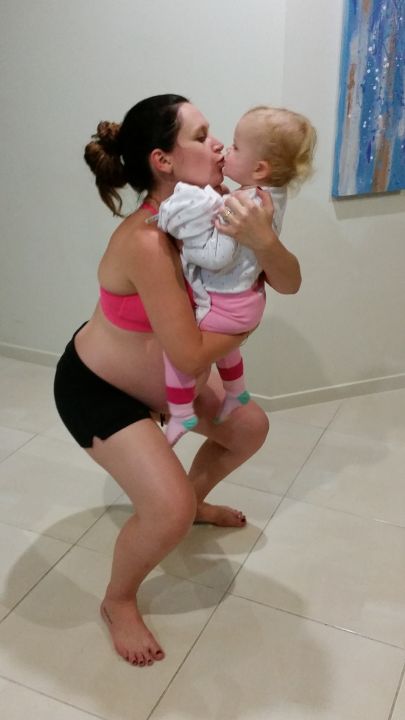 Second trimester
Moving into the second trimester I was more confident to attend bootcamp sessions again so I continued to go on a Monday evening as the class was split into two sessions – boxing and a cardio circuit mixed with low weights. Some of the exercises were modified slightly and I was able to listen to my body to know when there was something that just didn't feel quite 'right' for me. For example I found that planking was out for me very early on as it just didn't feel good – so I replaced these with my trusty wall sits instead!
I also joined a pregnancy Pilates class and a pregnancy aerobics class and I felt great attending three sessions per week which suited my fitness level and stage of pregnancy.
Exercise on holiday
When we went away for a weekend in Melbourne I found myself hunting for sets of stairs big enough to be able to do some exercise while we were away!
Similarly we went on a family weekend away to Noosa and I found myself convincing hubby to take me for a jog along the waterfront – and loved every second of it! To say my family were surprised when I asked them to watch our toddler while hubby and I got up early to go for a jog is an understatement!
My hubby also raced out and bought me a second hand exercise bike to use at home after our obstetrician told me it was a nice safe exercise to continue doing throughout pregnancy.
I incorporate my little lady into any exercise wherever I can – she is the reason that I want to maintain a happy and healthy lifestyle and I want her to grow up inspired to do the same.
I kept pushing through with the bootcamps and attended my last session at 34 weeks (under the supervision of my hubby who attended the session with me bless his cotton socks!) – and a couple of days afterwards I realised that my time was done for now. I thought I had taken things relatively easy but my pelvis thought otherwise so it was time to say goodbye to my beach buddies (for now!).
Try Aqua Aerobics
Thankfully I have since found a Pregnancy Aqua Aerobics class which I am now attending and I absolutely love it. The combination of the pregnancy specific exercises taught by a physio and the warm water are amazing and I feel great after each class – I highly recommend these classes for a big growing tum and especially for those who are unfortunate enough to be suffering any discomfort along the way.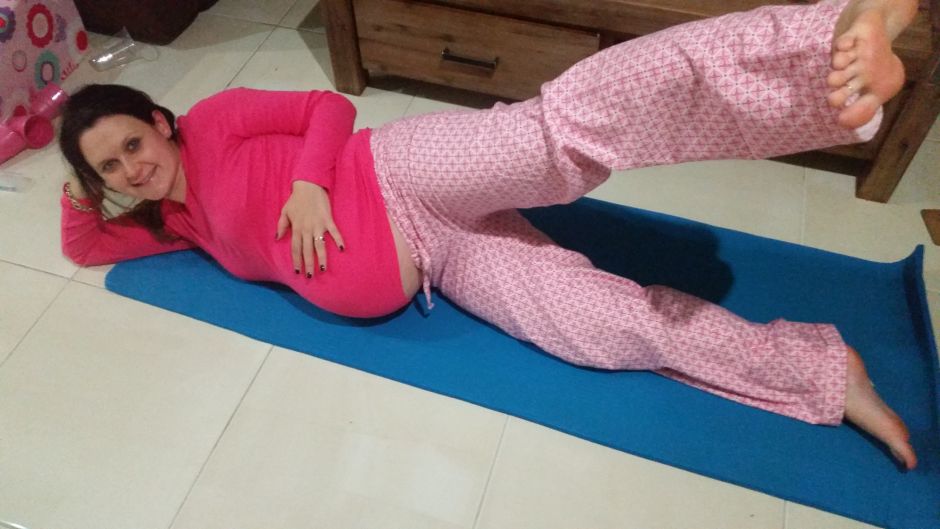 And lastly one of the favourite parts of my exercise regimen are the fabulous stretching exercises from the Healthy Pregnancy Eating and Exercise Guide as I am able to do these in my lounge room in my pyjamas!
I know that each of us are completely different and on completely different pregnancy journeys busy growing our little miracles – I just thought that I would share some of what has worked for me and hope that it may help others to stay active when their 'usual' exercise regimen all seems like too much hard work.
Keep going ladies – each and every single one of us are fabulous.
Danielle xx
Look at you go Danielle! Your determination to be a healthy fit pregnant mama is an inspiration!
Find more useful pregnancy information here.
Disclaimer: Always speak to your doctor before changing your diet,taking any supplements or undertaking any exercise program in pregnancy. The information on this site is for reference only and is not medical advice and should not be treated as such, and is not intended in any way as a substitute for professional medical advice..
Our plans promote a health weight gain in pregnancy to benefit the mother & baby and you can read more on this here. 
The owners of The Healthy Mummy do not make any representations or warranties, express or implied and shall have no liability or responsibility to any person or entity with respect to any loss or damage caused or alleged to be caused directly or indirectly by the information contained herein and nothing in this disclaimer will limit or exclude any liability for death or personal injury resulting from negligence, limit or exclude any liability for fraud or fraudulent misrepresentation, limit any liabilities in any way that is not permitted under applicable law or exclude any liabilities that may not be excluded under applicable law.