The Healthy Mummy has always been passionate about the health of mums and wanting to support and empower them to live their healthiest life and we are celebrating 10 years since we launched (you can read about how we started here)
True to this commitment, we surveyed over 5000's mums to find out how their health, both mental and physical, has been affected by COVID and lockdown. We asked mums about a range of topics including their family circumstances, lifestyle, emotional well being, body image and barriers to healthy living.
The mums in our community are a diverse group that includes stay at home mums (26%), full time working mums (24%), part-time working mums (27%), new mums on maternity leave (5%), mums who have their own business (4%) and mums who work from home (4%).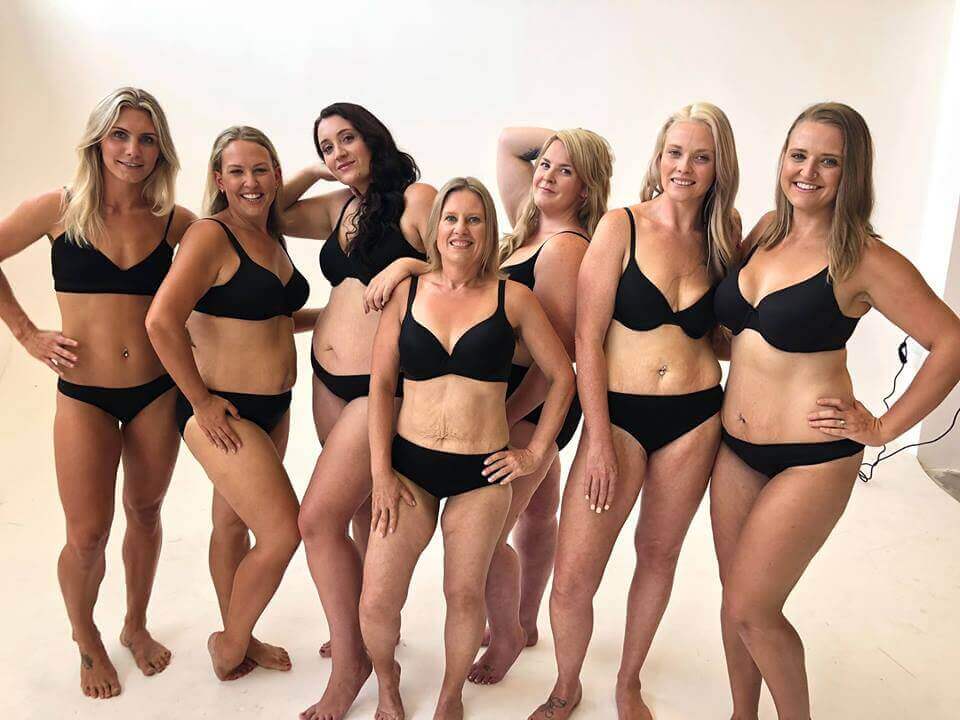 Survey reveals more than 70% of Mums have put on weight during COVID
There is no doubt that the global pandemic of COVID 19 and subsequent lockdowns have had an enormous impact on our day to day lives. Out of those surveyed,  71% of mums revealed that they have put weight on since COVID in 2020 and 67% said that COVID has affected their mental health. What's even more concerning is that 77% are worried about the future.
50% of the mums surveyed have admitted that being in lockdown has made them re-evaluate how they have been living their lives with another 36% saying they have re-evaluated some of it.
COVID has also had a practical impact on the family budget with 89% saying that the shopping bill has been affected to various degrees. Over half (53%) are now doing more meal prepping to save money.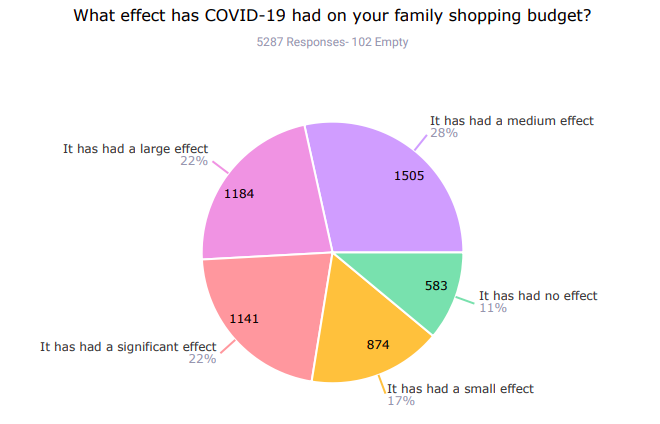 For 67% of mums, the weekly shopping food budget ranges between $150 and $250, with only 8% budgeting over $350.
Relationships have also been affected by COVID. 22% of mums said that COVID and lockdown have led them to have a better relationship with their partner, although 11% said it had led to a worse relationship. Only 9% admitted to having more sex with their partners during lockdown.
Health and Lifestyle
Disappointley, when asked about health, only 20% of mums said they do actually feel healthy. 67% said they either didn't really feel healthy or didn't feel healthy at all.
In a positive revelation, 88% of mums don't smoke and a surprising lifestyle finding was that alcohol consumption for mums was not an issue either with over 71% saying they didn't drink or rarely drank. Only 3% revealed they drank alcohol every day.
We know that stress and sleep can play a significant role in women's health, weight and lifestyle and our survey revealed that the majority of mums feel varying degrees of stress on a day to day basis, with only 6% stating they didn't feel any stress. While stress can affect sleep, it was interesting to see that 61% of mums are getting an average of 6-8 hours of sleep a night.
Body Confidence
Empowering mums to tackle their health and weight loss goals and have body confidence is a big part of what we do at The Healthy Mummy.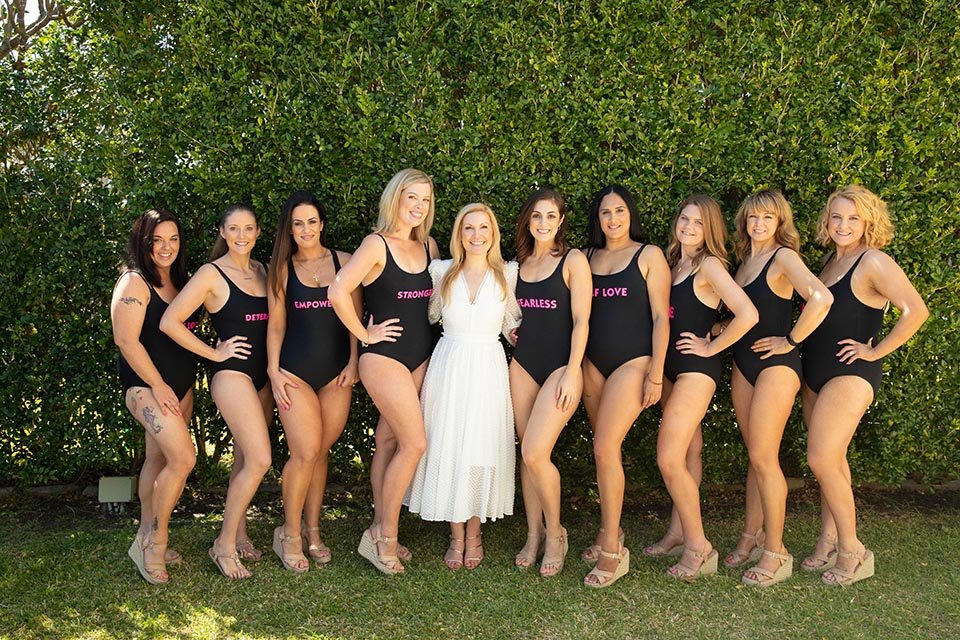 Many of the mums surveyed (67%) believe that the media make women feel bad about their bodies by portraying a 'perfect' body type. This might explain why only 12% said they love their body and only 12% said they have body confidence.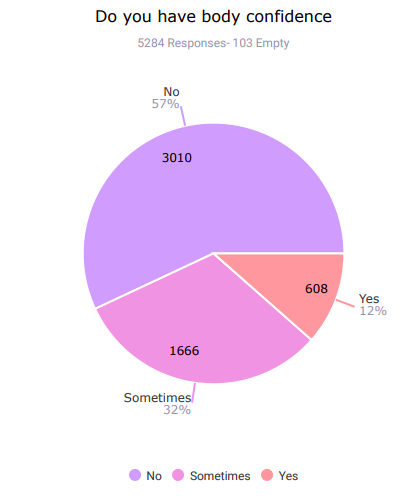 Read how this amazing mum found body confidence and transformed her life with the Healthy Mummy 28 Day Weight Loss Challenge!
It's quite clear that mums want to see more diversity in female body shapes in the media and on the news with 60% believing there isn't enough.  A big majority (79%) admitted that it makes them feel good to see a range of mums with different body shapes and sizes showing off their body and not hiding away!
Advertising plays a part too with 85% of mums wanting to see more models of different sizing in high street brand advertising.
Weight Loss and Barriers
Mums who have weight to lose clearly have different motivations for doing so, be it wanting to feel better in health (24%) to have more body confidence (18%) to set a good example to their children and family (17%) or to feel happy (13%).
No matter what the weight loss goal,  the mums we surveyed said that a lack of motivation (31%) and a lack of time (14%) were the two biggest things preventing them from reaching their weight loss goals.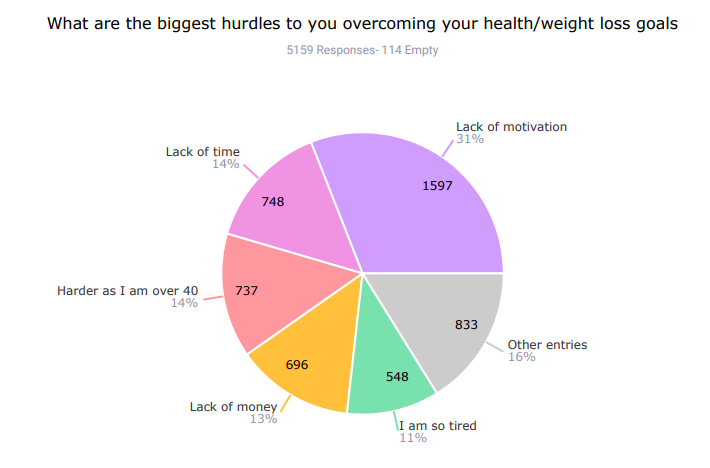 Are you struggling to stay motivated? The Healthy Mummy provides guidance and advice to keep you on track with your weight loss goals. Read our Top Ten Tips for staying motivated when losing weight!
Highlights of Healthy Mummy Survey 2020 Results
77% of mums are worried about the future
60% think the media puts pressure on mums to lose weight too quickly
42% felt pressured by the media to lose weight quickly after having a baby
23% suffer from depression, 38% occasionally suffering from depression
44% say their partners support them in healthy eating and living
12% of mums say they never have the energy to exercise
40% say they sometimes, but rarely have the energy to exercise
31% think that healthy eating is expensive
And here are some incredible results from mums who have been using The Healthy Mummy plans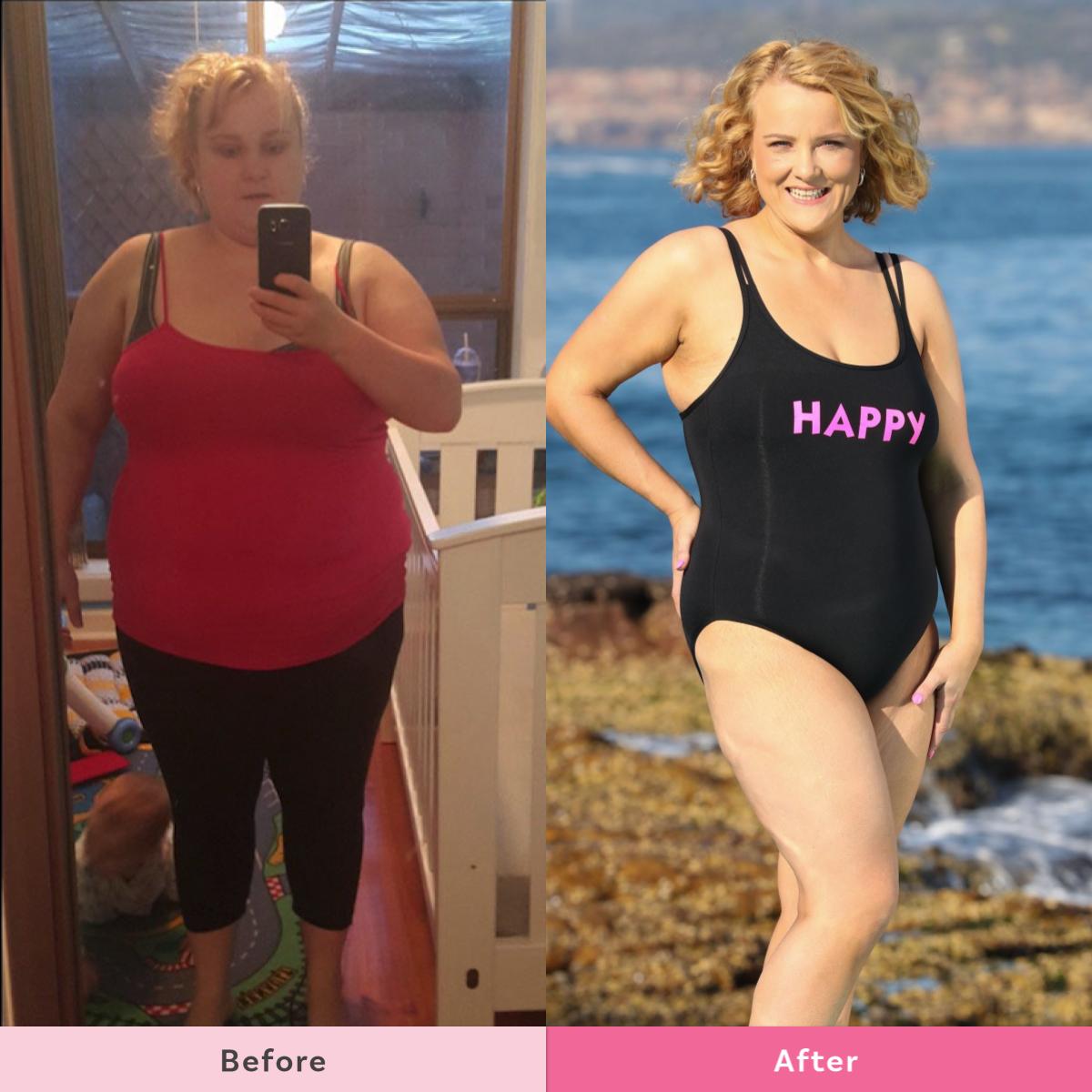 Mum-of-two Sarah Maynard is beaming both on the inside and out since her dramatic 56.6kg weight loss and amazing body transformation with The Healthy Mummy. It's not just her outward appearance that is making this mum happy – it's being able to do simple activities with her children, that is bringing her the most joy.
"I'm happy that I can do the things I couldn't do before, like going on a walk or even a run with my son. Going down the slide at the park, or even go on the swing. I couldn't do it before, and to be honest. Now I'm so happy I can do all the things I want to do with my family. The Healthy Mummy really changed my life for the better"
Cicily Goodwin has said goodbye to a whopping 53kg and managed to achieve this in just over a year. The mum-of-two had struggled with hypothyroidism and often didn't see the results of her hard-work. But that all changed when she signed up to the 28 Day Weight Loss Challenge!
"I've found the 28 Day Weight Loss Challenge the most effective program with my thyroid issues. Hypothyroidism means I should avoid a lot of foods, and also strive to eat a lot of certain foods. This is where the Challenge recipe hub was amazing! I could search for specific ingredients. I cannot recommend it enough. It's a new world."
Sascha Farley is a busy mum of 3 kids who has lost over 30kg with The Healthy Mummy as well as having a Healthy Mummy pregnancy for bub number 3! Sascha credits her healthy lifestyle changes thanks to the 28 Day Weight Loss Challenge for helping to control her PCOS and give her the fertility to conceive baby number 3. She is a Healthy Mummy convert for life and will never be without The Healthy Mummy app as it helps her and her family eat well and save money.
"I've lost over 30 kilo and I've gained SO much knowledge. I save so much money! I have found balance, energy and self love. Our food is simple, easy, delicious and the guess work of portions is non existent! Best thing I have ever done! The Healthy Mummy works 100% of the time BUT it's personal to YOU and that's the beauty of it! So use what you've got, the way you need to use it and you WILL reach your goals."
Samara Syed is a 30 year old mum of 2 girls. She has lost 16kg in just 8 months and has been successfully toning and maintaining her body ever since. Racked with anxiety and suffering postnatal depression after the birth of her second daughter Samara signed up to The Healthy Mummy in a desperate attempt to find herself again. She did that and so much more.
"I am now the happiest, healthiest, most confident version of myself. I have lost weight, beaten depression and am living my best life possible for myself and my two daughters. There have been SO many ups and downs. There have been SO many excuses. There have been SO many times I've thought I wasn't moving forward or times I've actually taken steps backward. Through all the tough times, through all the excuses. I have NEVER failed because I ALWAYS get back up."
Are you ready to kick-start your weight loss?

Want to shift your baby weight but feel like you have NO TIME in your day to exercise and eat healthily? That's where the Healthy Mummy's 28 Day Weight Loss Challenge can help.
Our Challenge entails:
28 days of at home exercise routines (no gym needed) – with video instruction
Customisable and breastfeeding friendly meal plans
Time-efficient exercises for busy mums – under 30 mins
Challenge combines Pilates exercises with interval and circuit training (HIIT)
Suitable for basic to advanced fitness levels.
Home to thousands of EASY-TO-MAKE recipes.
To find out more about joining the 28 Day Weight Loss Challenge.
PLUS – connect with THOUSANDS of other mums on the 28 Day Weight Loss Challenge by joining our free support