For decades, experts have been looking the best weight loss plans to help people follow a healthy eating plan and for an explanation as to why so many people overeat food that is so bad for us, food that is fatty, salty and sugary.
Our Comfort Eating Weight Loss Recipes and healthy eating plan are designed to educate you and retrain your brain, so that you move away from the traditional unhealthy comfort foods and instead begin to enjoy a healthy eating plan and cleaner version of comfort eating – and you will soon see that this is the best kind of weight loss plan to follow – sensible and healthy!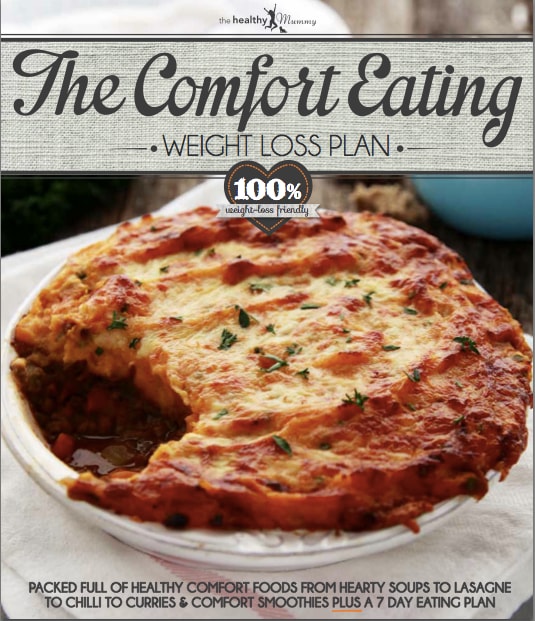 A lot of experts believe that people reach for comfort food for psychological reasons, both positive and negative, such as feeling happy and in the mood to celebrate or trying to cope with anxiety, boredom or sadness. Over the colder months, people also tend to reach for comfort foods, with many people gaining more than four kilograms over winter.
Others have suggested that our preferences stem from our evolutionary background, that we are biologically programmed to crave certain foods that used to be hard to come by, but are now available in abundance.
Some suggest it's our consumer culture that causes us to graze almost constantly. Then there are those who blame the food industry for making us hooked on their products through relentless advertising and even by adding ingredients that work like opiates, turning us into addicts.
Our Comfort Eating weight loss plan and weight loss recipes can be previewed and bought here. And below is one of the recipes from the ebook – a Prawn & Coconut Curry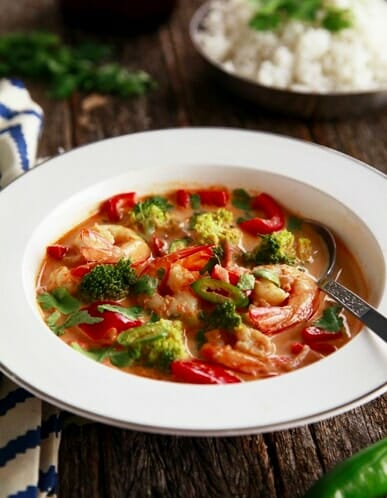 Ingredients
1 tbsp olive oil
4 garlic cloves, crushed
1 red onion, chopped
1 large green chilli, deseeded and chopped • 1 red capsicum, chopped
1 tbsp tomato paste
1 head of broccoli, cut into florets
3 large tomatoes, diced
1?4 cup mild curry paste
1 cup reduced-salt vegetable stock
1 cup Carnation coconut-flavoured evaporated milk
350g peeled prawns
1 bunch coriander, finely chopped
1 cup cooked basmati or brown rice
Method
Heat the oil in a pan and lightly cook the onion, garlic, capsicum, broccoli, tomatoes and chilli.
Add curry paste and tomato paste, and stir to combine.
Add stock and evaporated milk, and simmer for 10 minutes. Add prawns and coriander and cook for a further 10 minutes. Serve with rice. and you can also try this delicious Indian curry recipe! along with this delicious Thai fish curry recipe!
Note: Brown rice is a better option, as it is packed with fibre, but the basmati rice is low GI, so still a good choice.
Serves 2. 490 calories per serve
Nutrition note: Prawns are a great protein option, as they are low in fat and a good source of omega 3 fatty acids. Click here for another delicious prawn recipes!