TIME SAVING guide to get QUICK & EASY meals on the table in under 20 minutes!
When you can't be bothered to cook, there are heaps of hacks and super quick Healthy Mummy recipes to get dinner on the table in no time!
If dinner time is approaching and the last thing you feel like doing is preparing, chopping and cooking an entire meal from scratch, rather than pick up the phone and order takeaway, there's heaps of hacks and super quick recipe meal options to have dinner on the table in no time!
The Healthy Mummy's 28 Day Weight Loss Challenge has thousands of recipes that are super quick and easy to make. In fact, some are even under 20 minutes prep and cooking time!
Check out some of our fave quick and easy recipes below…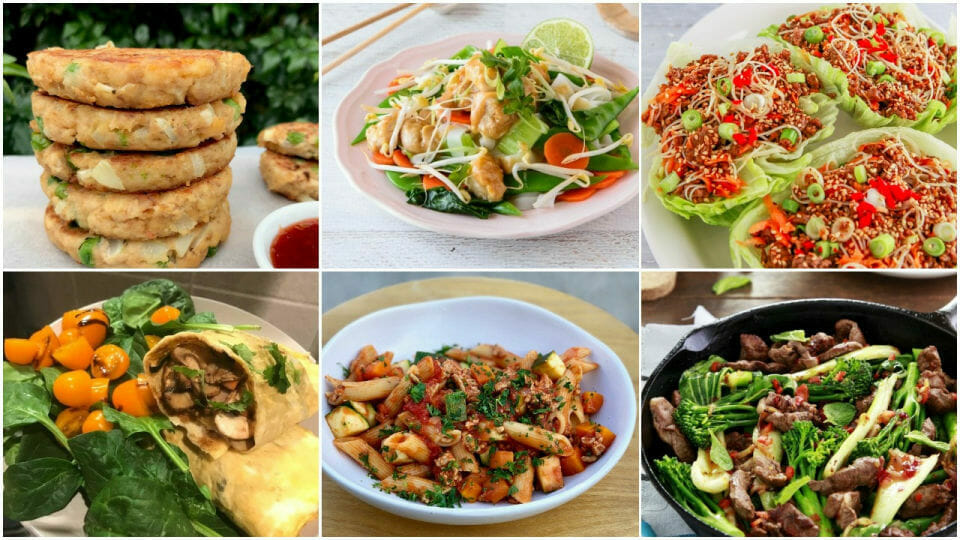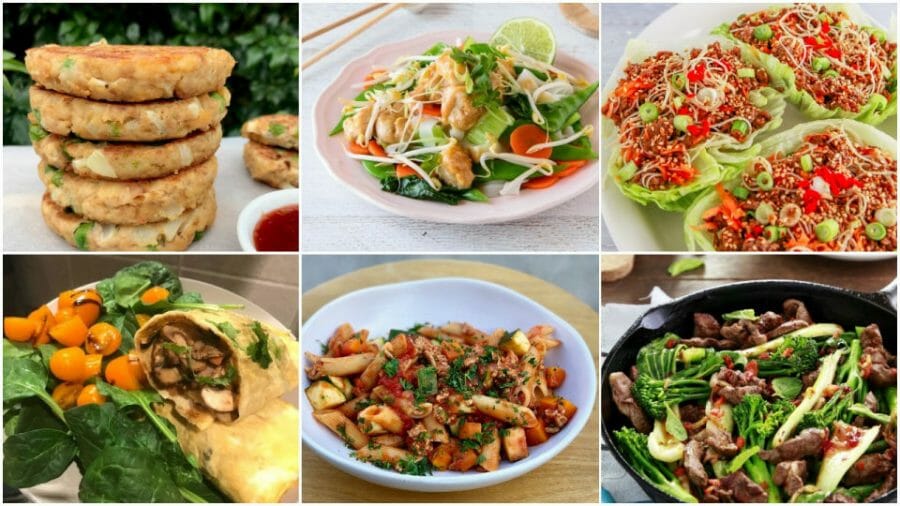 How to save time and make quick and easy meals in under 20 minutes
Meal prepping is a great tool if you want to save time, money and like to eat healthily.  However, some weeks you will find you are lacking in energy and time to do a full meal prep for that week.
These are the weeks when you need to prep on a whim some easy, quick but healthy meals. Eating healthy doesn't have to be difficult or take a long time.
Here are some top tips to help make mealtimes quicker:
Pre make rice and pasta and store in bags in your freezer
Pre-cut veggies and store in fridge or freezer
Pick one pot meals
Add frozen veggies to your meal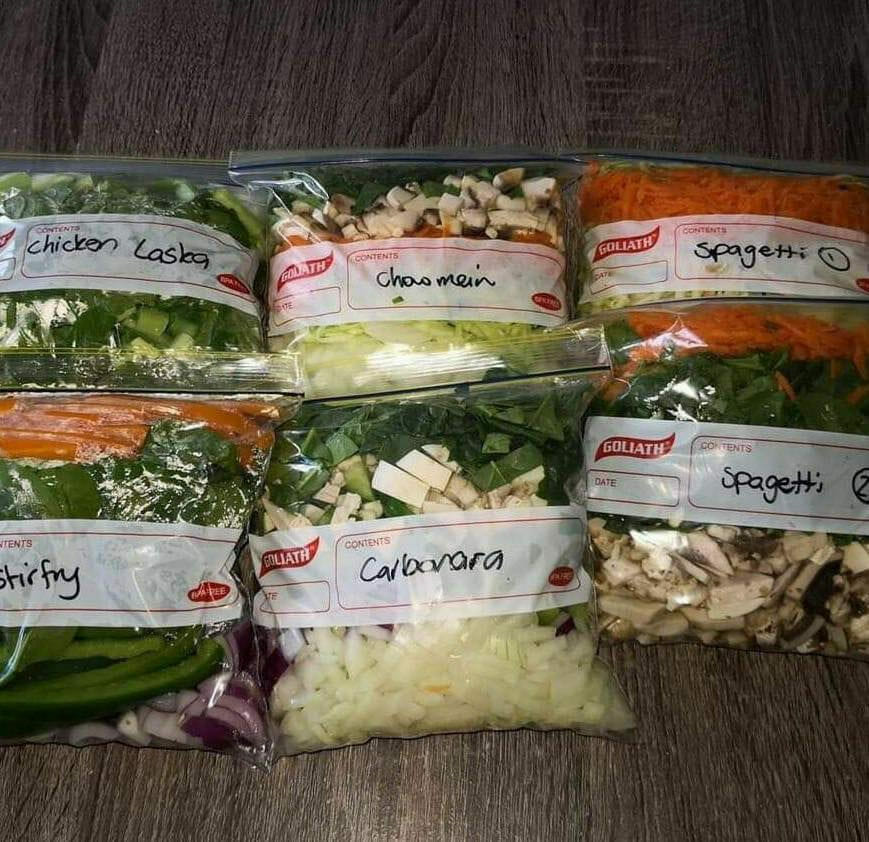 Hot tips for a quick prep:
Customise!! Keep it simple and think about your schedule when planning! Fridays are cruisy for us so we have time to whip something up on the night!
Double dinner as lunch the next day!
Make extra whenever you can and add it to the freezer stash. That way some weeks you can do a lot less prep and rely on what's in the freezer!!
Make use of leftovers. Weekends are unpredictable. It's important to be prepared to stay on track. As I rarely cook meals ahead of time for the weekend I use the search function in the App to whip up things with leftovers, have simple toasted sandwiches or my trusty smoothies! This saves time AND money while also ensuring no food waste!
15 quick and easy recipes for under 20 minutes
1. Zucchini Noodles with Feta and Mint Pesto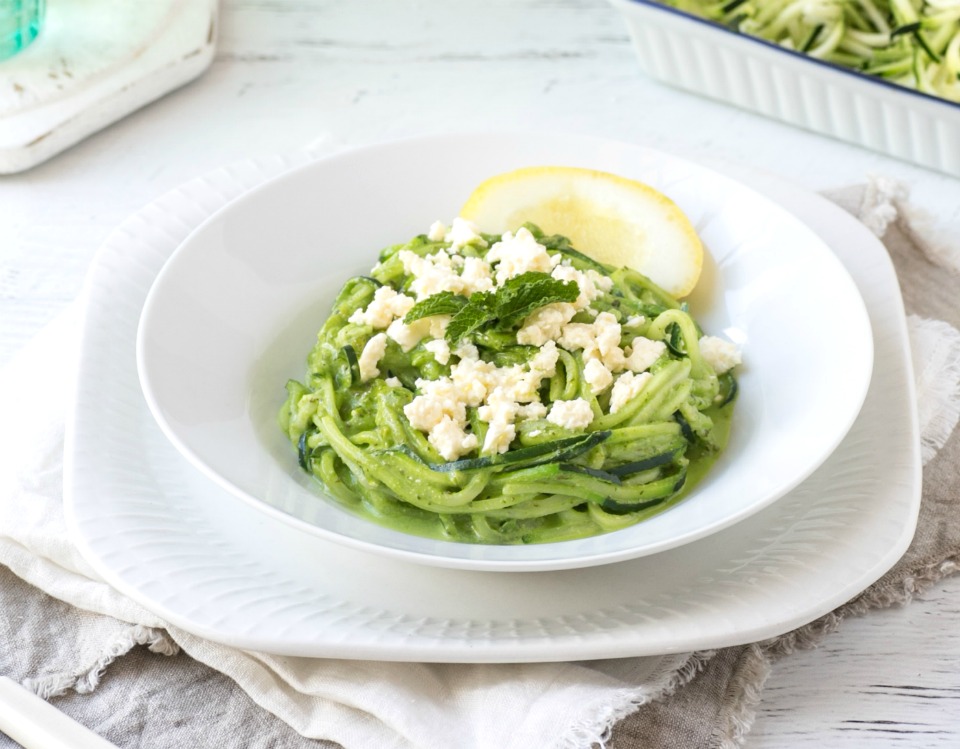 These zoodles with a fresh, homemade pesto are so simple to make. The pesto for this recipe is able to be made in advance making it even faster to get a healthy meal on the table at the end of the day. Got some pesto in the fridge already? Use that instead and just make the noodles.
2. Easy Spanish rice with chorizo

Need a quick and easy dinner? This Easy Spanish Rice with Chorizo will be a hit with the whole family. You can make this an even speedier meal if you prepare the rice beforehand and then reheat it so it's steaming before you cook the rest. Why not make a double batch and freeze individual serves to use for lunches on busy days.
3. Quick and Easy Tomato & Chickpea Bake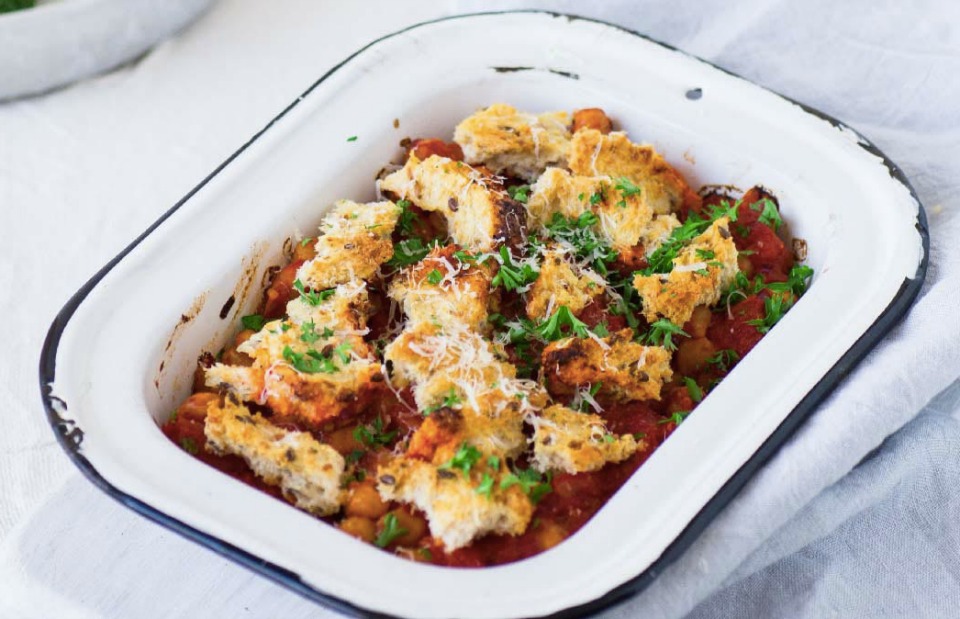 Enjoying meat-free meals a few times a week is not only great for your health, it's also great for your budget. This Tomato and Chickpea Bake is rich, tasty and full of flavour.
4. Quick and easy chicken satay noodles recipe just 295 calories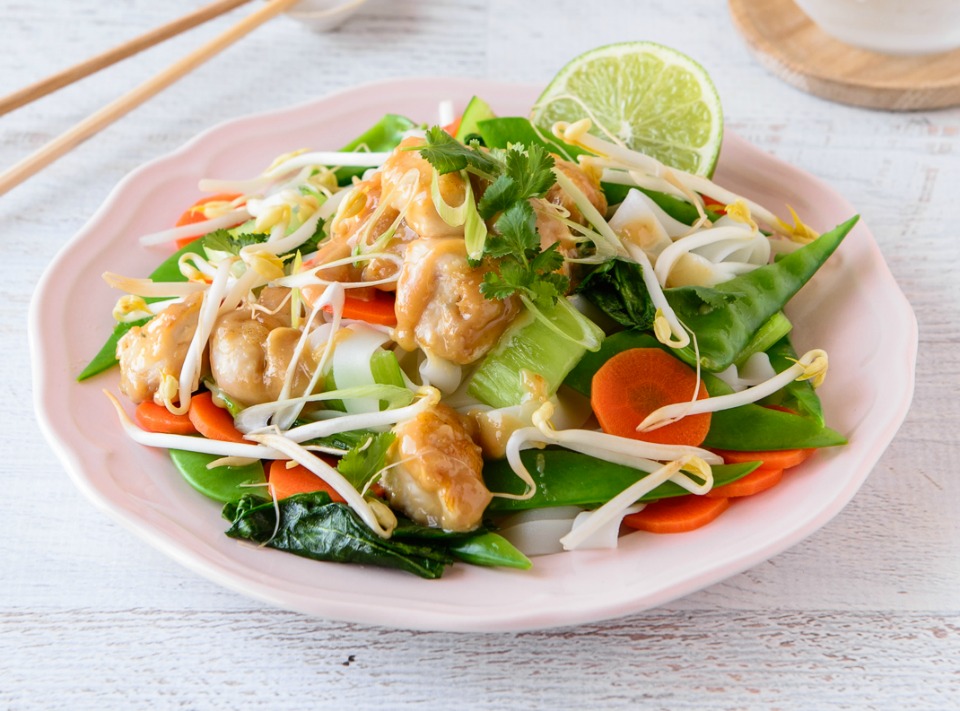 Is there anything better than a dinner that takes less time to prepare than it does to boil an egg? What about a tasty, healthy dish that combines delicious flavours and is packed with veggies and lean protein? We've got you covered with these quick and easy Chicken Satay Noodles recipes.This chicken satay recipe is a simple dish and not only super quick to make and packed with a variety of veggies, it's also low in calories, clocking in at under 300 calories per serve, perfect for busy mums.
5. Protein packed Thai chicken meatballs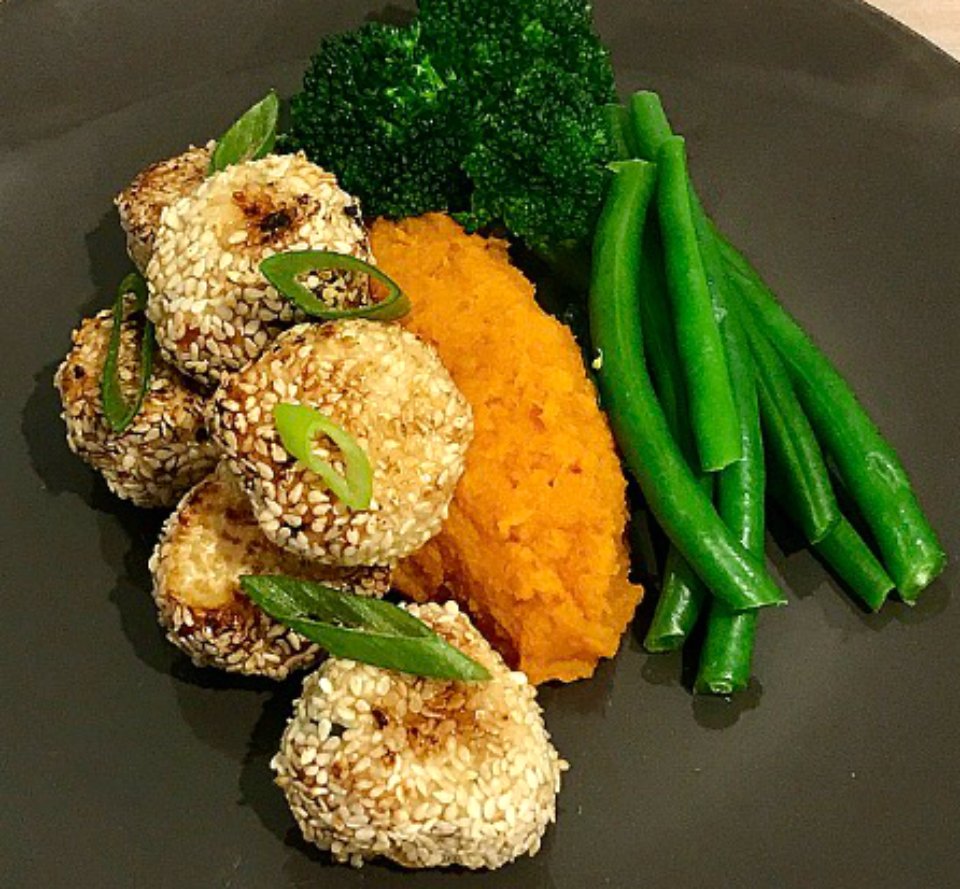 If you love a 30 minute meal as much as we do, you'll love these Thai Chicken Meatballs.
6. 20 minute pork steaks with apple and greens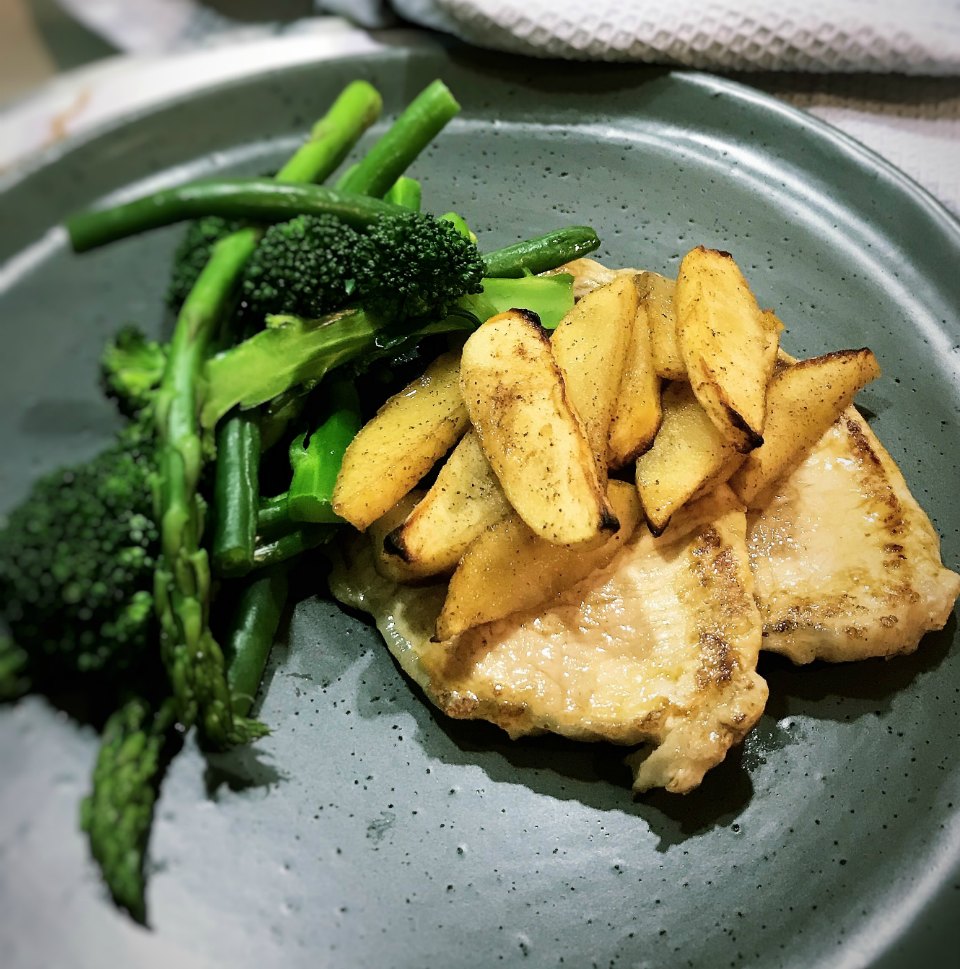 Here's a quick and easy dinner idea that makes the most of quick cooking thin pork steaks.
7. Speedy Brekky Beef Stir-Fry

Who says you can't have stir fry for breakfast when it tastes this good? This recipe will see you kicking off your day with a hit of protein and iron. Save even more time by preparing the rice the night before.
8. One Pot Teriyaki Lamb & Veggie Stir Fry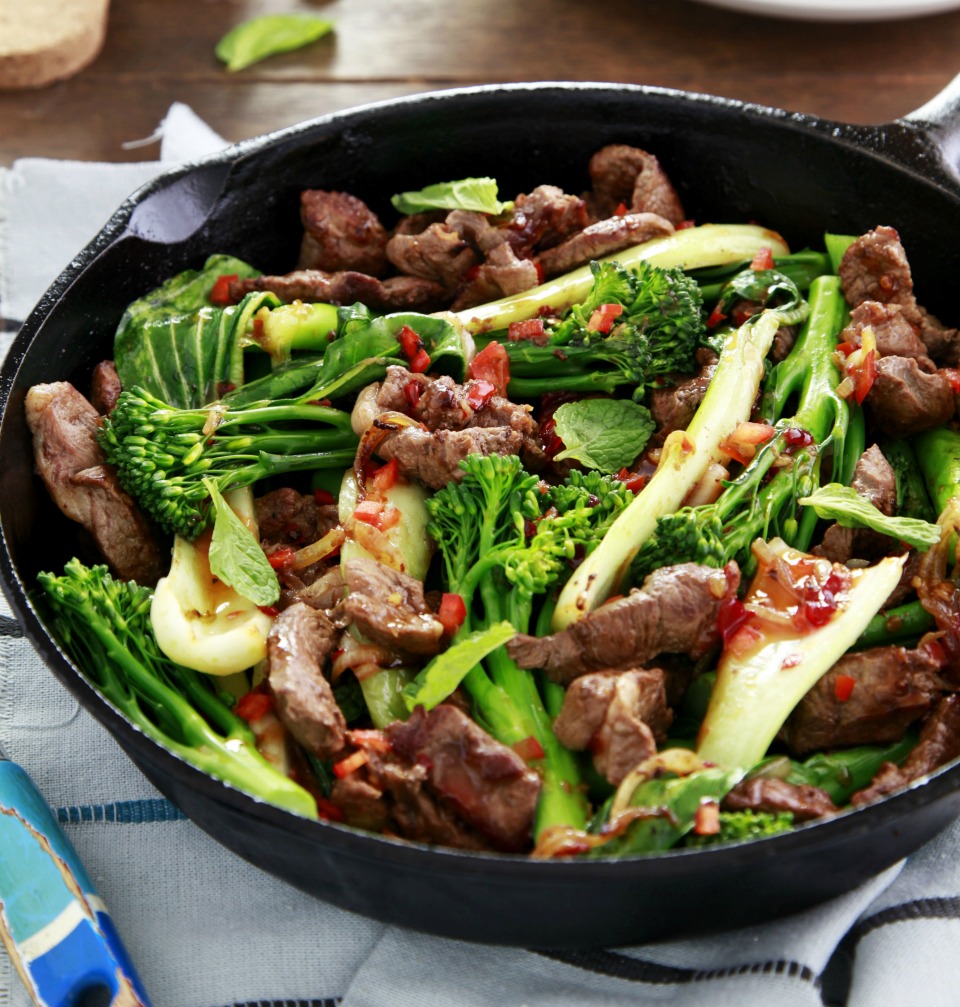 If there were two words that get mums excited about cooking dinner, they would be 'quick and easy'. And it doesn't get much quicker or easier than this family
favourite.
9. 15 Minute Open Pork Burgers On Sourdough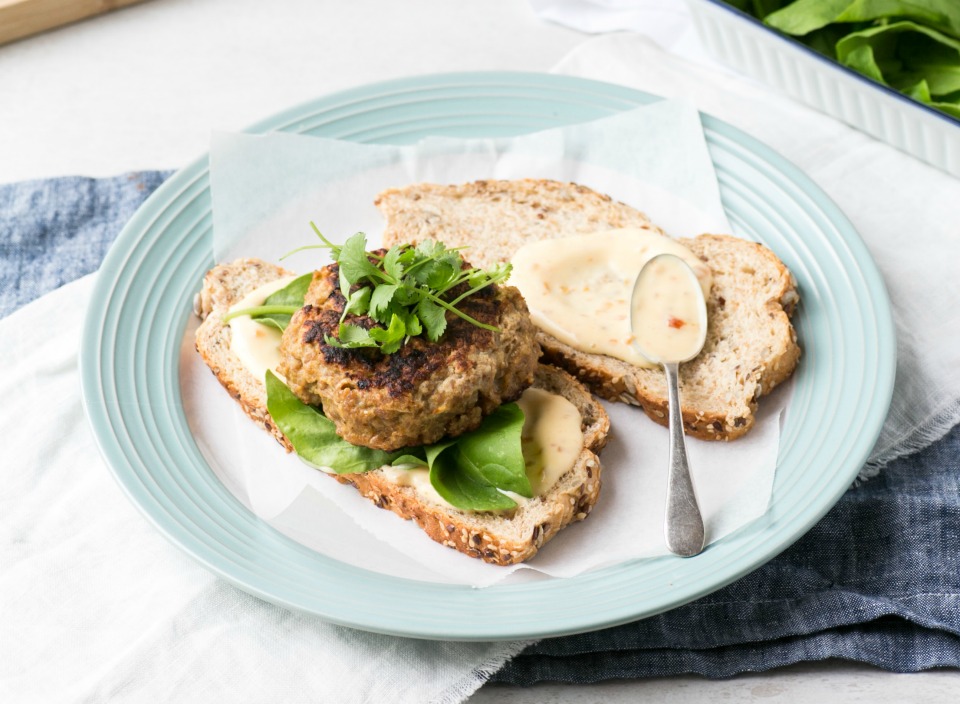 These burgers are great for busy nights when you don't have much time to throw dinner together.Not only are they full of flavour, they can be ready and on the table in just 15 minutes. Feel free to change the mince to whatever you have on hand. Add some tomato, beetroot or chilli for extra freshness and kick.
10. Pork and Vegetable Ragu Recipe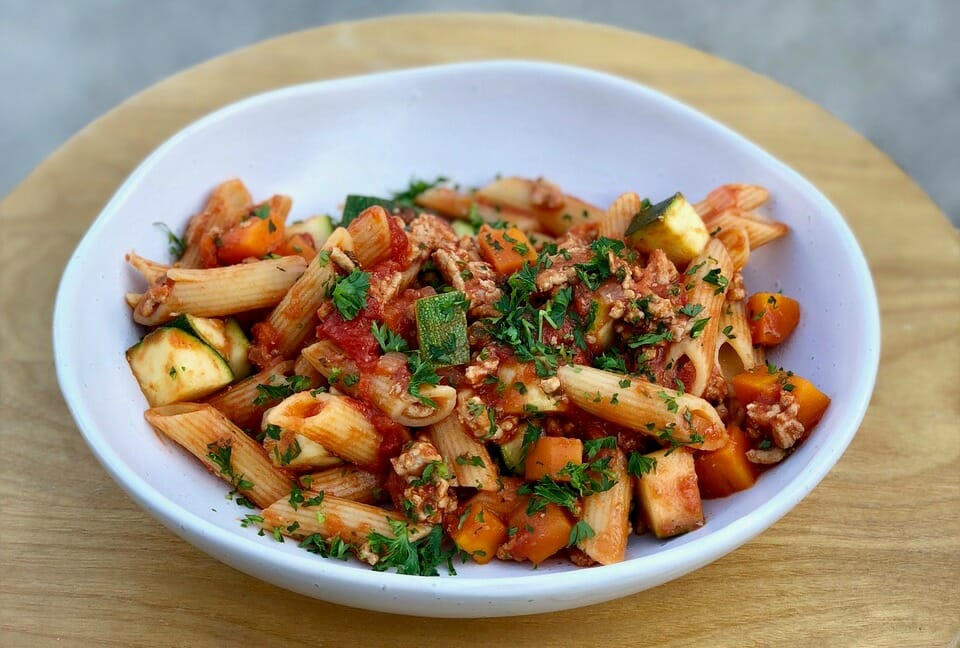 Feeding the family on a budget? Need a quick and tasty meal idea? Give this Pork and Vegetable Ragu Recipe a go! Quick, easy and oh so delicious, this ragu is packed full of protein, healthy carbs and veggies.
11. Chilli prawn and avocado macro bowl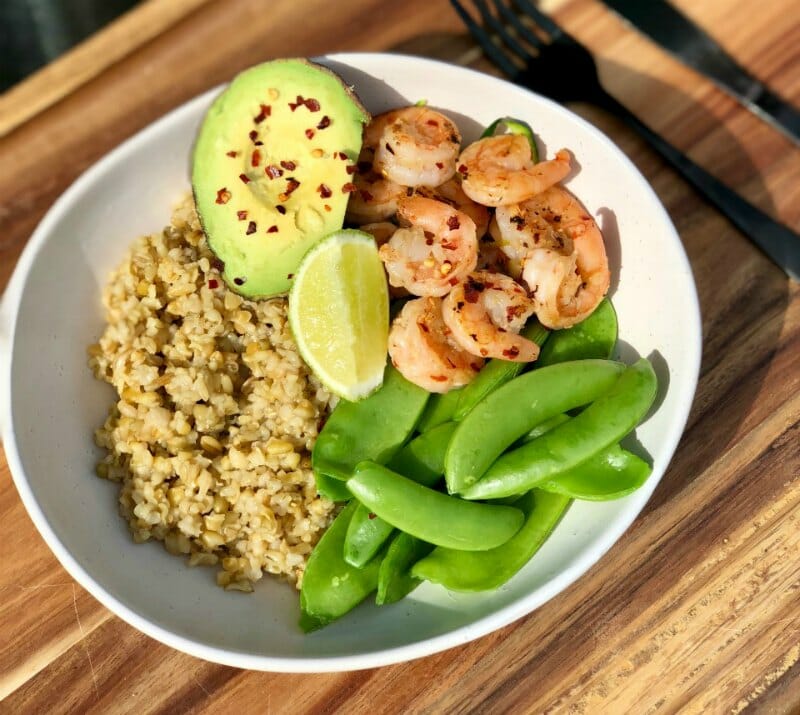 Have you heard of a macro bowl? A macro bowl is made by combining a healthy whole grain (like quinoa, brown rice, freekeh) with a protein of choice (chicken, beef, tofu, prawns, legumes, boiled eggs), some veggies (anything goes, cooked or raw is fine), plus some healthy fats (think avocado, nuts and seeds, olive oil).Put them all together and you can rest assured that you've got a balanced meal ready to go!
12. Beef San Choy Bow
If you have stomach fat to lose then you have come to the right place! This weight loss recipe for beef san choy bow will become a family favourite as it's super tasty but also can help shift tummy fat as well as keeping you nice and full when you are following a weight loss plan.
13. 15 minute mushroom omelette rolls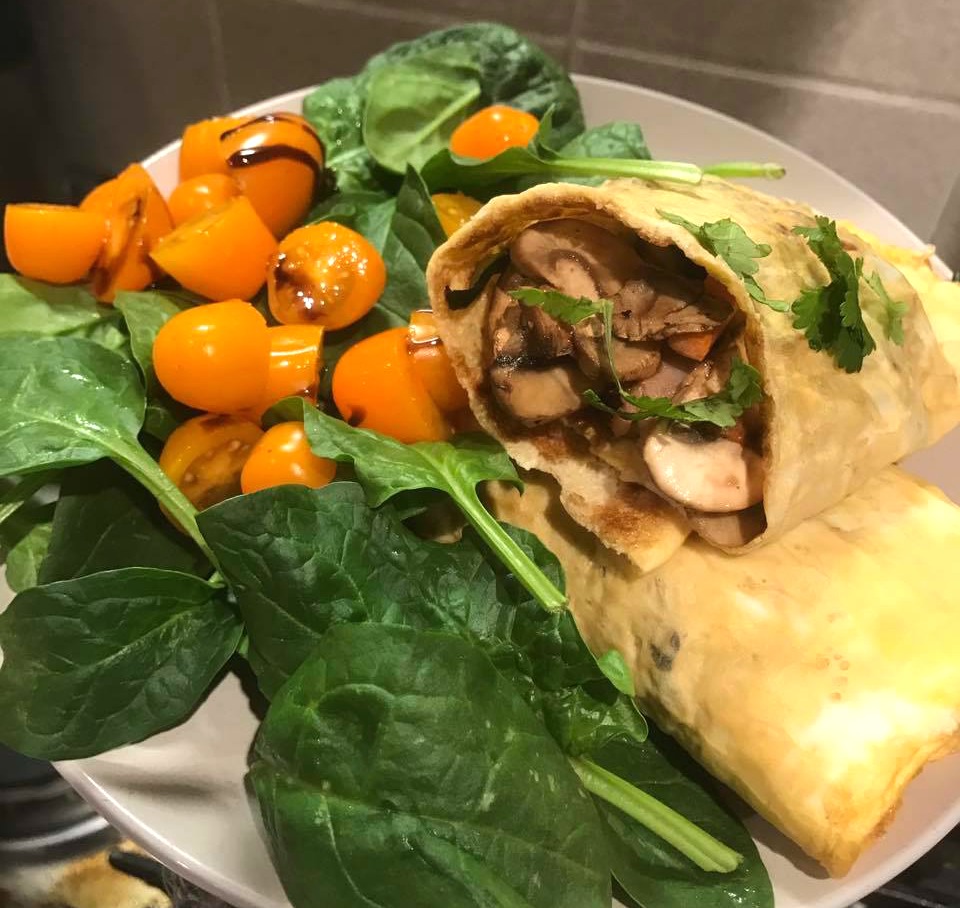 Here's a fun breakfast recipe that uses a healthy homemade omelette in place of a wrap.
14. Lentil and Haloumi Salad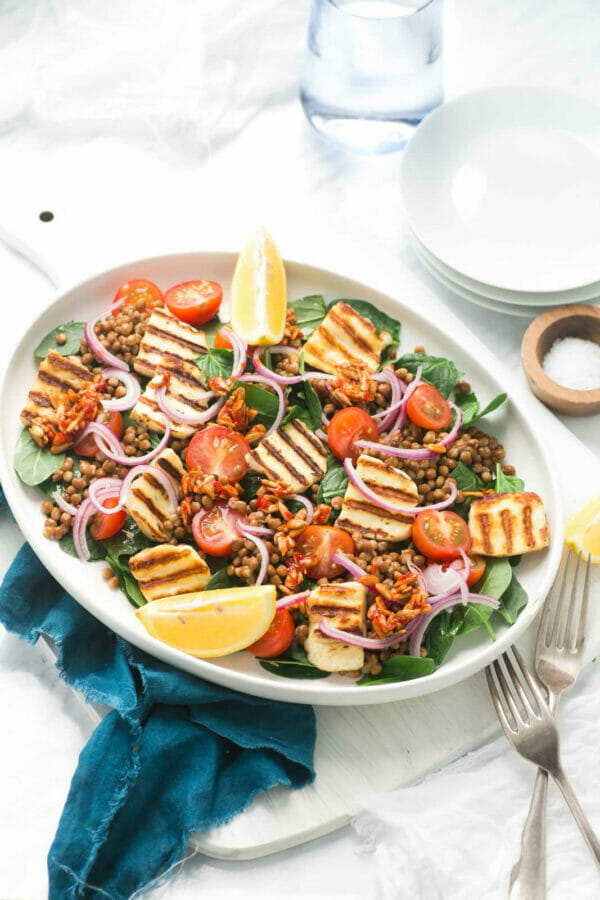 This main meal salad can be whipped up in less than 15 minutes! It's also great for your wallet with budget friendly ingredients that are healthy and tasty.
15. Tuna, lemon and pea patties just 136 calories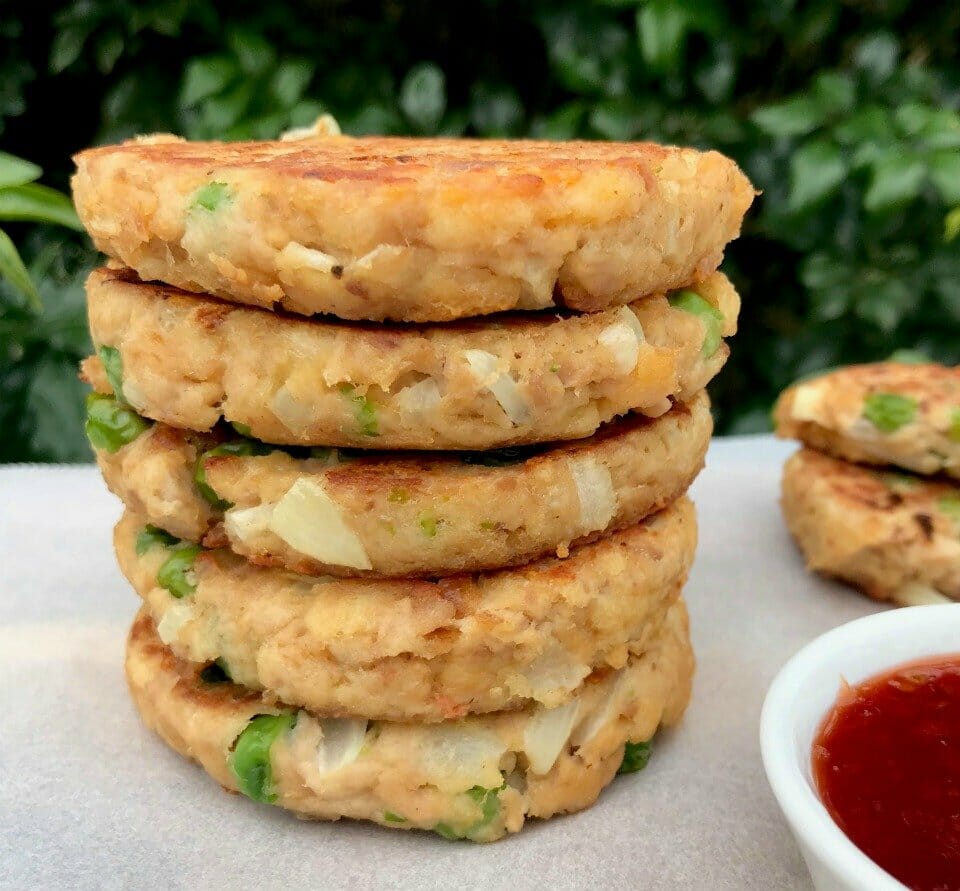 High protein savoury snacks are a great way to stave off hunger pains between meals. This tuna patties recipe is very budget friendly as well as delicious.
For more quick recipes join us on our 28 Day Weight Loss Challenge TODAY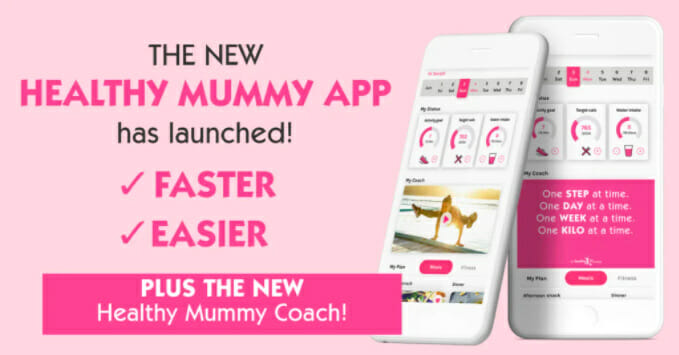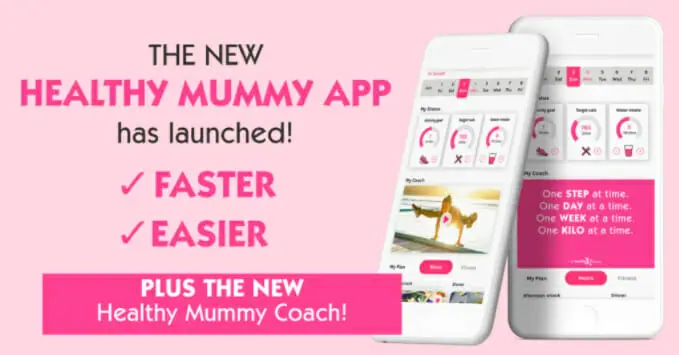 Want to shift your baby weight but feel like you have NO TIME in your day to exercise and eat healthily? That's where the Healthy Mummy's 28 Day Weight Loss Challenge can help.

Our Challenge entails: 
28 days of at home exercise routines (no gym needed) – with video instruction
Customisable and breastfeeding friendly meal plans
Time-efficient exercises for busy mums – under 30 mins
Challenge combines Pilates exercises with interval and circuit training (HIIT)
Suitable for basic to advanced fitness levels.
Home to thousands of EASY-TO-MAKE recipes.
To find out more on the 28 Day Weight Loss Challenge click here.