Raspberries also contain soluble fibre, which helps to lower your levels of blood cholesterol. Because raspberries are low in calories and high in insoluble fibre, they are known as a low energy density food, which means that they provide a large portion of food for a small number of calories.
We adore raspberries at The Healthy Mummy and we love to include them in our Healthy Mummy Smoothies. They are tasty and packed full of fibre which is great for digestion too.
They are also a low GI food, meaning that they release their energy into your bloodstream slowly, preventing blood sugar spikes and therefore blood sugar lows. Blood sugar lows can cause cravings for fatty or sugary foods, which can lead to weight gain, so eating foods low on the glycaemic index can help to control your weight – so are great for including in your weight loss plan.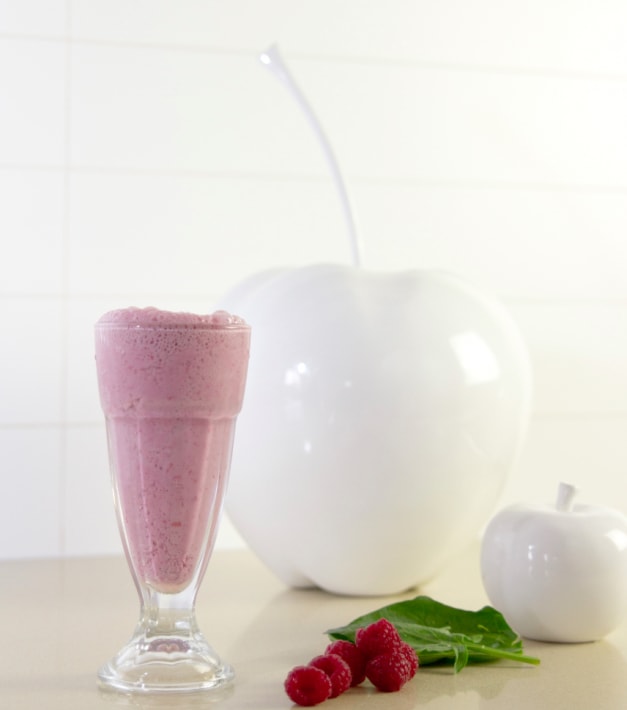 Ingredients
Blend for 2-3 minutes
If you are ready to lose weight then The Healthy Mummy plans offer a healthy and safe exercise and diet plans that are safe if you are breastfeeding and you can use code LOYALTY for a 10% DISCOUNT at the checkout.
Plus we have Cookbooks, Calorie Bibles, Exercise DVD's, Meal Replacement Smoothies and Our 28 Day Plan in our shop.