Any parent of a premature baby will know the ache of not being able to hold their precious, tiny newborn. Now groundbreaking Australian research has found that skin-to-skin contact for very preterm babies is not only safe, but should be encouraged.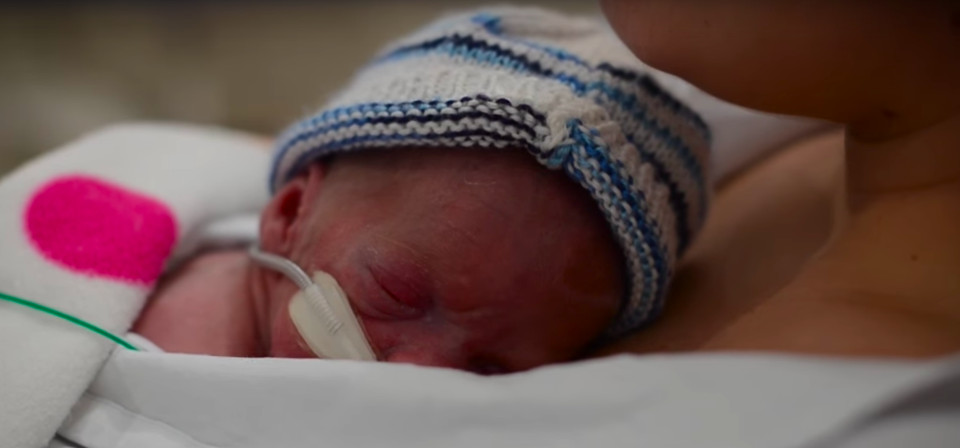 That amazing, first moment when you finally get to hold your bub is denied to many parents of premature babies. But this new research will mean many Australian hospitals can now recommend earlier skin-to-skin care for very preterm babies.
Kangaroo care for premature babies
Victoria's The Royal Women's Hospital, which conducted the research, said it's already changed it's practice to allow for earlier skin-to-skin care.
"In developing countries, skin-to-skin care in very preterm babies has been shown to improve weight gain, reduce infection and facilitate an earlier discharge home," explained study leader paediatrician Dr Laila Lorenz. "It also has great benefits for infant-parent bonding and breastfeeding in term babies."
Image source: The Royal Women's Hospital
Also known as kangaroo care, skin-to-skin means a newborn wearing only a nappy is placed on its mum or dad's bare chest, allowing for maximum skin contact. While it's been proven that this sort of contact hold health benefits for babies and parents, researchers wanted to prove that it was also safe for very early babies who have been placed on breathing support.
"For skin-to-skin care to be suitable, the baby needs to be stable from the moment they are moved from the incubator, throughout their contact with their parents, until they are returned to their incubator," Dr Lorenz said.
"This study found brain oxygen levels in the baby remained unchanged compared with levels measured whilst they were being nursed in the incubator, which means we now have solid evidence to confidently support the practice with very preterm babies on respiratory support."
A relief for medical staff and parents
While medical staff can now be assured that the tiniest babies are safe to cuddle with their parents, it also means a sense of relief for parents who are nervous about holding their little bubs.
Image source: The Royal Women's Hospital
After having an emergency c-section at 29 weeks due to pre-eclampsia, Jessica Holland was fearful of holding her teeny newborn, Ziggy.
"I was scared the first time I held him when he was three days old. I didn't know if it was good to take him out of his crib or whether it was going to harm him," she said. "This new research is reassuring. That first hold, I couldn't wipe the smile off my face and I didn't want to put him back. I think I lay here for hours. It was lovely."
"Even though you can get close to him in the incubator, it's nice to get him out and actually hold him," added dad Matt Holland.
Image source: The Royal Women's Hospital
For more breaking news on premature babies, take a look at our article on the prevention of premature births.