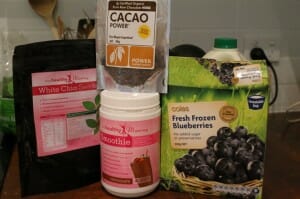 We believe at the Healthy Mummy that all healthy fresh foods are super, but there is no denying that there are some out there that are a little special.
This smoothie includes THREE SUPERFOODS!!! Yes, THREE.
Blueberries which are incredibly high in antioxidants and a great source of fibre.
Cacao is a superhouse of antioxidants and phytonutrients including a great source of iron, calcium, niacin, potassium and magnesium.
Chia seeds are a fabulous source of omega 3 fatty acids, protein and fibre.
Combine them altogether. Boom, a delicious and ridiculously nutritious Healthy Mummy Smoothie that will be a perfect addition on a weight loss diet.
What you need is:
2 tbs of chocolate Healthy Mummy Smoothie Mix
1 tbs of cacao nibs or powder
1 cup of frozen blueberries
2 tbs of chia seeds
200ml of milk of your choice
Blitz it altogether for a scrummy breaky, snack or lunch.
Special Offer & 10% Discount
If you are ready to lose weight then The Healthy Mummy plans offer a healthy and safe exercise and diet routine that are safe if you are breastfeeding and you can use code LOYALTY for a 10% DISCOUNT at the checkout