Welcome To January's Week 2 of the 28 Day Weight Loss Challenge
It's already week 2 of the January 28 Day Weight Loss Challenge and we are SO PUMPED to make January our BEST MONTH EVER! After the holiday splurge it feels good to be getting back on track and working towards our goals.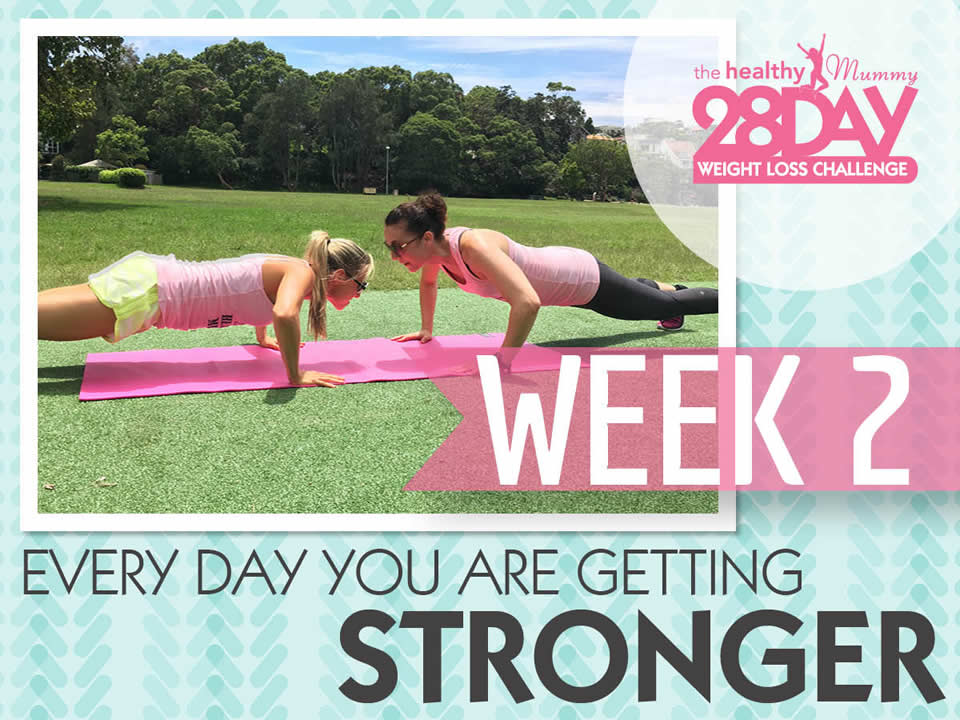 The Week 2 meal plan looks amazing in Week 2 of the January Belly Buster 28 Day Weight Loss Challenge! 
We loved seeing all your delicious food you have been making from week 1 of this month's Belly Buster theme challenge! The the hot weather had you craving something cool for dinner the Fresh And Tasty Southwest Chicken was a MEGA winner and the Easy cherry slice rocked our world!  You have all been working so hard to keep to those promises we all made last week so lets head into Week 2 PREPARED! Week 2 is filled to the brim with delicious belly busting recipes and we can't wait to get stuck into them!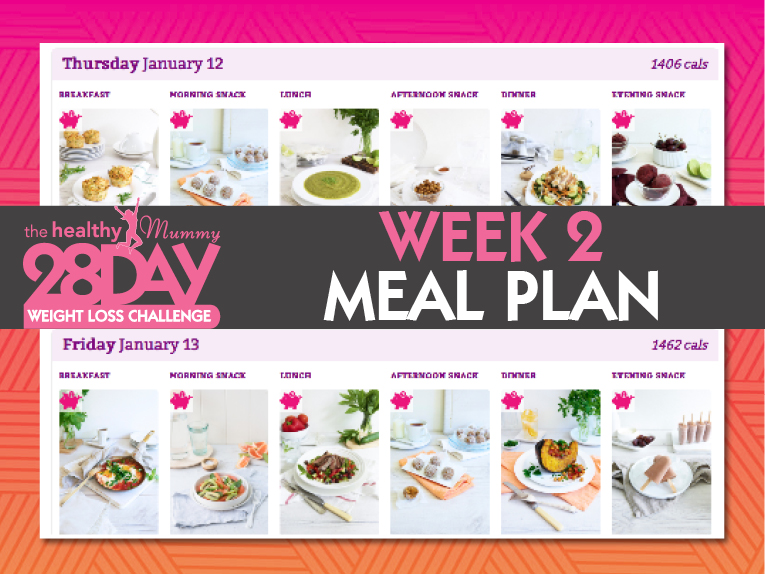 You will love the convenience of the easy to prepare snacks that you can get ready ahead of time for the week. The Cayenne Chick Peas, Raw Carrot Cake Balls and the Peppermint Slice will be great options to prepare and pop in the fridge.  The big and little kids will LOVE the Cacao Vanilla Yogi Pops! For dinner, we can't wait to cook up the Easy Asian Chicken Salad! We promise the plates will be licked clean after the tasty Beef Korma! The Berry and Lime Sorbet is simply amazing as a light, but delicious evening snack and we promise you will not want to share.
We love the easy ingredients list and the simple method guide for every single snack or meal that means no one has to be a master chef to rock these meals. Enjoy!
Prepare for some true Belly Busting exercises as we head into Week 2 of the January Belly Buster 28 Day Weight Loss Challenge.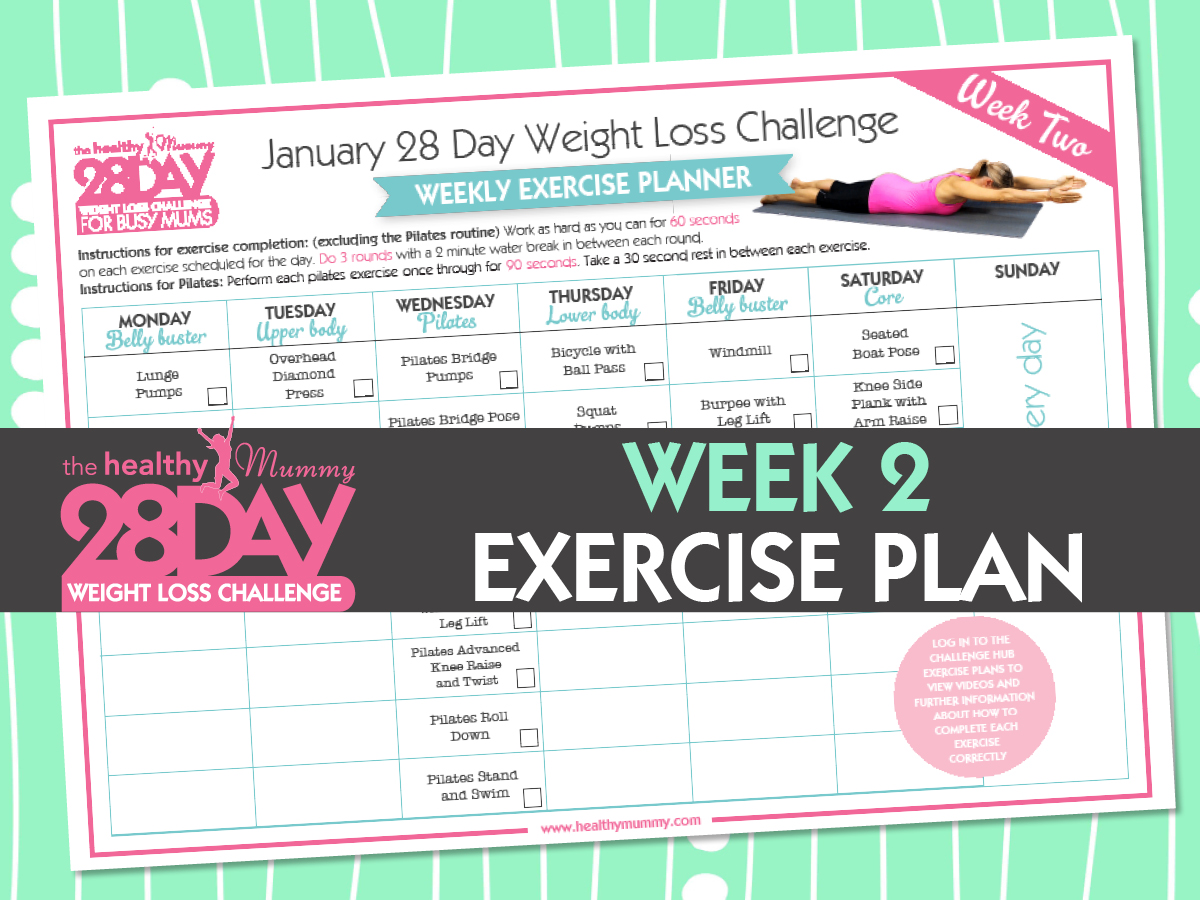 This week you will be challenging yourself with simple and functional movements to target and shape not only your mid-section but your entire body. You will find your Belly Buster exercise days focus on using your own body weight to target and strengthen your muscles while improving your cardiovascular fitness.
It is certainly about quality rather than quantity this week. No need for the gym, these exercises are easy to do at home around the kids. Let's get fit together!
Motivation to stay on track from our 28 Day Challenge Squad team:
HOLIDAYS ARE NO EXCUSE
Rae says: If right now is not the time to stick to the Challenge because it is school holidays with 100% accuracy then give it 60% and use the dinner recipes or add in a smoothie to keep you on track, but super time savvy.
The incredible thing about the challenge is its ability to be customised so that it suits YOU! So make it suit you!! Don't give up now. Don't lose sight of your ultimate goal. Keep it close and use the tools that you've got to MAKE IT HAPPEN.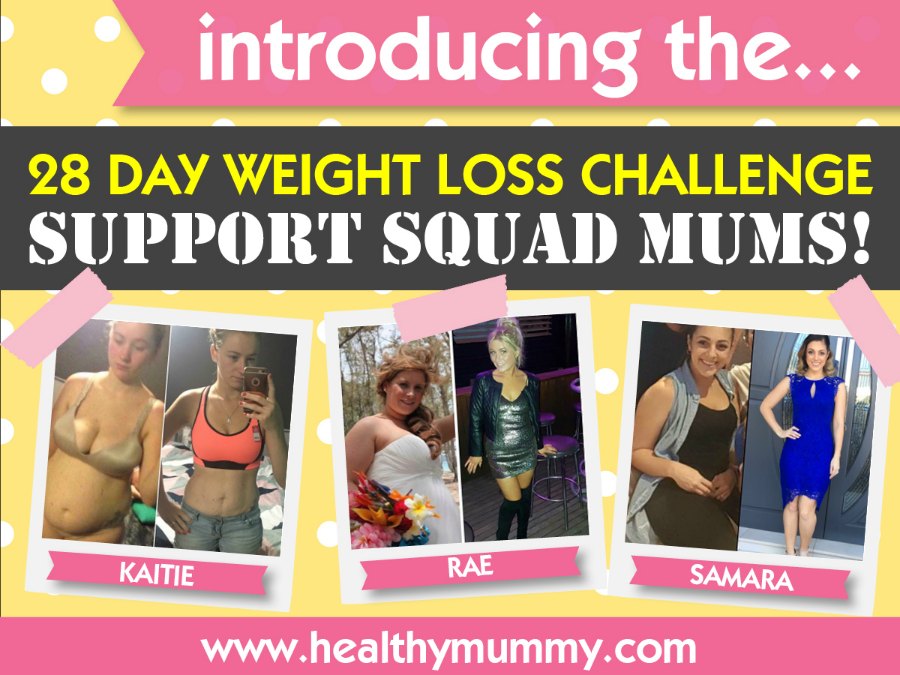 It's all about PREPARATION
Katie says: Customise! Customise! Customise! Use the customise option on the app.   This helps me prepare meals that suit my whole family and budget. To stay on track, I repeat meals and snacks which means less ingredients and less preparation time.  I cook in bulk and freeze meals and snacks.  This saves me money and preparation time.  I love to meal prep! It saves me time and helps when cravings kick in and helps me make better choices with my food.
EXERCISE MOTIVATES ME
Samara says: Don't have a medicine ball for your "Bicycle with Ball Pass?" Any child's toy will do! We all have plenty lying around! A walk, a swim, a play at the park with the kids or a spot of gardening will round out the week with your Active Recovery Day. If you are finding yourself a little more sore than normal, bring forward your active recovery day to help keep those muscles warm with gentle movements to assist in your recovery. Be motivated knowing every single day you exercise, you are getting stronger and fitter.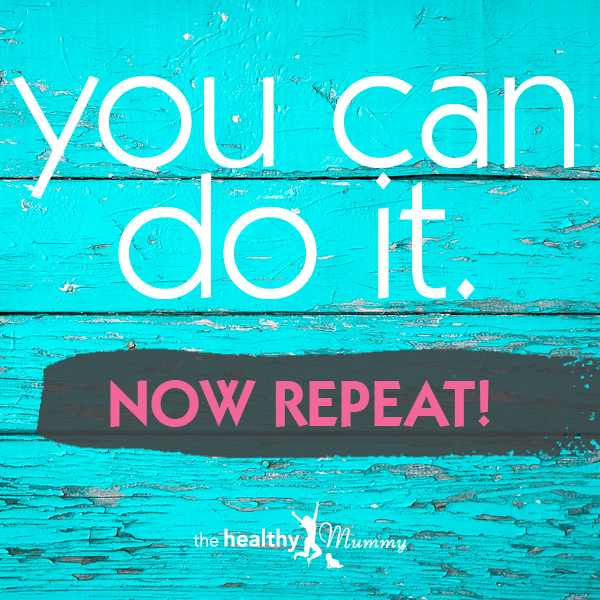 SNACK ATTACK!
If you are still away on holiday or just not into a routine with the kids the challenge hub has hundreds of snacks that can help keep you from binge eating and kick those cravings.  We also love easy snacks and our Healthy Mummy Smoothies can be a life saver! No excuses for you to skip any meals EVER!
24/7 MEMBER SUPPORT IS AVAILABLE FOR YOU!
Our Kick start group is made up of a fabulous support team to help you every step of the way. Packed with Live Chats and lots of tips daily on how to stay on track.  Our Facebook community is also packed with thousands of mums supporting each other.  LET'S DO THIS TOGETHER! You can do this! Let's make week 2 the week we create new GOOD habits!
The secret of getting ahead is getting started.  If you are not a 28 day challenge member JOIN US today!
Check out the hundreds of free Healthy Mummy Smoothie Recipes HERE and you can buy them HERE.