Would You Make A Great 1930s Wife? Hilarious Test Reveals All
Wife status: Fail.
Come and see how you would stack up if your marriage was rated back in 1939. No red nail polish allowed.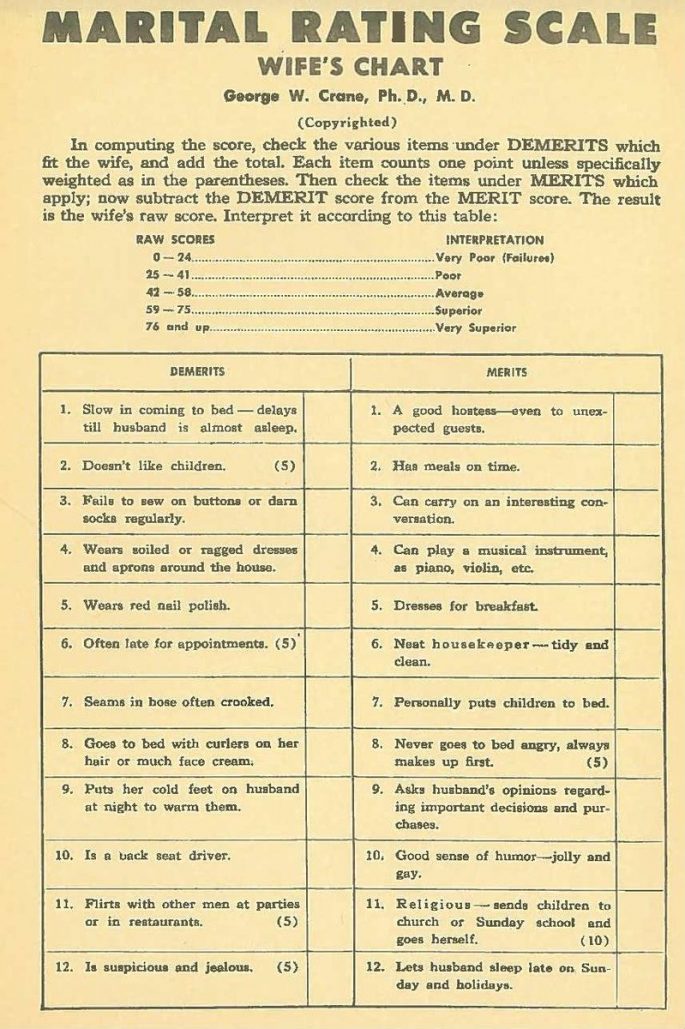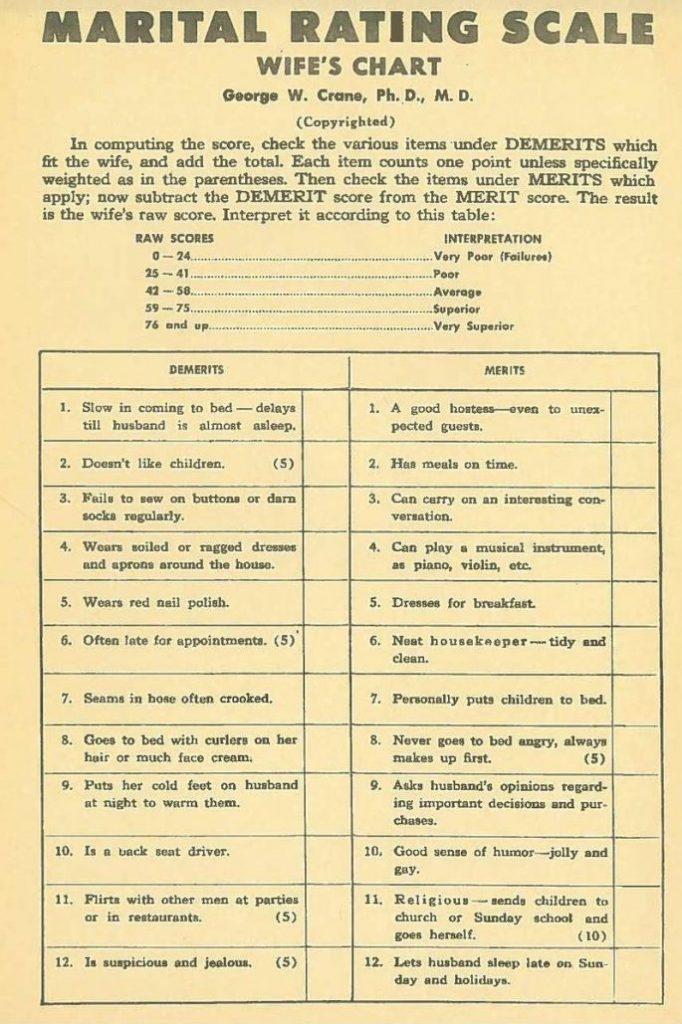 We could learn a lot from the older generation. Like how to survive a marriage. A Marital Rating Scale has been circulating the web lately which sees how a marriage scores, according to Northwestern University's marriage-guru-of-the-past George W. Crane.
But here's the kicker – it was designed back in 1939. So just what makes a good wife? Well you better brush up on your sock sewing and violin playing skills…
Saving Marriages, One Ridiculous Test At A Time
Have a read of the checklist to see how you fare. Oh, and don't worry – there's a good husband list too! 
What Makes A Good Wife?
Are you a good hostess, even to unexpected guests and their multitude of children who run through your house, pulling out every toy and peeing on the carpet? This is important in good wifeville.
Do you have meals prepared on time? Heating up leftovers from last night counts.
Can you carry on an interesting conversation? Even when talking about cricket?
Can you play a musical instrument? Because, if not, you are pretty much the worst wife ever.
Do you come to breakfast dressed for the day? Pyjamas don't count. Or yoga pants.
Do you personally put the kids to bed every night? Because heaven forbid daddy actually reads the kids a bedtime story every once in a while.
Do you bite your tongue when your husband is being a complete jerk? Because going to bed angry is not allowed.
And neither is having a dirty house. To reach good wife status, you need to be a neat housekeeper. Well, my secret house cleaner is very neat and tidy. So that's another tick.
Finally, are you religious? Do you and the kids go to church on Sundays? You will lose 10 points if you don't.
And, while at church, you also need to let your husband sleep late. Because this is what good wives do.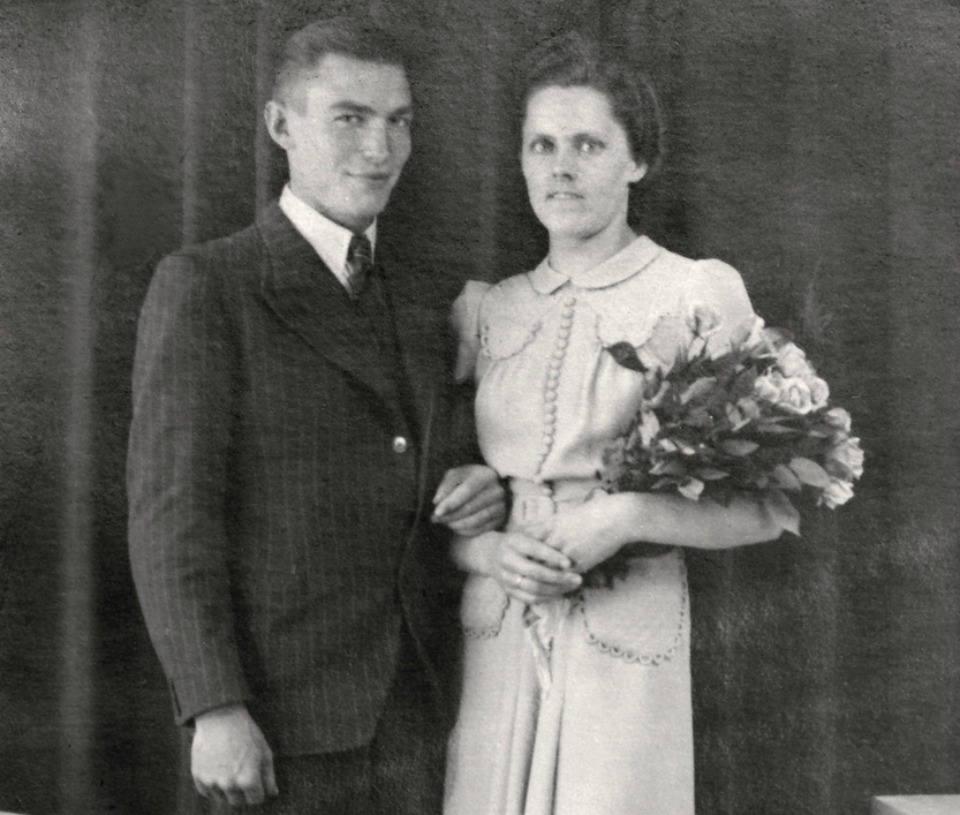 What Makes A Naughty Wife?
Are you slow coming to bed? Is your husband already snoring by the time you actually get all the chores done. BAD WIFE.
Do you like children? You better. Or else you're a bad wife.
How are your sock and button sewing skills? If you can't sew those "darn socks" regularly, well, prepare for divorce.
Do you go to bed with curlers in her hair or cream on your face? Sorry, but your hair must be perfect and your face clean before bed.
Check your dresses (yes, you must be wearing a dress). Any baby spit up or leftover toddler food on it? That's another bad wife tick. No soiled or ragged dresses allowed.
Do you paint your nails red? Might as well stamp a scarlet D over your forehead. Because you're heading straight for divorce, you naughty woman.
Are you late for appointments? Another wife fail.
Do you "seams in hose often crooked"? Well, considering I don't even know what that means, I clearly fail.
Are you a back seat driver? Apparently informing your husband that he has no idea where he is going is not allowed.
Are you suspicious or flirt with other men at parties? Well, that's kind of a given no-no. But in 1939 it's a whopping 10 demerits.
And, my personal favourite – in bed, do you put your cold feet on your husband's feet to warm them up? PRETTY MUCH EVERY SINGLE NIGHT.
So, there you go. As long as you stay away from red nail polish, go to church and serve meals on time, then you're nailing this whole wife thing.
Do you pass the test? Check out the husband's equivalent to see how he is doing.
Meanwhile, have a giggle at 17 things men should not say to their wives during labour.