10 Healthy Snacks To Fight Chocolate Cravings During Pregnancy
Cravings and the desire for not so healthy food choices often effects most pregnant women even if they're following a healthy pregnancy eating plan.
Nutritionist's, Elisha Danine, shares some great healthy snack ideas for one of the more common cravings – CHOCOLATE!!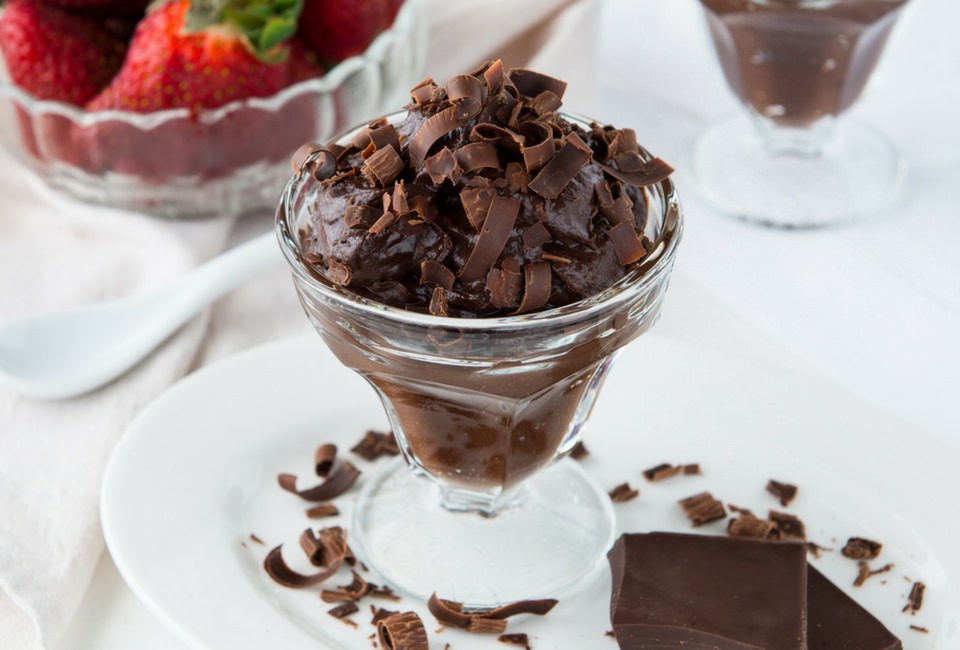 I'm not aware of a single pregnant woman that didn't have some sort of pregnancy food cravings – and chocolate seems to be the most common!
Chocolate boosts serotonin production (the feel good hormone) so it does more than just satisfy our taste buds. But too much of a good thing can lead to excess weight gain and even more sugar cravings, which will send your blood sugar through the roof. This may also increase your chances of developing gestational diabetes. A condition that can stay with you for life.
Try some of these snacks as a prevention or alternative to a chocolate fix.
1. Avocado Chocolate Mousse
Raw chocolate is so much better for you than milk chocolate as it contains higher amounts of minerals such as iron and magnesium. Try this snack for your daily amount of omega 6 fats (from avocado). To make the mousse combine 50g avocado, 2 tsp raw cacao, 1 tbsp coconut cream, a pinch of stevia and whizz in blender until smooth. Place in fridge for 2 hours and serve. 1 serve = 215 calories
2. Dried Banana Chips
Make your own banana chips at home if you have a food dehydrator or borrow a friend's if you don't have one. It's simple and cost effective and makes an easy portable snack. Use bananas to help fight chocolate cravings as they are high in fibre and will keep you feeling full. ½ cup (50g) of banana chips = 173 calories
3. Pumpkin Seeds
A magnesium deficiency is said to bring on chocolate cravings. Pumpkin seeds are high in this mineral and make a perfect snack to carry around in your handbag for those hunger moments. Calories per 30g serve = 172 calories
4. Cacao Delight Smoothie  
Try this spicy protein Smoothie to satisfy your chocolate cravings. This Cacao Delight Smoothie consists of – 1 litre coconut water, 1 tbsp of coconut oil, 1 tbsp raw cacao powder, 2 tbsp Healthy Mummy Pregnancy Smoothie powder and 1/2 tsp cinnamon powder. Process until smooth in a blender. The natural electrolytes in the coconut water will keep you hydrated all day and the protein and cinnamon will keep your blood sugar levels stable until your next meal. These quantities makes 2 serves. Each serve = 174 calories
5. Cucumbers
Cucumbers contain caffeic acid, which helps prevent water retention in the body – a common complaint from pregnant women. They are also high in folate which helps to prevent neural tube defects in the unborn baby. They are nice plain or with a little sprinkle of salt. The high fibre content will help prevent sugar cravings for many hours. Each 100g of cucumber contains 15 calories
6. Asparagus
Asparagus is high in folate which is needed in higher amounts in the first trimester in pregnancy. Grilled asparagus with balsamic is a tasty snack that will help curb your appetite until your next meal. Filling up on greens will tend to prevent chocolate cravings due to the magnesium content. 100g of asparagus = 20 calories.
7. Pomegranate
This superfood is sweet and tangy and is high in vitamin C, boosts immunity, improves circulation and helps to prevent diabetes. It has many benefits including being high in soluble and insoluble fibres and with only 83 calories per 100g it is a much better option than sugary, milk chocolate.
8. Figs  
Figs are high in vitamin B6, which has long been thought to be beneficial in alleviating morning sickness. They are also known to help balance blood sugar which can help prevent unhealthy snacking and mood swings. 1 large fig (7cm diameter) has 45 calories.
9. Chocolate 'Pudding'
This 'pudding' is a great low calorie chocolate fix. It is a delicious snack which helps increase your protein intake as recommended in pregnancy. Mix a 100g tub of low fat natural yoghurt with 2 tsp unsweetened cocoa powder for a mousse like treat with a fraction of the calories. 1 serve = 98 calories
10. Grainy Toast with Baked Beans
This easy to prepare snack is full of fibre and will help reduce sweet cravings. 1 slice of toast with 2 tablespoons of baked beans, salt reduced = 140 calories.
Disclaimer: Always speak to your doctor before changing your diet,taking any supplements or undertaking any exercise program in pregnancy. The information on this site is for reference only and is not medical advice and should not be treated as such, and is not intended in any way as a substitute for professional medical advice..
Our plans promote a health weight gain in pregnancy to benefit the mother & baby and you can read more on this here 
The owners of The Healthy Mummy do not make any representations or warranties, express or implied and shall have no liability or responsibility to any person or entity with respect to any loss or damage caused or alleged to be caused directly or indirectly by the information contained herein and nothing in this disclaimer will limit or exclude any liability for death or personal injury resulting from negligence, limit or exclude any liability for fraud or fraudulent misrepresentation, limit any liabilities in any way that is not permitted under applicable law or exclude any liabilities that may not be excluded under applicable law.