Hi Healthy Mummy Team, My name is Jacinta Oliver and I began considering about a healthy eating and weight loss program to start on just after after my little baby boy was born back in February.
I then put it off for a further 4 months, disliking the way I looked, and always avoiding photographs with my family until one morning it just clicked in my head –  I wasn't happy. I couldn't move as freely as I wanted and I would always get tired walking to my letterbox.
I knew that at 83 kilos a "quick fast diet fix" wasn't going to help this time, I've tried it all, not eating, fad diets, fast weight loss diets, diet pills, all that left me with bad skin and oily hair.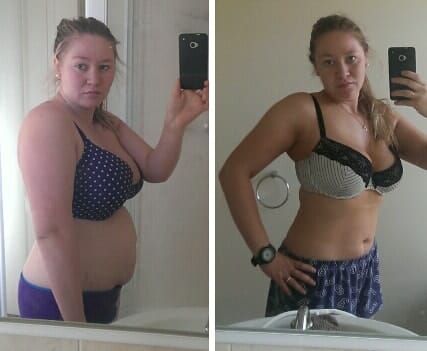 I had to find a weight loss program something that was sustainable and that was going to benefit me and my health not only now but in the future as well, and that's when I found it! It was the second last week of May and one of my friends on Facebook had "liked" a Healthy Mummy motivational mum talking about her weight loss on the Healthy Mummy weight loss program.
I read every bit of it. I sat there for a quite a long time and just cried, sad with the person I had become. I "liked" the facebook page and realised after reading a couple of stories from other women who had felt exactly what I was going through, that it wasn't going to be another one of those "fad" diets.
I then researched everything on the website and was amazed, it was so wonderfully set out with everything you would need to start a new healthy eating lifestyle and weight loss program. I scrolled through some of the recipes, they sounded delicious. I ordered my copy of the 28 day plan as well as the healthy mummy smoothies.
My Healthy Mummy pack arrived the next day and I went to the market and brought all the fresh ingredients, I was on a high. I got home and immediately started to prepare meals for the week.
Within the first week I started to see results, I joined a fitness group too, and immediately the weight fell off losing up to a kilo a week, I was shocked, I didn't know what to expect or how fast it would happen. My skin was clearer, my hair healthier and my breast milk supply increased. I have continued to follow the Healthy Mummy plans and more and more weight fell off. Now at 68 kilos, only 5 kilos off my goal weight I am more determined than ever.
I work in a childcare centre and am constantly referring everyone to the plans, when they ask how did you do it?
I have had my fair share of food battles and sometimes the food won, it still wins, but the most important thing is to keep going, continue with your exercise and don't beat yourself up over the failures focus on the positives, never look back and always focus on the future.
This morning I completed a fun run, 8km in 54 minutes, it achievements like that, that give me the motivation to keep going, set little goals for yourself, and remember it doesn't have to always be a number on the scale.
The most important piece of advice I could say to people is love yourself for who you are no matter what your weight, and always remember the losing weight is a journey, a rollercoaster, your bound to have good and bad days, you just have to push on.
So, thank you to the team  Xxx