15 Ways Ginger Can Help With Morning Sickness
A healthy pregnancy has its fair share of unpleasant conditions – morning sickness is one of these. Some people can even feel nauseous all day and often having something healthy to eat can relieve these symptoms. Ginger is just one of the many natural ways you can relieve morning sickness symptoms.
Everyone has experienced a bit of nausea in their lives. But it's not until you have morning sickness that you understand the full extent of how all-encompassing feeling queasy can be.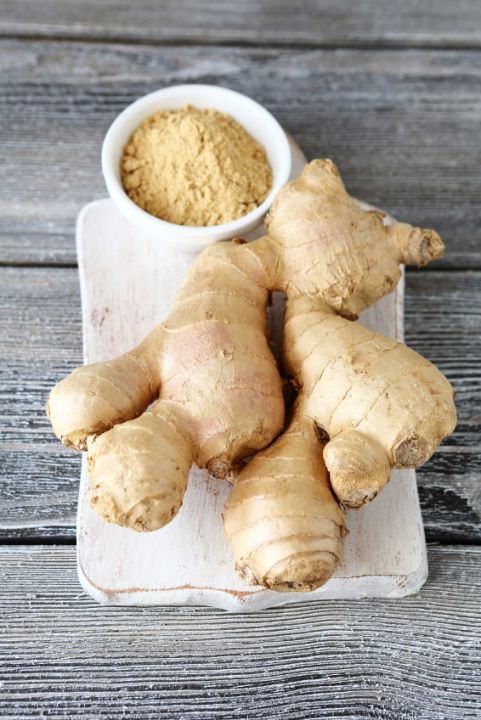 If you are feeling like this, you will be getting advice from everyone, and often the most common thing you will hear is ginger. Ginger has research behind it to show that it can help with nausea. Not only will it help in those early months, but its also useful leading up to childbirth.
Here are lots of different ways to use ginger, so you can find one that works for you..
Dark Chocolate and Ginger Slice: Get a 250g packet of ginger nut biscuits (or bake a batch if you have time), 200g dark chocolate, 100g crystallised ginger, and 100g butter. Melt the butter and chocolate together, stir in crumbled biscuits and finely chopped ginger. Pour into a lined baking tray and set into fridge. Cut into 24 pieces. 129cal per serve.
Green tea and Ginger Iced Tea: Boil 1 cup water, brew green tea and 1 small knob of grated ginger for 10 minutes. Strain, cool, and stir in 1 tsp honey. Serve over ice. 22cal per serve.
Ginger Muesli Bites: 2 cups muesli, 1 cup wholemeal plain flour, 2 tsp baking powder, 2 eggs, 1 cup diced crystallised ginger, 1/2 cup honey, 1/2 cup melted butter. Stir everything together. Press into a lined baking tray. Cook at 170C for 25mins, until golden. Cut into 24 squares when completely cool. 133cal per square.
Ginger and Pineapple Frappe: 125ml pineapple juice, 125ml ginger ale, 1 sprig mint, 1 cup ice. Blend it all until smooth and icey. 80cal per serve.
Ginger and Date Balls: In a food processor, blitz together 1 cup dates, 1/2 cup crystallised ginger, and 1 cup almonds. Roll into 12 balls and coat in chia seeds. 156cal per ball.
Beef Stir Fry with Ginger and Soy – make your own favourite stir fry and add some grated ginger for flavour and to help with nausea.
Marinate pork in grated ginger and pineapple juice before cooking.
Marinate chicken drumsticks in ginger and honey.
Steamed some fish that is marinated with ginger and garlic.
Ginger and Turmeric Lassi: 100g yoghurt, 100ml cold water, 1 tsp grated fresh ginger, 1/2 tsp turmeric, 1/2 cup ice. Blend until smooth and drink it nice and cold. 90cal per serve.
Add some grated ginger to your next batch of Pumpkin Soup.
Add grated ginger to healthy muffins you might be making.
Great for those pregnant during the hotter months – Ginger and Lime Ice Blocks: 100ml ginger cordial, 2 cups water, juice and rind of 2 limes. Pour into 6 ice block moulds.
Ginger & Date Chia Pudding: 1/8 cup chia seeds, 1/2 cup almond milk, 1/4 cup chopped dates, 1/8 cup grated fresh ginger. Mix it all up and let it sit for 1 hour or until chia seeds are plump. 315cal per serve.
Add some ginger to your next Healthy Mummy Pregnancy Smoothie for a morning sickness fix.
Have fun experimenting with this amazing natural remedy!
Click here to visit our pregnancy products shop.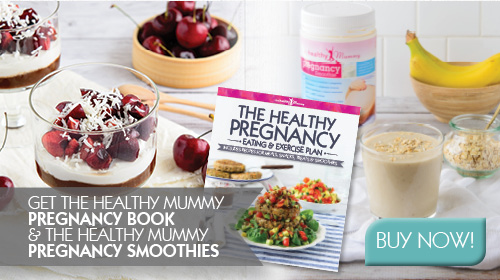 Disclaimer: Always speak to your doctor before changing your diet,taking any supplements or undertaking any exercise program in pregnancy. The information on this site is for reference only and is not medical advice and should not be treated as such, and is not intended in any way as a substitute for professional medical advice..
Our plans promote a health weight gain in pregnancy to benefit the mother & baby and you can read more on this here 
The owners of The Healthy Mummy do not make any representations or warranties, express or implied and shall have no liability or responsibility to any person or entity with respect to any loss or damage caused or alleged to be caused directly or indirectly by the information contained herein and nothing in this disclaimer will limit or exclude any liability for death or personal injury resulting from negligence, limit or exclude any liability for fraud or fraudulent misrepresentation, limit any liabilities in any way that is not permitted under applicable law or exclude any liabilities that may not be excluded under applicable law.