30 year old, Zena Mason, is one resilient and inspiring mum. And we have no doubt after reading her story you too will be in awe of her strength. Over the past few years, Zena has faced many hardships and tragedies – including the loss of her gorgeous little girl.
With her unimaginable heartache and other curve balls life has thrown Zena's way, there was a time she says, food became one of her greatest comforts.
However, Zena found the courage, strength and power, to take back some of the control in her life and focus on her health to not only improve her own wellbeing, but her families – particularly her 16 month old son.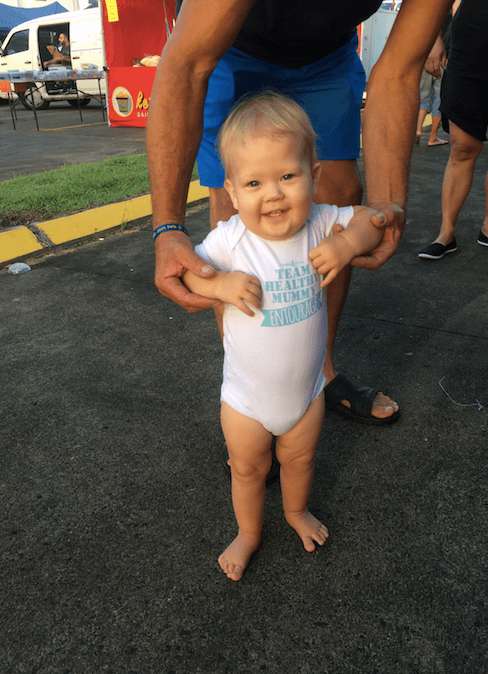 I've lost 15kg and heaps more cm's all while breastfeeding my 16 month old
"I have been overweight for most of my adult life," Zena reveals.
"In the last few yearsI have had some tragic things happen and it was really important for me to look after myself and take control of my life. I'm an emotional eater and I really didn't want it to beat me. I really want to be a good role model for my son and for my amazing nieces and nephews," the inspiring mums admits.
In 2017, Zena begun the 28 Day Weight Loss Challenge. Since she has lost 15kg and all while she breastfed her now 16 month old son.
"You really have to have a deep and meaningful conversation with yourself about why you are where you are. Be honest to yourself. Knowing how you got to where you are will help you learn, and provide the tools you need most when times get tough," Zena shares.
The 28 Day Weight Loss Challenge, Zena says, has helped her make delicious family favourite recipes but in healthier, less calorie laden ways. Some of Zena's favourite Healthy Mummy recipes include Cherry Ripe Bliss Bliss, Stove Top Lasagne and Beef Nachos.
Zena says that the 28 Day Weight Loss Challenge Shopping List has been particularly helpful, "I love meal planning" she reveals. Zena also finds it handy to select say dairy free recipes in the 28 Day Weight Loss Challenge App and then easily incorporate these recipes into the shopping list.
Zena's goals
As Zena is now slowly weaning her little boy off breastfeeding, this month, she would really like to assess her calorie intake, her food choices and try and reduce the amount of caramel lattes (with almond milk) she has.
Zena says she would also like to make a plan to help her get to 75kg by September 2018.
"I want to beat hubbies weight and be lighter than him for the first time in our whole relationship of 13 years. He is currently 80kg (but keeps moving). So, 6kg for May. I want to get to 75kg by September 2018 – which is 10kg."
Tips for other mums
Zena has come a long way in less than 12 months, there is no doubt about that. She has used all her strength to improve her health as well as her family's.
Now, Zena is now helping to empower, encourage and motivate other mums to do the same.
For anyone thinking about starting a weight loss or health journey with The Healthy Mummy, Zena says:
Take your time – This includes with your 28 Day Weight Loss Challenge App.
Go through the recipes – Be sure to go through recipes and favourite all the ones you like. This will make it that much easier when it comes to meal planning.
Find a local support group and join the Healthy Mummy's Private Facebook Support Group
Set realistic goals for everything from meal planning, weight loss, water and exercise and be honest with yourself as to why you are here
Buy the ebook from the Healthy Mummy Meal Prep Queens, as soon as you can to grasp the knowledge on meal prep quicker and easier.
And if you ever feel like giving up, remember to ask yourself why you started.
Here at The Healthy Mummy we are all about helping mums lose weight and get healthy. Our 28 Day Weight Loss Challenge has over 4,000 healthy, family-friendly recipes and more than 350 exercises and 24/7 support from fellow mums to help you achieve your goals.
You can get a FREE Milk Supply Boosting recipe pack here.
To learn more about the 28 Day Weight Loss Challenge (including the meal plans and monthly themes) click here.