4 Healthy Pregnancy Recipes With 4 Or Less Ingredients
Sometimes we just need a quick and easy healthy pregnancy recipe for a meal or snack that is foolproof. So here are some of our favourite one ingredient (yes!), two, three and four ingredient recipes.
When you're pregnant and often feeling tired at the end of the day are you put off even the best healthy pregnancy eating recipe when the ingredients list is a bit too long? We hear you!
Sometimes we just need a quick and easy healthy pregnancy recipe for a meal or snack that is foolproof.
So here are some of our favourite one ingredient (yes!), two, three and four ingredient recipes.
One Ingredient Fruit Sorbet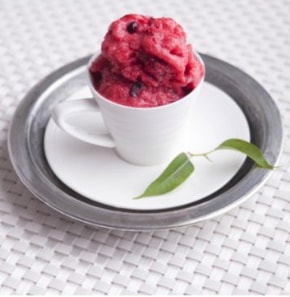 Yes just one ingredient – fruit! Click here for the recipe.
Two Ingredient Home Made Pizza Dough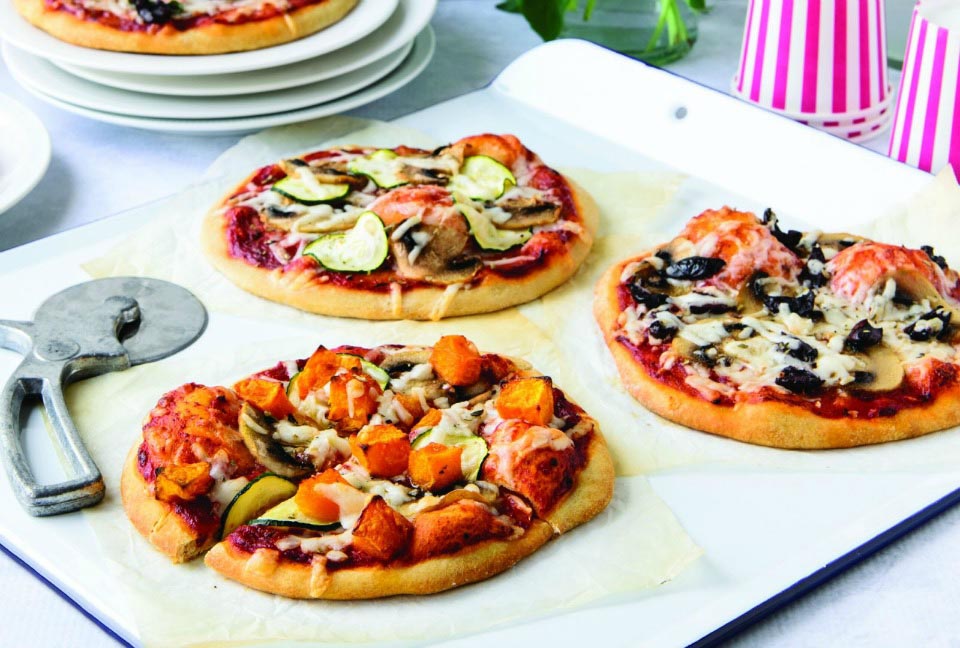 Just two ingredients to make a family friendly pizza dough? Yes please!
No waiting around for the dough to rise, this is a super quick dough that can be topped with simple fresh ingredients and served with a green salad.
Why not just add some cherry tomatoes, mozzarella cheese and fresh basil.
Ingredients (makes one large pizza):
1 cup self-raising flour (plus extra for kneading)
1 cup of Greek or natural yoghurt
Method:
Combine the ingredients in a large bowl and bring together with your hands.
On a floured surface, knead the dough for around 5 minutes until it feels stretchy. Add a little more flour if it seems too wet.
Use a floured rolling pin to roll the dough out.
Top with your favourite toppings and bake in the oven at 180C until golden brown.
Serves: 4. Calories per serve: 219.
3 suggested toppings:
2 tbsp tomato passata + a sliced tomato + a handful of whole olives + a sprinkling of basil + some tasty cheese + a handful of antipasto from a jar
2 tbsp tomato passata + finely chopped red onion + finely diced mushrooms + a sprinkling of tasty cheese
2 tbsp tomato passata + a cup of cooked BBQ chicken + ½ cup of corn + a sprinkling of Parmesan
Three Ingredient Leg Of Lamb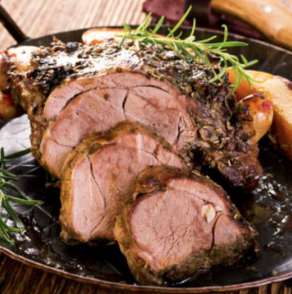 Got a hungry family to feed, or friends coming for dinner? This is your new go-to recipe. Just throw it all in the oven and you're ready to eat in no time.
There's no pot-watching or vigorous stirring required – which means you are free to do other things.
Throw in your veggies at the same time as the lamb for a complete meal.
The leftovers are also delicious the next day in a wrap or salad.
Ingredients:
1.5kg leg of lamb
1 bunch of rosemary
2 tbsp olive oil
Method:
Heat the oven to 200C.
Lay the rosemary sprigs over the base of a large roasting tin.
Place the lamb on top of the rosemary and rub with the olive oil.
Season to taste and place in the oven.
After 30 minutes, remove from the oven and baste the lamb in the pan juices.
Return to the oven for a further 40 minutes, or until the lamb is cooked to your liking (check by cutting a small incision in the centre to see how pink it is).
Remove from the oven and cover with foil.
Allow the lamb to rest for 10 minutes before carving.
Serve with your favourite selection of steamed or roasted veggies.
Serves: 6. Calories per serve: 350 (based on 150g of lean lamb per serve, not including veggies).
Four Ingredient Tzatziki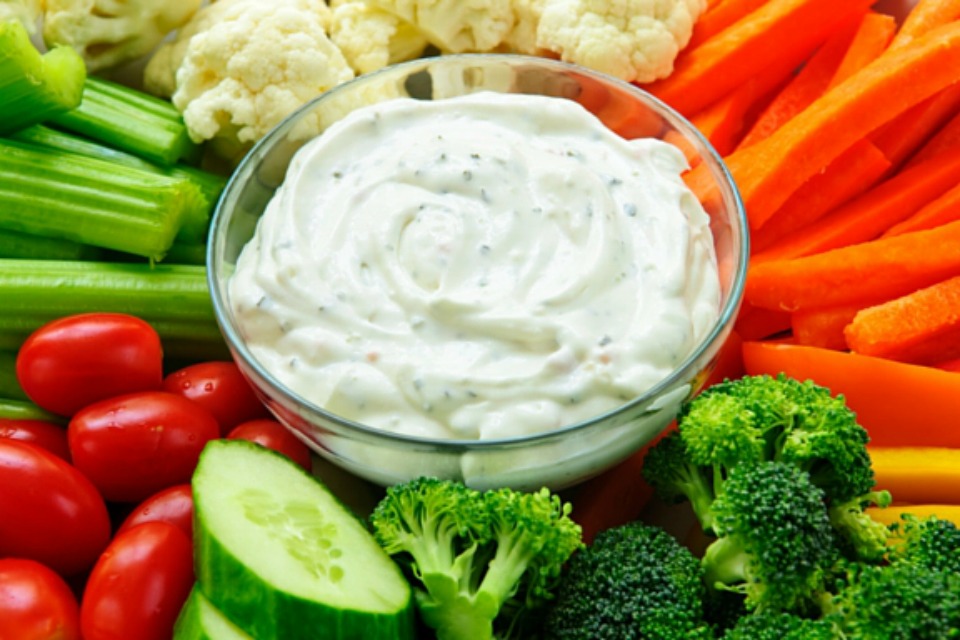 Making your own dip is a great way to enjoy the flavours you love without the added sugars, salts and oils that are found in commercial dips.
Try serving this simple tzatziki with grilled meats, BBQ'd fish, on a sandwich or wrap, as a side order for a fresh salad, with lamb chops, with a roast chicken – anywhere you like.
Ingredients:
1 large telegraph cucumber, peeled and diced
1 cup natural or Greek yoghurt
1 garlic clove, peeled and very finely diced
Handful of fresh mint leaves, chopped
Method:
Place all ingredients in a bowl and bring together with a spoon.
Serves 4. Calories per serve: 105
Bonus Recipe
4 recipes not enough? Here's an extra quick 3 ingredient recipe for you to try out next time you feel like some homemade rissoles or burgers…
Three Ingredient Burgers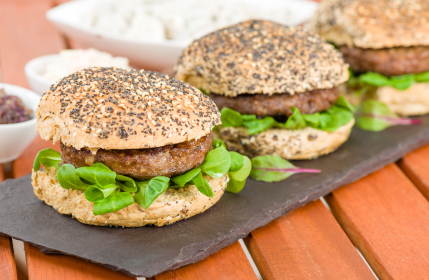 Just grab 500g lean mince (it could be beef, pork or chicken) then combine with a 1/4 cup of grated Parmesan and a handful of any chopped soft herb (think basil, parsley, coriander).
Use wet hands to mix the ingredients together and then form into 6 patties.
Grill on the BBQ or in a hot frying pan until cooked to your liking and serve with or without a bun and some healthy salad.
Click here to visit our pregnancy products shop.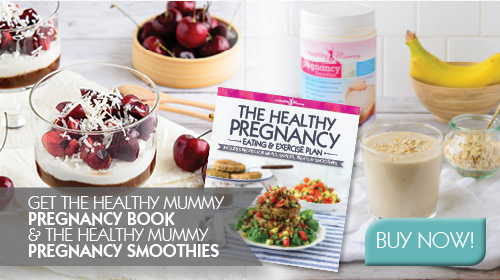 Disclaimer: Always speak to your doctor before changing your diet,taking any supplements or undertaking any exercise program in pregnancy. The information on this site is for reference only and is not medical advice and should not be treated as such, and is not intended in any way as a substitute for professional medical advice..
Our plans promote a health weight gain in pregnancy to benefit the mother & baby and you can read more on this here 
The owners of The Healthy Mummy do not make any representations or warranties, express or implied and shall have no liability or responsibility to any person or entity with respect to any loss or damage caused or alleged to be caused directly or indirectly by the information contained herein and nothing in this disclaimer will limit or exclude any liability for death or personal injury resulting from negligence, limit or exclude any liability for fraud or fraudulent misrepresentation, limit any liabilities in any way that is not permitted under applicable law or exclude any liabilities that may not be excluded under applicable law.