4 Quick & Easy Homemade Face Masks To Try This Weekend
There's nothing quite like homemade face masks for the ultimate in relaxing, self care rituals. Not only do homemade face masks treat your skin, they also force you to slow down, put your feet up and take a little bit of time out while it works its magic.
If you've been working your way through the 28 Day Weight Loss Challenge or are a new mum in desperate need of some TLC, then these super easy, DIY concoctions are for you!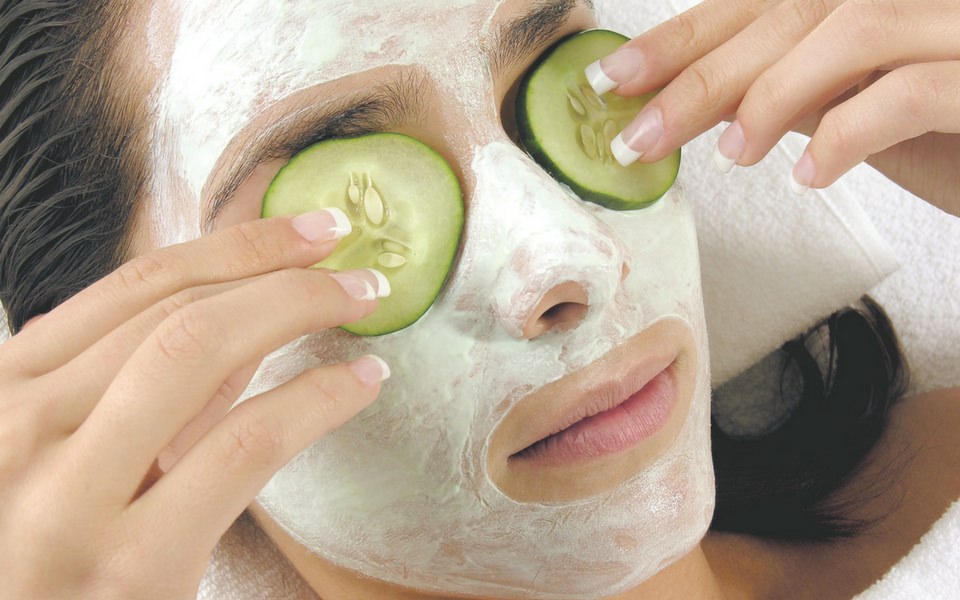 4 Quick & Easy Homemade Face Masks
1. Soothing Oat Mask
This soothing, oat based complexion perfecter combines a bunch of ingredients well known for their skin calming abilities. Rolled oats contain a compound called avenanthramide which is a potent anti-oxidant and anti-inflammatory. Yoghurt is instantly cooling while honey, especially the more potent varieties, is well known for its wound healing properties.

 – 2 tablespoons of rolled oats (not quick/instant)
– 1 tablespoon natural or Greek style yoghurt
– 1 teaspoon of honey (Manuka or raw honey are ideal)
– 1/2 a banana, mashed
– Combine all ingredients and apply to clean, slightly damp skin. Leave in place for 5-15 minutes then remove thoroughly.
2. Youth Restoring Chocolate Mask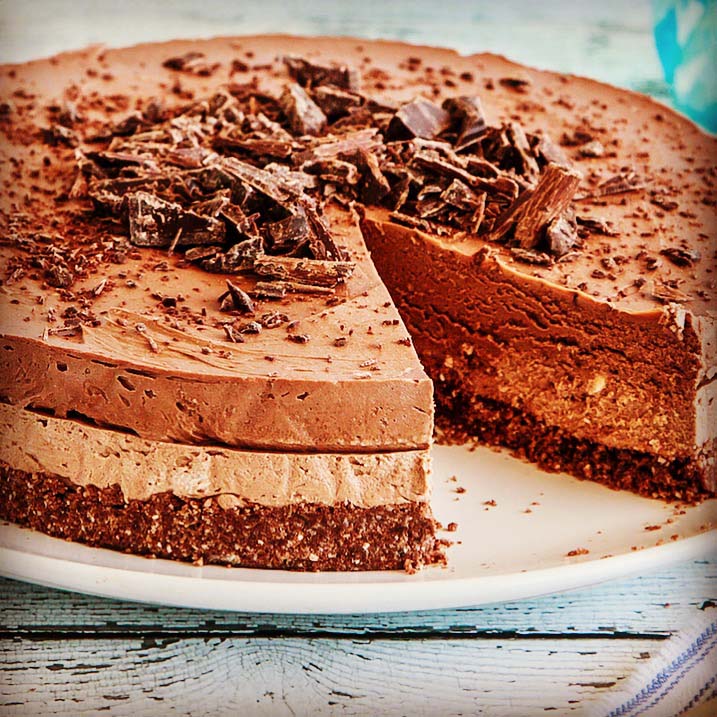 Yep, you read that correctly! It's chocolate for your face! The high antioxidant count found in pure cocoa or cacao doesn't just taste great, it can actually improve the appearance of your skin, gently erasing fine lines and restoring a youthful glow.
– 1/2 cup of cocoa powder
– 3 tablespoons of oats
– 2 tablespoons of coconut cream
– 2 tablespoons of honey (Manuka or raw are ideal)
– Combine ingredients and apply to face in a generous layer. Leave for 5-15 minutes then rinse clean.
Or if you can't get chocolate off your mind,  make one of our healthy chocolate recipes like the Triple Chocolate Cheesecake (pictured above).
3. Citrus Brightening Mask
Lighten, tighten, brighten and help treat hyper-pigmentation with this citrusy mask. Citrus fruits like lemon, lime and orange have powerful brightening powers thanks to their high vitamin C content. This mask will not only help brighten your skin, it'll also go to work on dark spots and/or hyper-pigmentation.
– Juice of 1 lemon
– 1/2 cucumber
– 1 tablespoon of natural or greek yoghurt
– 1 egg white
– 1 tablespoon honey (raw or Manuka are ideal)
– Pop all your ingredients in a food processor or blender and whizz till a thick paste forms. Apply to skin in a thick layer and allow to set for about 15 minutes before rinsing off.
5. Hydrating Avocado Mask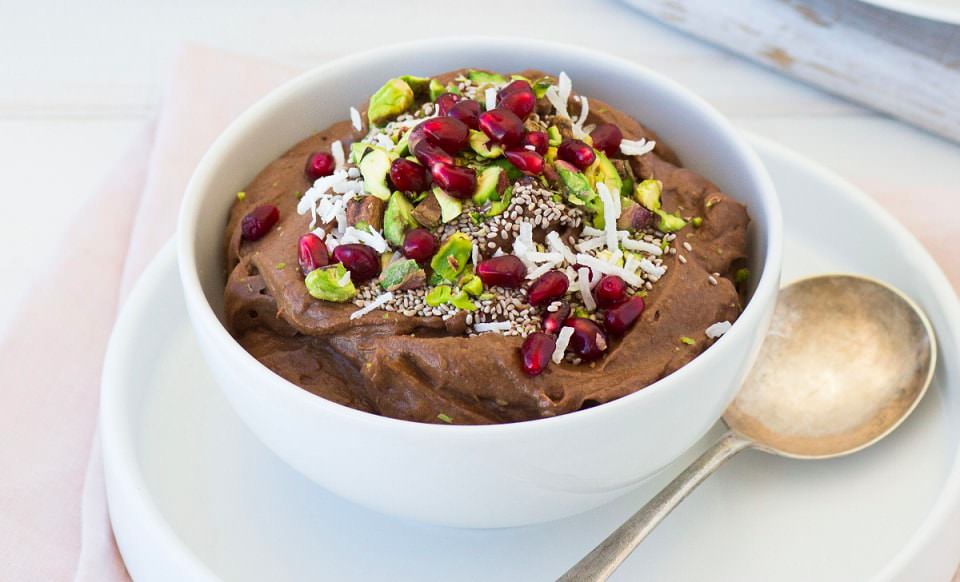 Avocados aren't just delicious on toast (or in this Healthy Chocolate Mousse, pictured above) They can also be used topically to great effect. All those healthy fats contained in the flesh of the avocado are fantastic for restoring moisture balance to your skin. You can also use this mask on your hair.
– Flesh from 1 ripe avocado, mashed
– 2 tablespoons natural or greek yoghurt
– 1 tablespoon lemon juice
– Combine ingredients and apply to face (or hair). Leave for 15 minutes before rinsing.
Find lots more beauty tips here.