How to love your body after having a baby according to these 4 mums
Self-love and self-care go hand in hand. The two practices determine how we feel about ourselves and in turn how others see us and here at The Healthy Mummy we encourage loving yourself at any stage of weight loss.
Instead of shying away from their reflections after having a baby, these mums and 28 Day Weight Loss Challenge members try to be grateful at what their bodies are capable of and what they just went through.
"It bought life into the world and our bodies should be treated that way," one mum says.
These 4 mums share how they learnt to accept their bodies and feel good no matter what their weight.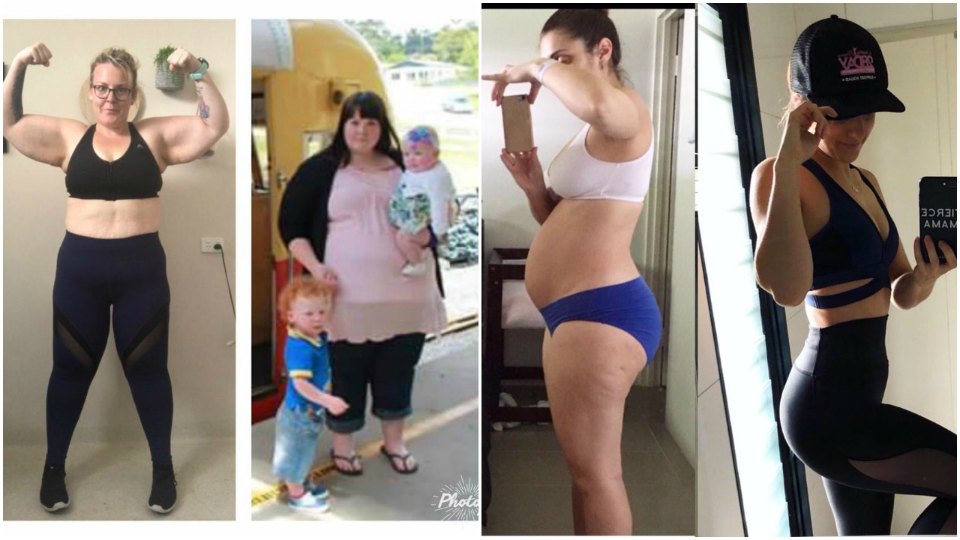 How these mums learnt to love their bodies after baby
So, why are we the first ones to get down on our body after having a baby?
These mums share their stories of how they found body acceptance and how they maintain it by showing self-care.
Kaitie Purssell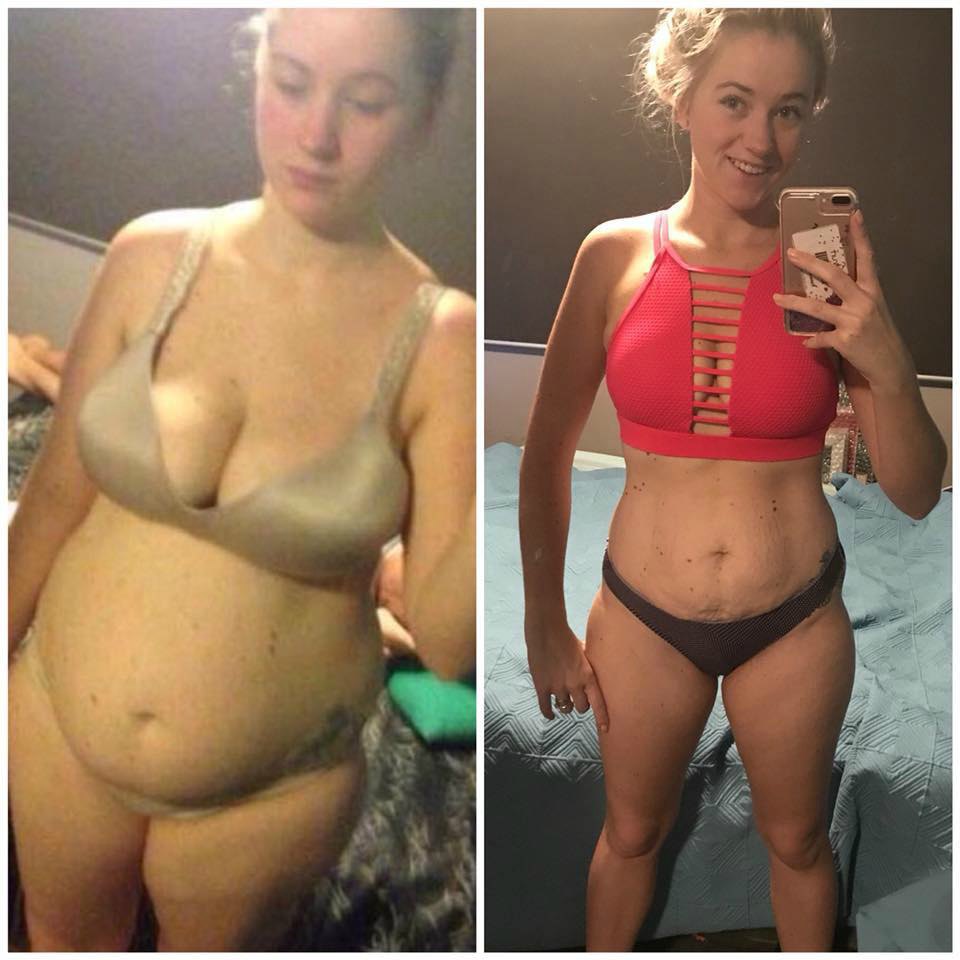 Kaitie said she absolutely compared her body to others after having a baby, something she did even before having kids.
"It's certainly a slow process! Losing weight absolutely helped me get comfortable with myself and my body, however I'm not saying you need to be a size 8 to love yourself – it was the process that helped me," Kaitie said.
Learning to nourish your body, fuel it with good foods, treat it with respect, no longer constantly abusing it with junk food and chocolate binges is what Kaitie did to learn to love her body.
"Being proud of my choices, of my progress gave me a sense of body confidence and appreciation for the amazing things our bodies can do!" she said.
When it comes to feeling good, Kaitie found that exercise made her feel better, saying "moving your body and eating well combined is a game changer. Also understanding that exercise doesn't mean spending hours punishing yourself at the gym, you can move your body working out at home or by simply going for a walk with the kids."
When it comes to practicing self-care and body acceptance Kaitie treats herself with new activewear whenever she can afford, she does a self-tan weekly to make her feel fresh, and if she's feeling burnt out she'll have a nice relaxing Epsom Salt bath!
Making sure she makes time for herself too, is also important, "my most common "me time" is watching TV for an hour or so by myself after the kids and hubby are in bed. It may sound funny but it really gives me a sense on balance after long day," she says.
Amy Atkinson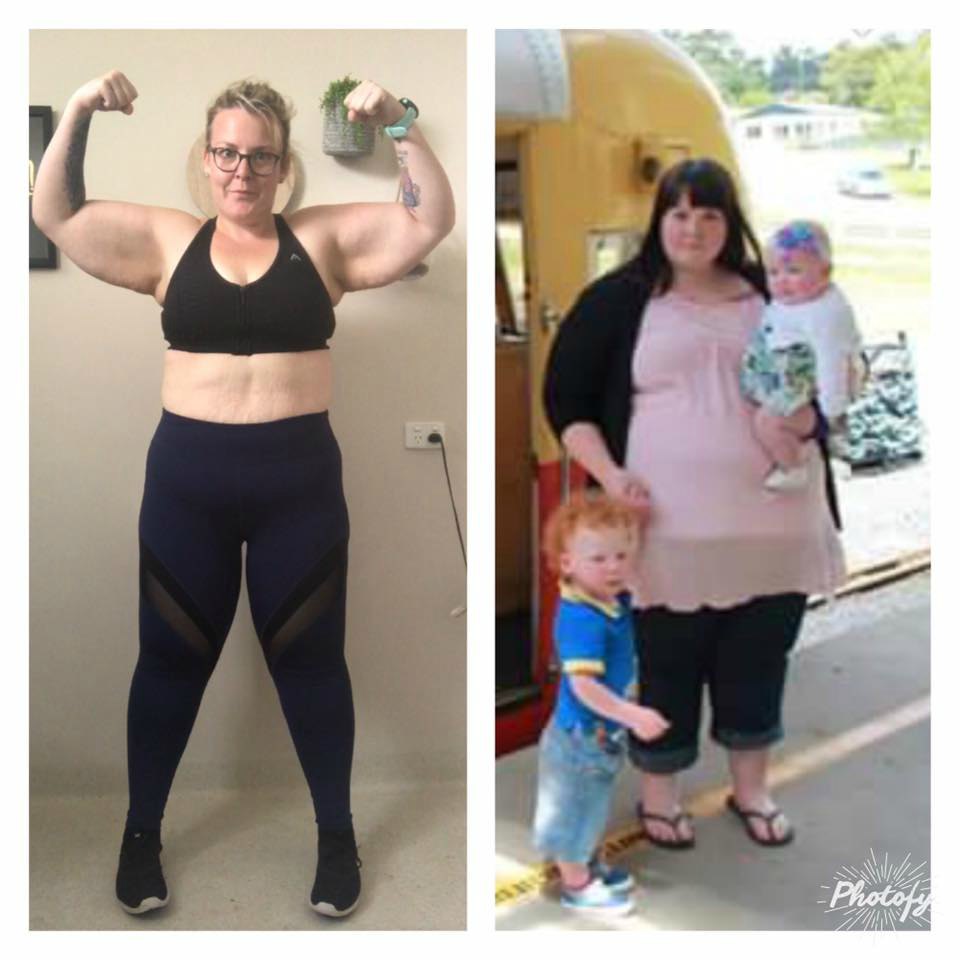 Amy started out her journey at 162.4kg after the birth of her 4th child. With no confidence whatsoever, hating her body, Amy was ashamed of herself and says she was lazy. It was not only affecting her as a person, but also as a mother.
"I never compared myself to any others after I had my children as I had always been overweight so had nothing to compare to. I've never had that glamorous pre baby body and was well over 150kg when I started having children. By the time I fell pregnant with my 4th child I topped the scales at 175kg," Amy says.
Not only has The Healthy Mummy helped Amy lose 56kg and over 200cm off her body it has also taught her to love herself. Amy says, "I am still overweight, I have a huge amount of lose skin and still have that dreaded overhang. But I look at myself in the mirror and smile every time. I now love what I see."
Self-love didn't come straight away and it didn't happen overnight. But it did happen for Amy, and that is the main thing. She also says it was the help of the support groups that made her realise that she could love herself.
Since changing her lifestyle, Amy has also changed her attitude towards exercise and now loves it. "If I'm having a bad day I will do a quick work out from the app or I'll go to my boxing bag. And guaranteed 10 times out of 10 I'll always feel happy after it," she said.
Amy practices self-care by taking progress photos. She looks back at the photos and gives herself compliments. "I just stop and stare and think about how far I have come and how much I have achieved," she says.
Annette Palma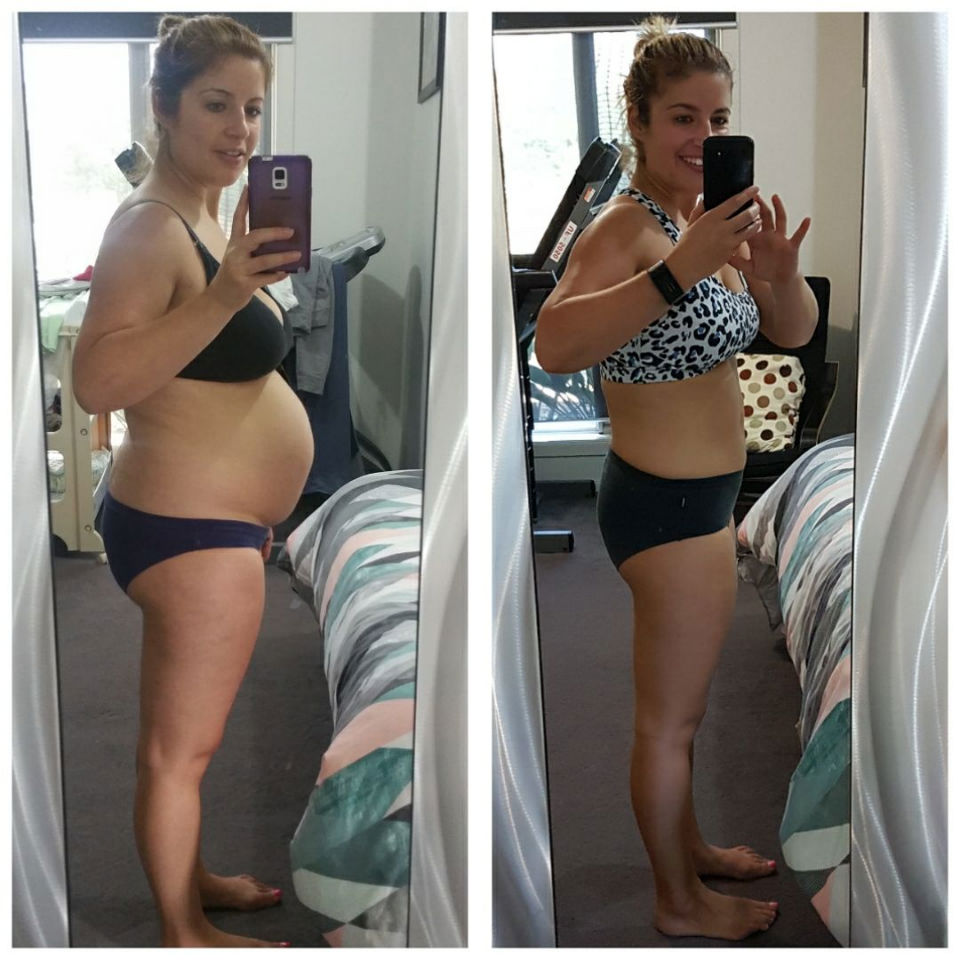 Annette says that it's hard not to compare your body to others after having a baby, "especially when you see stories in the media of women who have a baby and are straight back into their pre baby clothes a few weeks or even days later and here I am still chipping away months later," she says.
Pulling herself up and forcing herself to stop thinking that way, she changed her thinking to 'everyone is different' and 'everyone is on their own journey' and 'I'm not in competition with anyone', helped Annette.
"Self-love is definitely something I have to work at. Probably like most women, it's not something that comes easily or naturally for me," she says.
Still having that instant reaction of wanting to pick apart every photo she sees of herself and only seeing the negatives, Annette has come a long way and is getting better at looking at her reflection and taking the positives.
"I am getting stronger. I am looking fitter. Looking at progress photos definitely helps with that. I have never been so active or fit as I am now and I love the way exercise makes me feel. I love pushing myself to see what I can achieve next – lift a heavier weight, run further or faster, etc," she says.
Annette practices self-care by taking time out for herself. "It's not something I have scheduled each week but it could be as simple as getting my hair done or dinner and a movie with friends where I just get to be me!" Annette said.
Samara Syed
After losing 17kg, Samara understands that it can be hard not to compare yourself to others after you've had a baby, she says "I think my hardest hurdle was to stop comparing myself now to what I was pre-baby."
She has now learnt how to love herself because she needed to set a good example for her 2 daughters. "I would never call them fat so why would I talk to myself that way?" she says.
Samara says that whenever she moves her body, she instantly feel more energised, her mood is lifted and she feels fantastic about herself. The next time you're feeling down why not try these exercises and see how you feel?
To practice self-care Samara makes sure she goes to the gym a few times a week as this routine has always been great for her mental health more than her physical health. She says, "It is the perfect way to get some time to myself."
Inspired by these mums stories?
Want to shift your baby weight but feel like you have NO TIME in your day to eat healthily and exercise? That's where The Healthy Mummy's 28 Day Weight Loss Challenge can help.
Here at The Healthy Mummy we like to live by losing weight in a healthy and manageable way and this is where the Challenge comes in.
With more than 4,500 delicious (and healthy) recipes, 350 exercises & 24/7 support – the 28 Day Weight Loss Challenge is designed (and proven) to help busy mums like you lose weight!
To learn more and join the Challenge, click here!