9 Lazy Mum Tips To Help Create Kids' Birthday Cakes
Unless you're a whiz in the kitchen, attempting to create an elaborate kid's birthday cake when you're a lazy mum can send your blood pressure skyrocketing; but there are shortcuts you can take.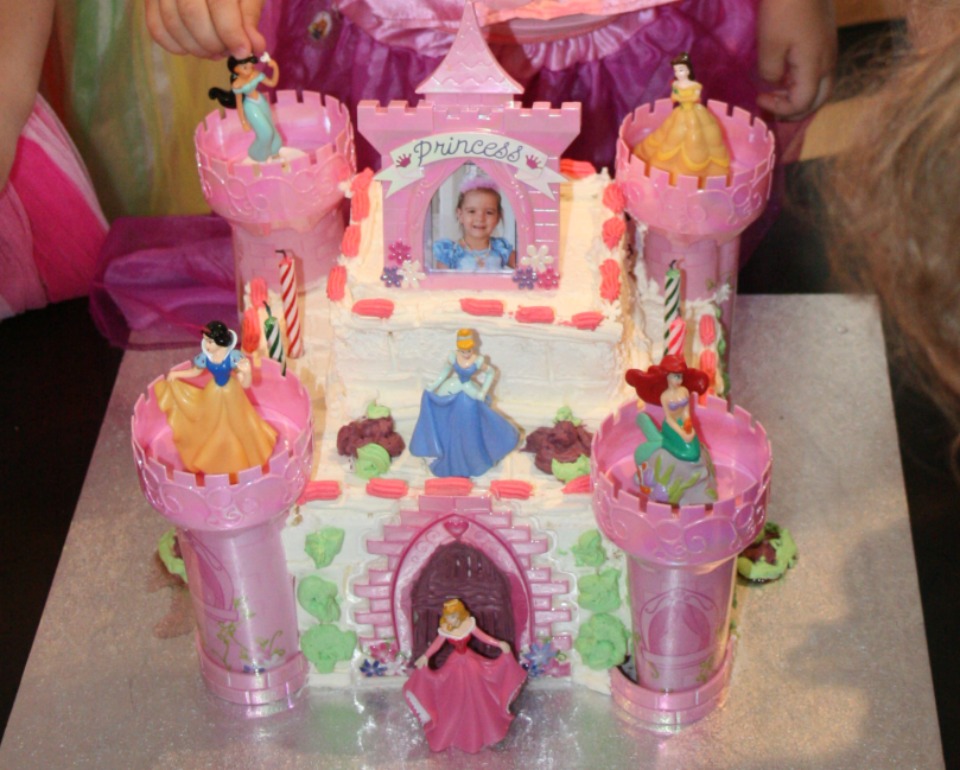 It can be costly outsourcing birthday cakes and truth be told often a homemade one can have just as much 'wow factor' as a three-tiered beauty with colourful sugar icing figurines and piping.
Every year I've made my child's birthday cakes, some were better than others and while one or two took a day or two of planning, more recently I've whipped one up in just one hour.
The most recent one I made was a quite a fancy-looking pirate ship cake for my child's 5th birthday; it was done and dusted in less than 60 minutes.
The reason it didn't take me long was because I cut a few corners, well all of them actually.
I got the cake from the supermarket, a quarter slab of sponge for about $9, there was some already-made chocolate icing at the supermarket and I bought some lollies and gold coins that I knew little kids would love.
The mast was taken from packaging of a pirate game picked up at K-Mart and I just used kebab skewers to assemble it all. Trust me I am no chef, but I am sometimes resourceful.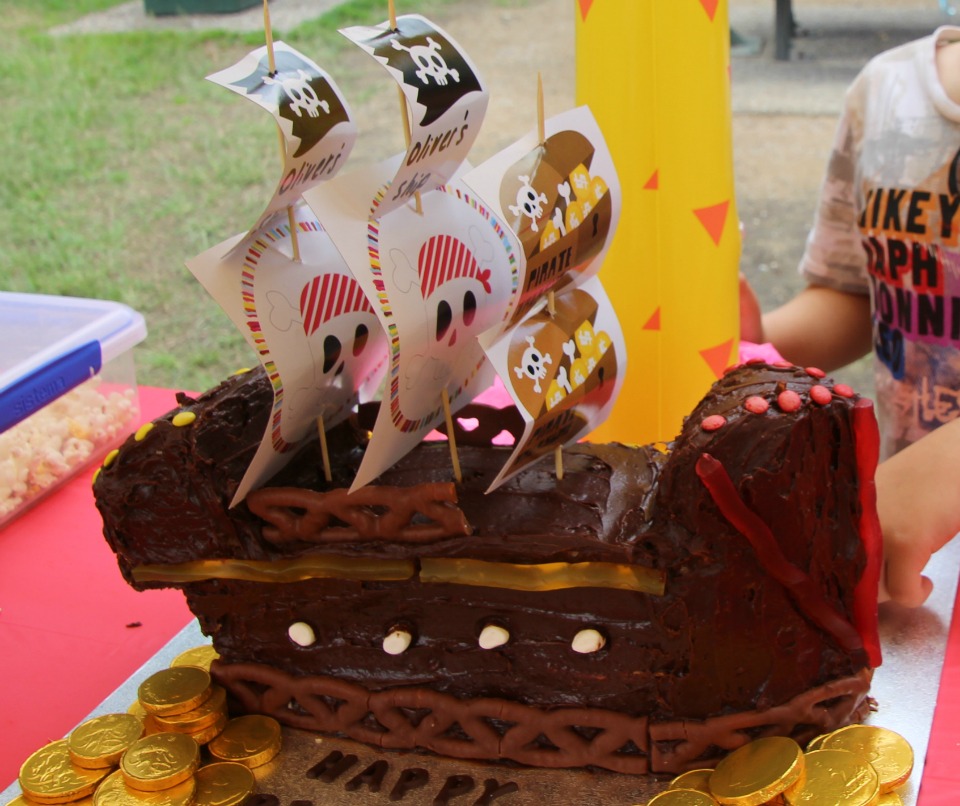 9 lazy mum tips to help you make kids birthday cakes without stressing
1. Don't go too overboard for young ones because let's be honest until they are about three most kids won't remember the cake or appreciate it. Keep it simple while you can.
2. If you need a deep piece of cake that you have to cut up and make into weird shapes, visit the baker at your supermarket and ask for a half slab of sponge. They usually have them out or in the freezer and are happy to sell you some if you ask nicely.
3. Remember most of the time kids just like the lollies and icing on top so don't feel bad if the cake is a sponge from the supermarket or a packet mix you've bought from the baking aisle.
4. Buy a square or circle cake board, one with foil over it, from a cake shop to put your creation on. You can reuse it dozens of times by wiping it down and the cake looks better on it.
5. Don't get caught up with the instructions, especially when it comes to what you decorate it with, inject some of your child's personality into it and if your castle is only one turret instead of four well so be it.
TIP: Use toys to decorate the cake, they are really effective and a fun way to give gifts to your children!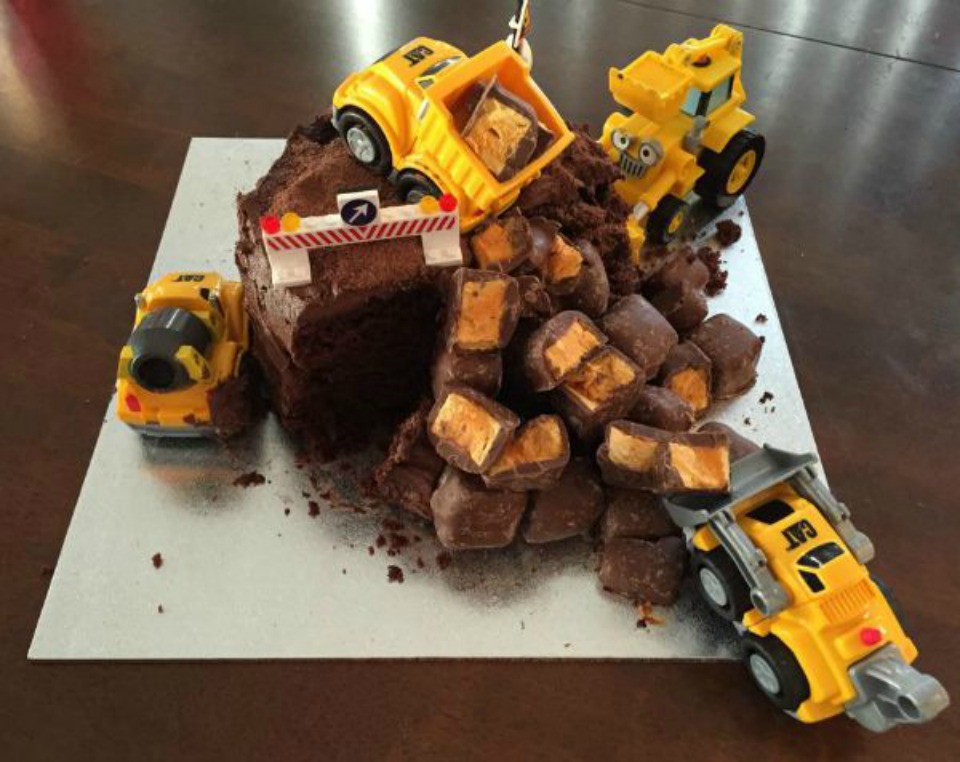 6. If you're a novice, avoid fondant like the plague. It's more temperamental than I was during labour, and sure it looks smooth and nice but only if you get it exactly right. Butter icing also tastes WAY nicer.
7. Most cakes look a lot harder than they actually are and can usually be assembled easily once they've been cut with toothpicks and skewers. Icing also helpS so to hide lots of things.
8. For super easy cakes jump online and get an edible topper made with your child's name or favourite character on. You can decorate around the side of the cake to dress it up a bit!
9. A cupcake stack is also a very easy birthday cake and easy to cut and no fuss. Just buy some fun patty papers and paper cupcake tier stand from the cheap shop and you're done!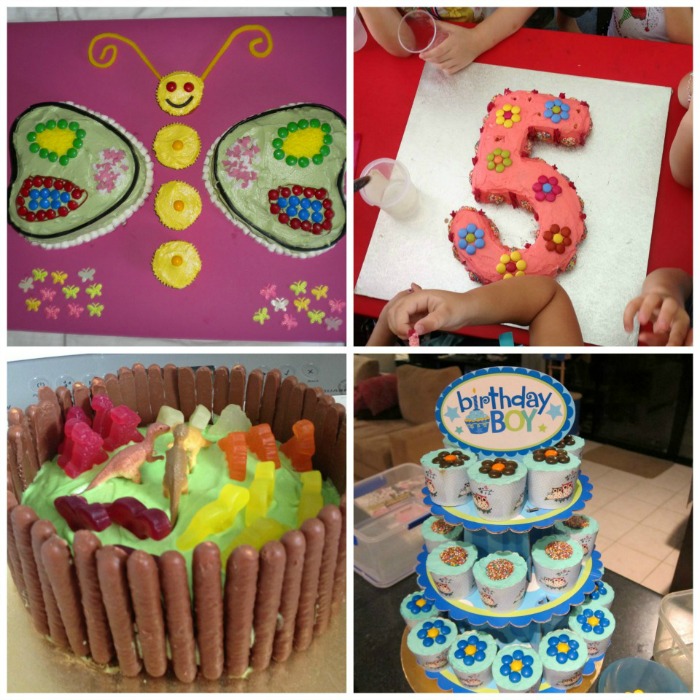 Remember:  The cake will be probably demolished by excited kids as soon as it's presented, if not beforehand. It's not a trophy they can keep forever and certainly won't remember if it's not 100 percent perfect.
If you're thinking about baking a birthday cake any time soon make sure to buy our top 10 healthy birthday cake ebook.
For more parenting tips, click HERE.