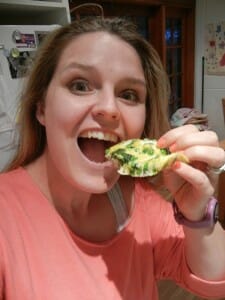 So as a nutritionist and someone that studies and loves food, what do I eat each day? What is my daily healthy eating plan like? Unfortunately, I don't think it is as exciting as you will soon find out.
I am pretty much the same as all other working and stay at home mums and dads. I have time and budget restraints like anyone else, although I do try and make sure that food, nutrition and health is a priority in our home.
So today I thought I would give you an example of a day on my plate. Please note, I am breastfeeding at the moment and my daughter does not consume much food as she is being baby led weaned, so breast milk and the energy to provide that milk needs to be factored into my daily intake of kilojoules.
My Day On A Plate: Breakfast
As it is winter at the moment I am loving a bowl of porridge with lite dairy milk, half a banana and with a drizzle of honey.
If I am in a rush or the morning becomes out of control and I miss out on breaky before the day 'starts', I return home to a Healthy Mummy Smoothie. Whichever the combination it is often made with half a serve of fruit and I often drink it with soy or almond milk (lite).
Mid morning snack – Coffee and a piece of fruit/handful of nuts/rice crackers
My Day On A Plate: Lunch
Normally I am at home for lunch as either my preschooler needs to have lunch or my youngest needs to have a sleep after lunch so I often eat leftovers from dinner.  Whether it is pasta, soup or a beef and veg casserole. I always serve it with 2 -3 serves of salad and/or raw veggies (like cut up carrot, capsicum, cucumber, baby spinach or mixed lettuce).
If there are no leftovers I have a salad with a tin of tuna or salmon or egg with veggies and pepitas. Love the crunch.  I have a vinegar and olive oil dressing or sometimes a dollop of low fat ricotta. I often have a slice of bread or crackers as a side.
Sometimes I don't have any imagination and this is when I have been getting into the yummy Healthy Mummy Smoothies. Check here for some of the great recipes. For lunch I would add some spinach or veg to the fruit concoction to help with my veggie intake for the day.
My Day On A Plate: The afternoon snack
I always have afternoon tea and have either a low fat natural yoghurt with a little fruit and some maple syrup or honey on top.
Or if my 3 year old is at home we have a little dip dip plate. I make up some fresh dip and we eat it together with some carrot and capsicum sticks. I often have a cup of tea or another coffee with half the milk (we have a Nespresso machine which I lovveee).
We are big bakers here and bake each week together with the kids so sometimes it could be a mini muffins (with hidden veggies). I make them mini on purpose so if I have two, it is not even half a regular cupcake size.
My Day On A Plate: Dinner
Dinner is a combination of lots of things but generally I try and get my plate to look like this.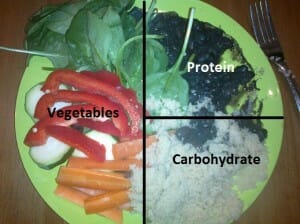 Half veggies, a quarter protein, a quarter carbohydrate and 80% of the time I try and make that a wholegrain like brown rice or wholegrain cous cous. This is the only way I get my 5 serves of veggies a day.
Have a look here for some great Healthy Mummy recipes.
Dessert
Once the girls have gone to bed, I love to have some chocolate and a tea, usually a green tea or chamomile. I am working or studying probably 4 nights a week after the girls are in bed. So I need that extra boost for the evening.  But as I have some sweet teeth, I am loving the Healthy Mummy portion controlled packs as they have stopped me from consuming a whole block mindlessly.
Drinks
My beverages besides coffee and tea is pretty much water. I don't drink juice and hubby and the girls don't either which is great. When I am out I get the occasional fresh juice with ginger. Love ginger in juice.
Grog wise, as I am breastfeeding and my baby refuses to take the bottle (that is a topic all on its own…!!) so I don't drink much at the moment.  Hubby isn't a big drinker either so that contributes to the trend. I do love a red wine and a beer every now and then. Probably once a week or every fortnight we have a few bevvies with friends or ourselves.  Sound like a bit of a wowser really, but it is hard to be hungover with two excitable children at the moment and getting up 3 times a night still!!
Vices
I do love my sweets so this is one thing that I have not featured on the standard plan, but I am big fruit tingle girl. It is my vice along with chocolate. I have been known to sit in the car while the girls are asleep, go and get petrol and have a sneaky fruit tingle fest.
As a mum of 2 busy little girls, working and studying part time, I KNOW how hard it can be to eat healthily. This is why it is so important to plan out your meals and snacks. On somedays, or all days!!, the spanner is thrown and that is why I love the Healthy Mummy Smoothie Range. You know you will still get a nutritious and filling meal quickly, plus it was specifically designed with breastfeeding mothers in mind (although you can drink if you are not breastfeeding and pregnant).