A Trolley Of A Nutritionist
So what do you think a healthy shopping trolley looks like? What are some foods you should include in a weight loss diet trolley?
Does it need to be low in fat?
Does it need to be low carb?
Does it need to be low in sugar?
Here is a shop from one of our nutritionists who works for the Healthy Mummy. Of course it is not a complete shop and it will not necessarily feed all families. But what it does show us, is that it is best to choose REAL FOOD!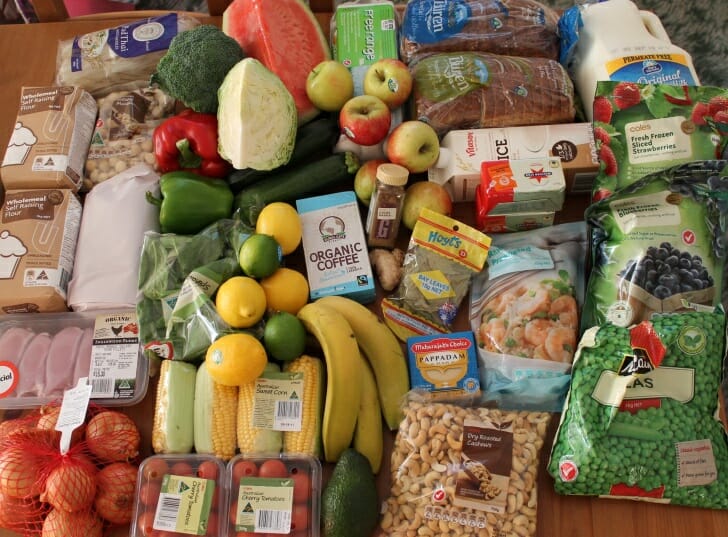 It shows us that frozen produce is actually okay.
That yes, you can eat bread on a weight loss diet.
It shows us that dairy is important. That dairy will not make you fat. And that you can drink plant based milks and regular cows milk at the same time.
That yes you can eat wholefoods which are high in unsaturated fats like avocados, cashews or macadamias.
It shows you that seafood is important (the brown paper item is fish) and that other options like prawns are also a great source of protein as well as omega 3 fatty acids.
Yes, you can even drink coffee and eat butter.
But like any diet, any weight loss diet or healthy eating plan, it all needs to be in moderation.
What you can also see is that the foods are roughly in proportion of half vegetables, a quarter protein and a quarter wholegrains and cereals.
There is also a variance in 'cereals and grains'. There is bread and rice noodles so not overly relying on gluten.
There is also a variety of protein being fish, chicken and eggs. Although one area lacking in this trolley is definitely red meat. If you are a vegetarian it is important that you substitute this rich source of iron with other iron rich foods.
The other interesting point to note is that there are some herbs and spices in the lot which is a good way of flavouring food without the fat. For instance there is ginger, garam masala, lemons and limes. Yum!
But the most important point out of this trolley is that it is food. Real food. No additives, preservatives, colours or added 'numbers', just food. Which is not dissimilar to the Healthy Mummy Smoothie mix as well.
If you can't be bothered to menu plan or anxious to follow a strict diet, just look in your trolley for how you are going. If you fill it with wholefoods and at least half of it filled with vegetables, you are on to a winner.
If you are ready to lose weight then The Healthy Mummy plans offer a healthy and safe exercise and diet plans that are safe if you are breastfeeding and you can use code LOYALTY for a 10% DISCOUNT at the checkout.
Plus we have Cookbooks, Calorie Bibles, Exercise DVD's, Meal Replacement Smoothies and Our 28 Day Plan in our shop.