Amy's Amazing Weight Loss Journey and Success
Each month we do a call out to all you amazing mums who are using either our Healthy Mummy Smoothie Range or our other programs like the 28 diet and exercise plan. We were bombarded with healthy eating and weight loss stories this month and it is SUPER difficult to pick the winners (not only this month, but every month). This month the winner of our $350 Myer voucher was Amy. Have a look at her fabulous transformation. Well done Amy Rozario, you look amazing!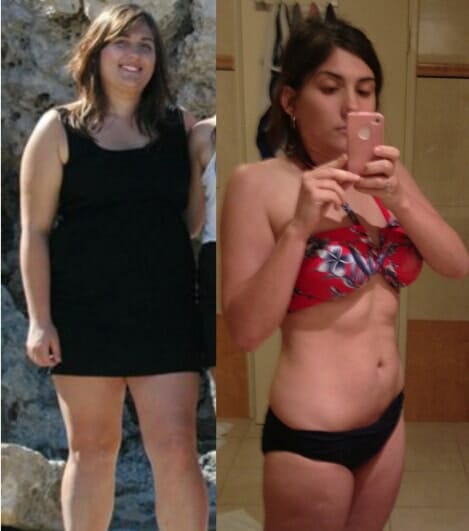 Amy's pregnancy weight loss
It all began when I fell pregnant with my son. It was early 2011. When I jumped on the scales I weighed 105kg and only just fit in to a pair of size 16 jeans. I am sure I was heavier around this time too.
I was actually oblivious to how I really looked on the outside.
Just before this weigh in, my dad had passed away. The reason for his death was coronary artery disease and high cholesterol. This prompted me to check my own cholesterol levels.
The result from the doctor were not good. I had the cholesterol levels of an unhealthy 40 year old and I was only 21 at the time. My 'bad' cholesterol was at 6.1. This was a huge wake up call and I realised and decided that it was time to start leading a healthier life NOW!
I started a vigourous exercise plan, a healthy eating plan and omega 3 supplements to assist the reduction in my cholesterol. By mid 2011 I weighed in at 79kg. To top it off my cholesterol was now down to 3.1!.
Around this time I fell pregnant and my partner and I were over the moon. All the exercise and healthy eating had paid off. Although I was anxious as I knew I would gain some weight during pregnancy. So I made a promise to myself and my baby that I would be as healthy as possible.
April 2012, my gorgeous son was born at a healthy 9lb 9oz. I  weighed 83kg post-partum and with the help of breastfeeding dropped back to 76kg. All my healthy eating during my pregnancy obviously helped too.
In September I was a bridesmaid at my best friend's wedding. I hoped that I would look as good in a bridesmaids dress and a bikini so I pushed on with my healthy eating plan and tried to incorporate more exercise. It is so much harder with a little mouth too feed all the time though!!
Only a month before the wedding I felt like I was stuck at 75kg. I am so proud of how far I have come from before I was pregnant, but I desperately wanted to achieve 65kg. I was nervous about meal replacement shakes as I wanted to continue to breastfeed my son and didn't want to deprive him of any necessary nutrients.
I then googled "losing baby weight", and found the Healthy Mummy range which is safe in breastfeeding- so I thought I could do this. So I went online to the shop.
These smoothies left me completely satisfied. I alternated between replacing my dinner or lunch. I made sure I continued to eat a healthy diet in my other meals and my breast milk was not negatively affected. My milk supply was more than enough for my little boy! And of course these smoothies were delicious, just like a chocolate liquid biscuit. Well that is how I described them to my partner!!!
Just as we were to set off for Bali I needed an emergency dress fitting as my dress was too big!! That has never happened to me ever!!! The wedding was a success, the bride was beautiful. I also received many compliments from people who had not seen me since I was at 105kg!
I am so proud of what I have achieved – I am a Healthy Mummy! Thank you so much for all your support.
Amy Rozario, age 23
Dianella, WA
If you think the Healthy Mummy Range could help you on the last leg or if you need some meal inspiration have a look here at our 28 diet and exercise plan and our Healthy mummy range to find out more.