When you are trying to eat a healthy diet or trying to lose weight – choosing healthy snacks is a really important factor in being successful
And at The Healthy Mummy we have you covered! This yummy and easy to make healthy snack recipe will keep you fuller for longer and is super tasty too
And if you love it – make sure you join the 28 Day Weight Loss Challenge which has over 2,500 healthy recipes and daily meal plans to help you achieve your health and weight loss goals
Healthy Apricot & Coconut Slice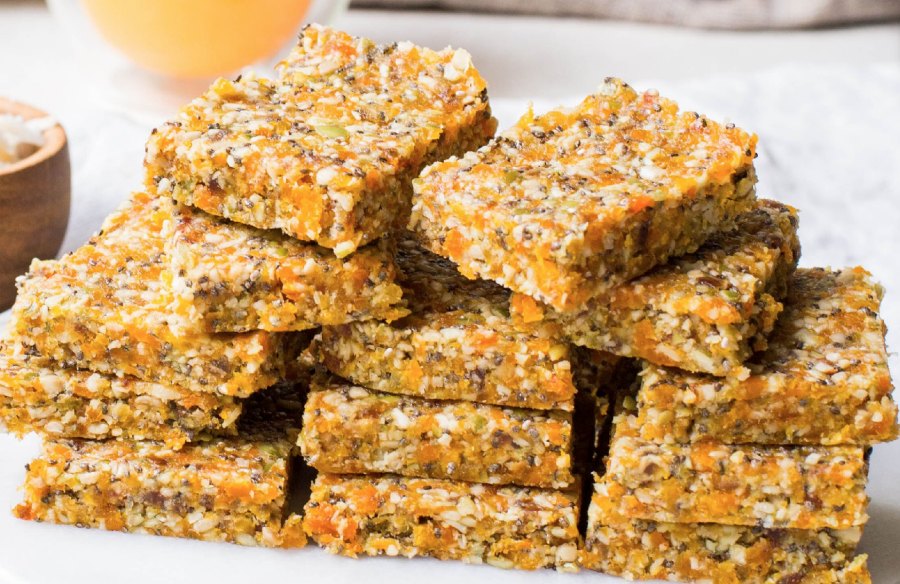 ■ NUT FREE, GLUTEN FREE, DAIRY FREE ■ SERVES 12 ■ PREP TIME 10MINS
Ingredients
1 cup dried apricots
4 medjool dates, pitted
 2 tbsp coconut oil
2 tbsp chia seeds
1⁄4 cup desiccated coconut
1∕3 cup sunflower seeds
1∕3 cup pepitas
2 tbsp water
Method
Blitz apricots in a food processor/blender until they resemble crumbs.
Add dates and coconut oil and blitz again until combined, then set aside.
Blitz chia seeds, coconut, sunflower seeds and pepitas together.
Add both mixtures together in the blender and blitz again.
Add water then pulse for a final time to combine well.
Line a 20cm x 20cm tray with baking paper. Press mixture evenly into tray and place in the fridge until firm.
When firm, cut into 12 slices.1 serve is 1 slice.Leftovers can be stored in an airtight container in the fridge for up to 2 weeks or freeze for up to 3 months.
Nutrition Per Serve: Energy: 127cals/534kjs Protein: 2.8g Fibre: 3.2g Total
This is from our Muffins & Slice Book
You can buy the book here for $25 or you can join our budget ebook membership giving you access to over 36 books and 1700 recipes for only $10 a month – check it out here