Pregnant and Painted! Aussie Artist Shares Her Incredible Belly Art
The pregnant belly is a beautiful thing. As a professional artist, one of Robyn Janetzki's jobs is to make pregnancy even more memorable for many mums-to-be. And it all starts with a bit of body paint…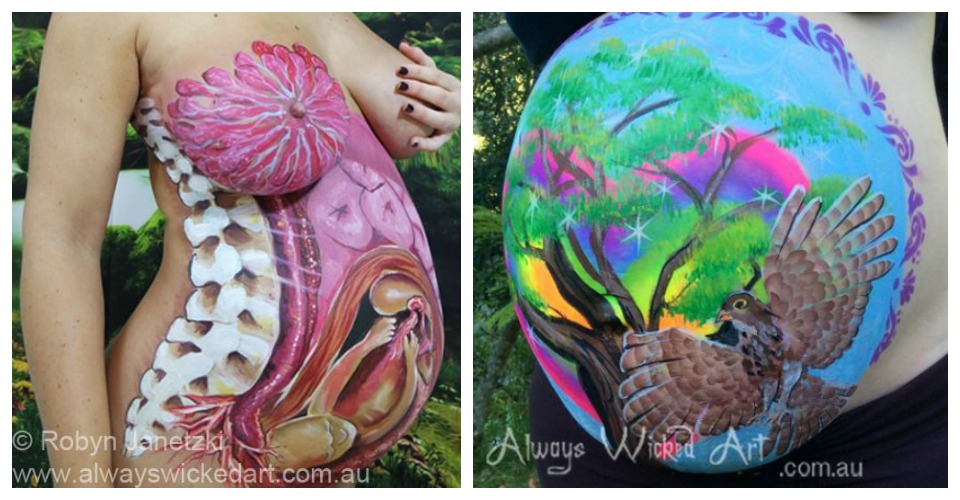 Baby Bumps Made Even More Beautiful
Staging a maternity photo shoot is almost a must in today's society. But allowing an artist to paint on your growing belly and then take photos of the incredible artwork is slowly making its way up the pregnant must-do list as well.
Why? Because pregnancy belly art provides you with a beautiful way to showcase your baby bump (all the while hiding the stretch marks). And, when you have a professional artist in charge of transforming your tummy into a work of art, the possibilities are endless.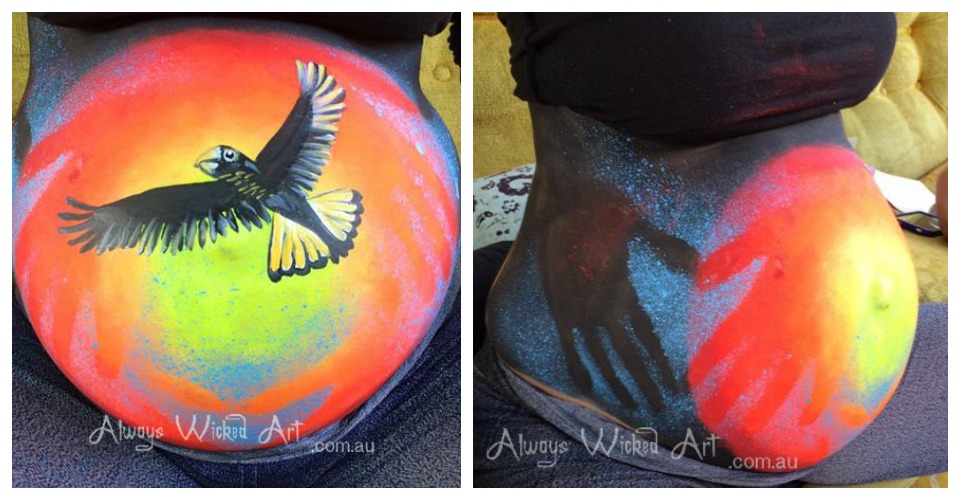 Just look at this incredible collection of belly art from the talented Robyn Janetzki. Robyn, who works on the Gold Coast, owns Always Wicked Art and has been painting for 24 years.
She has painted over 60 bellies now, each one with its own unique story and connection to be cherished by the mother.
Painting Perfection, One Pregnant Belly At a Time
Robyn, who is a mother of three children, tells The Healthy Mummy, "What I most love is connecting with the mum-to-be and capturing elements of the mum.  I love interpreting what they want to be painted and actioning that." 
From ethereal portraits to cute animated characters, all of Robyn's paintings are stunning. Over the years she has learned to expand her range and think outside the box which certainly shows in her array of colourful creations.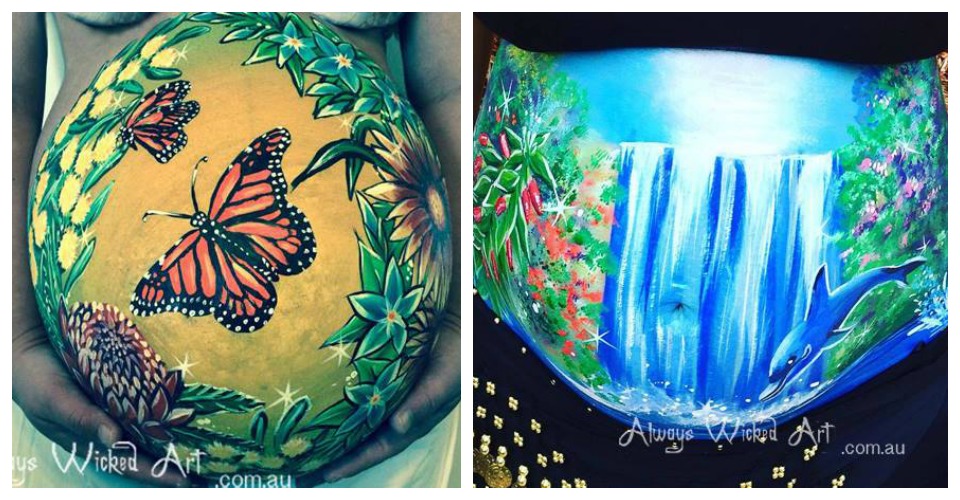 Robyn also explains that many of the settings chosen have a special meaning. The flowered belly (above left), for example, connects both mum and dad's roots to their bub.
"The flowers [are] from Australia and New Zealand, from the home towns of the parents, and the Monarch Butterfly lives in both countries," Robyn explains.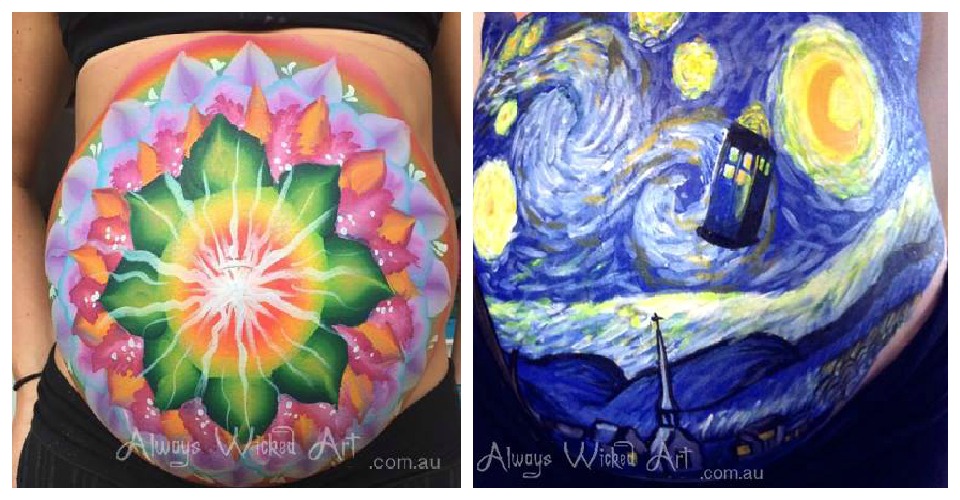 The experience is meant to be soothing and relaxing for the mum-to-be and can also help mothers feel connected to the growing infant inside.
Robyn tells us, "Sometimes people have sad stories that body painting can help them overcome. The mandala [above left] was painted on a woman at a festival. The next day she found me and told me that her first baby was stillborn, and that walking around all day with her belly painted, being admired and photographed, filled her with love and the feeling that this baby would be fine."
Robyn explains that the typical belly takes 2.5 to 3 hours to paint and the session ends with a photoshoot so mum can remember her glowing belly, even after the paint washes off and bub makes his or her entrance into the world.
Robyn also specialises in belly casting and painting, in which Robyn uses plaster to make a cast out of a mother's pregnant belly. Like belly art, casting is another beautiful way to commemorate this important time in your life.
Meaningful, Moving and Memorable Belly Art
Although all of Robyn's belly artwork is stunning, the two that stand out the most have to be the below two images – the human body and the gorgeous butterfly. For Robyn, the butterfly also acts as a powerful reminder of just how fleeting life is.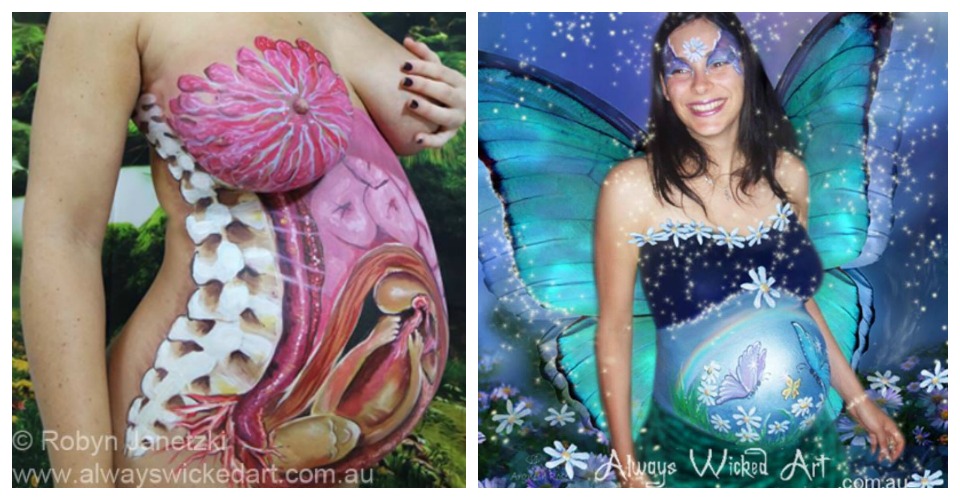 As Robyn clarifies, the mother-to-be in the butterfly image is Robyn's niece, who developed cancer while she was pregnant and died a few years later.
"I am so blessed to have painted her three times. Through my niece's passing, I realised how important it is to treasure every moment on this planet, to capture on film and in your mind the beautiful moments life has to offer."
Thanks to Robyn for sharing her beautiful belly art with us. You can check out all of her designs on her website. For more pregnancy-inspired photography, have a look at these beautiful maternity photo shoots. 
Did you know that the Healthy Mummy has a specially formulated pregnancy smoothie to help support a healthy pregnancy?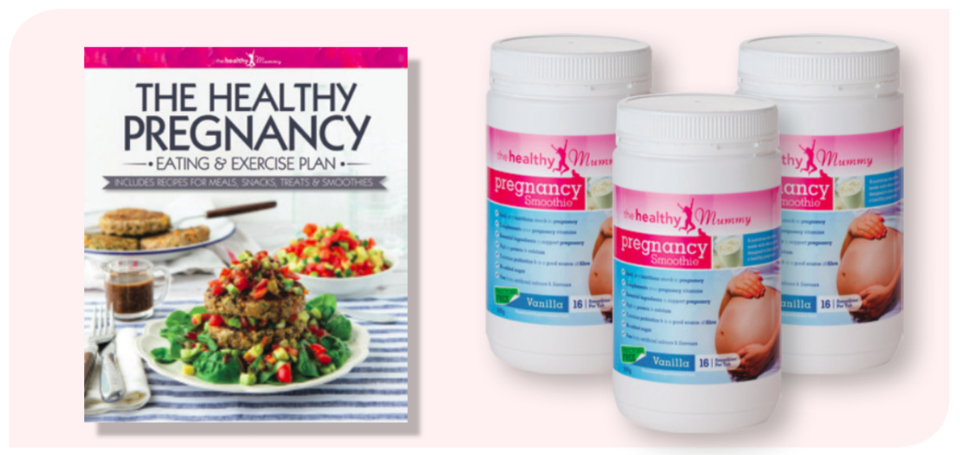 Pregnant women need additional calories and nutrients in pregnancy and our Pregnancy Smoothie and Eating & Exercise Book have been specially formulated to help women reach these additional calorie and nutrient needs.
The Healthy Mummy Pregnancy Smoothie is designed to complement, not replace, your prenatal vitamin intake. Our nutritionists ensured that the vitamins and minerals in the smoothie are at a low level so there is no risk of doubling up on any pregnancy vitamins.
It is ideal as a high-protein, high-calcium snack in pregnancy. You can download the Pregnancy Smoothie Label here