Premature Baby Delivered Mid-Flight
I can imagine going into labour at 33 weeks would be quite confronting. Your baby isn't quite cooked yet and you worry for their safety. Now imagine your baby decides to make its grand entrance into the world 21,000 feet above sea level on a turbulent flight!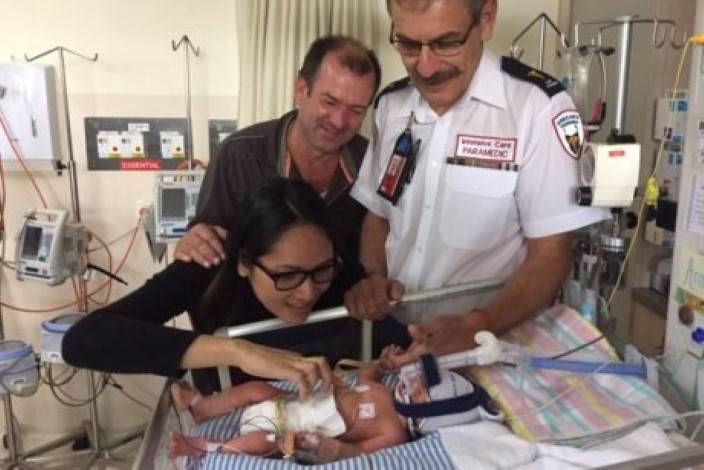 Image source: abc.net.au
33 Weeks
For Siripa Day, that was her reality. 33 weeks into her pregnancy and she went into labour. Mrs. Day was staying on King Island went the contractions started. The decision was made to transfer her to Launceston hospital to provide better care.
Peter James, from the Royal Flying Doctor Service, made the call as King Island could not properly offer the support and care for a premature baby. 15 minutes into the flight, baby Armando decided it was time to enter the world. What's worse is that the plane hit turbulence while Siripa was trying to deliver her baby.
Peter Deserves An Award For This
Dealing with the birth of not just any baby, but a premature baby AND turbulence, Mr. James deserves an award. Peter is a fully qualified intensive care paramedic who has safely delivered 22 babies, (notably, though, none of which were in the air). He was awarded for his service during the Beaconsfield mine disaster in 2006. I'm thinking he was the right person to be on that plane in that moment.
Imagine the conversation at births, deaths and marriages when trying to register the birth.
Name: Armando Day
Place of birth: ummm, in the air?
Just kidding, the parents will have to write 'en route' or 'in transit,' whichever they decide.
Both mum and baby Armando are doing well and give incredible thanks to the Royal Flying Doctors Service.
To read more birth stories, click HERE.