Is Your Baby's 'Sophie The Giraffe Teether' Full Of Mould?
Sophie the Giraffe is one of the most popular teethers on the planet, but a paediatric dentist says what she found inside her child's favourite chew toy has left a bad taste in her mouth. And she's not the only parent to have made the smelly discovery inside the teether.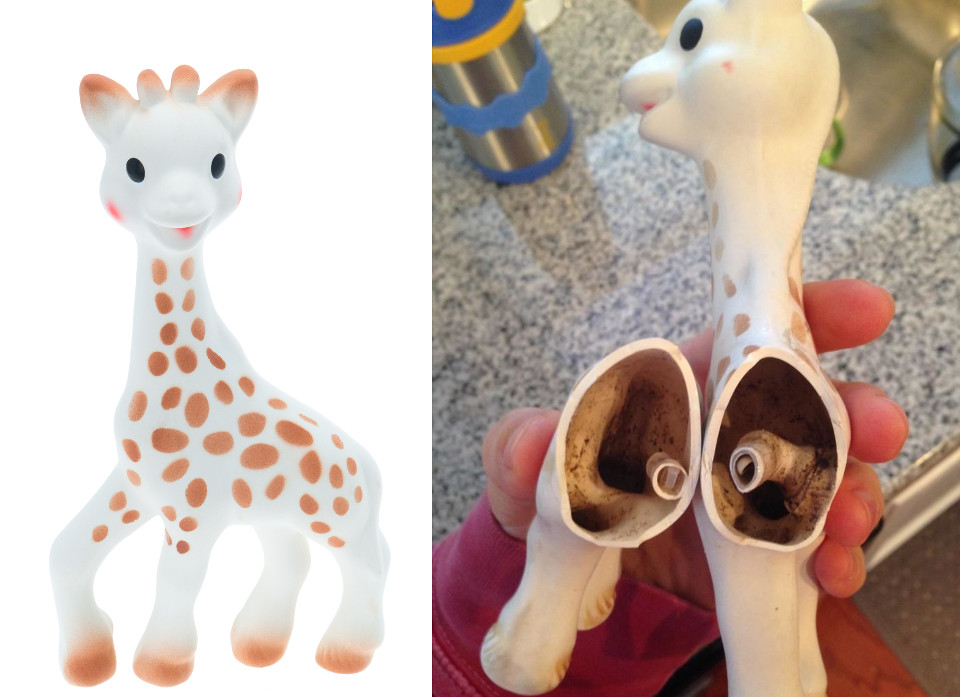 Dentist Dana Chianese said she recommended teething toys to parents, up until she cut open her infant's teether.
Mould growing inside teether
The mum-of-two boys under three told Good Housekeeping she decided to clean the toy after she noticed the air coming from the hole had a musty smell.
"I decided to cut into Sophie out of curiosity and discovered a science experiment living inside. Smelly, ugly mould living in my infant's favourite chew toy!"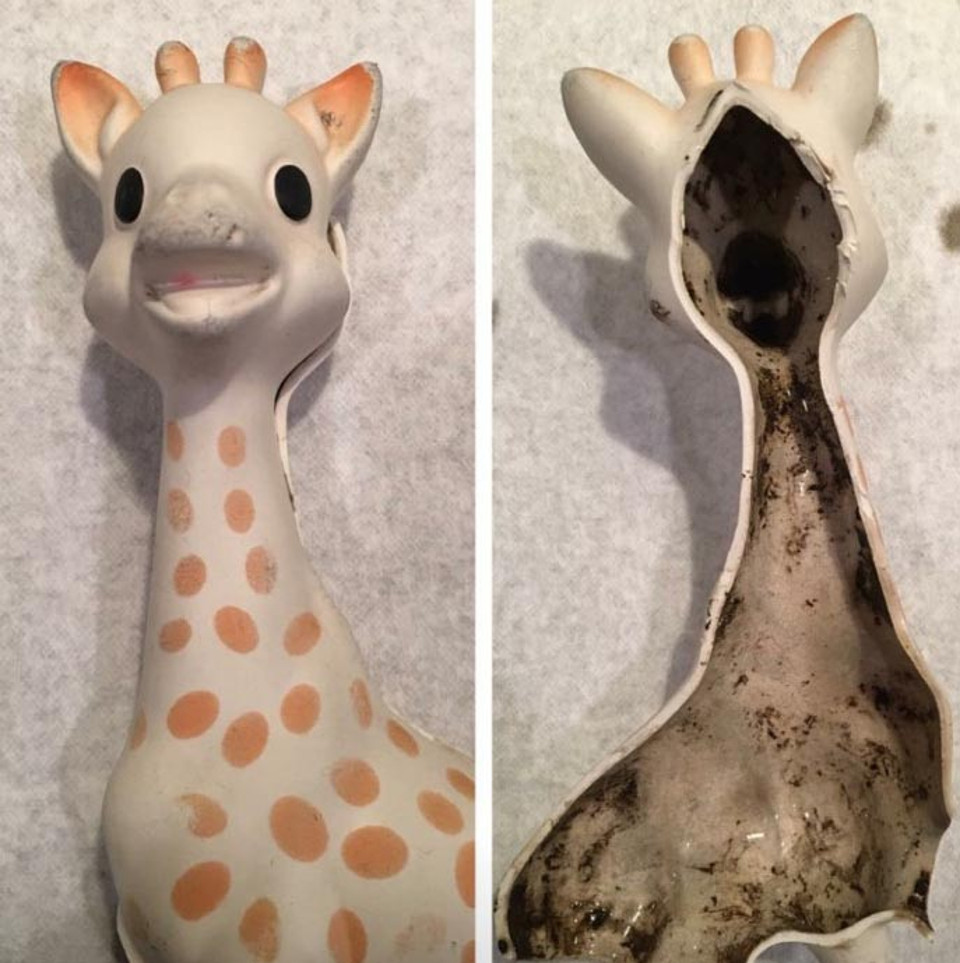 Dana explained that she only cleaned the teether by following the instructions: using hot, soapy water and a sponge and not putting it under water.
"It still hurts my heart to know that for months I allowed my babies to chew on mouldy toys," she said. "I no longer buy any chew toys with a hole or recommend any to my patients."
Other cases of mouldy teethers

A review on Amazon also points out the smelly issue, Stephanie Oprea explaining, "Beware!! If you have a drooly baby, moisture will get in the hole and you'll end up with mould!
"We've had ours for two years and the entire inside is coated with black mould!"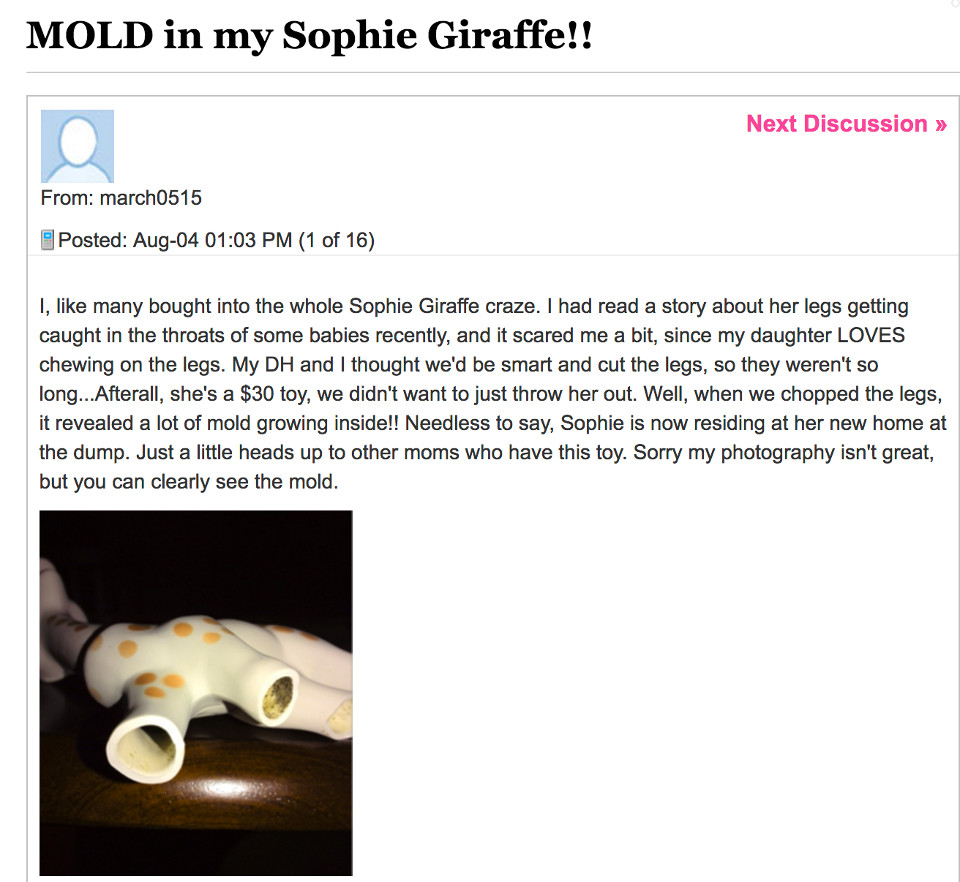 It's a similar story from a user on What to Expect, who shared images of mould inside her child's Sophie the Giraffe. She was asked by another user if she'd managed to get water in it, to which she replied, "Yes, I'm sure some water got in it, but you can't keep it covered when your Little One is drooling all over it, as mine did."
Response from manufacturer
The Healthy Mummy contacted Vulli, the French company which makes Sophie the Giraffe, and we were told that the cleaning instructions have to be carefully followed as the teether is made from 100 percent natural rubber.
"We recommend to clean the surface of Sophie the Giraffe with a damp cloth. It should not be immersed in the water nor rinsed off, to prevent water from getting inside, as she may become damaged," explained Vulli media relations representative Laurie Schraenen.
The company says it hasn't been contacted by either of the mums regarding their discoveries, so it hasn't been able to examine the products. "Please know that each complaint received is taken very seriously and that the return of the product is always asked for further examination."
Apparently we shouldn't be too concerned, though. Dr Lyuba Konopasek, an Assistant Professor of Pediatrics in New York told Good Housekeeping that mould in toys would usually only be a problem if your child has an immune disorder.