Laura and Matty J chat baby names and some of them are already getting a no-go from Laura.
After announcing the exciting news that there is a baby on the way for the former reality TV stars on Saturday, Laura joined Matt and his Nova Summer Breakfast Show co-hosts to chat baby name options.
The couple revealed they have opposing views on whether they will find out the sex of the baby with Matt keen to find out and hoping for a boy saying, "I've already started calling it a he."
What about names?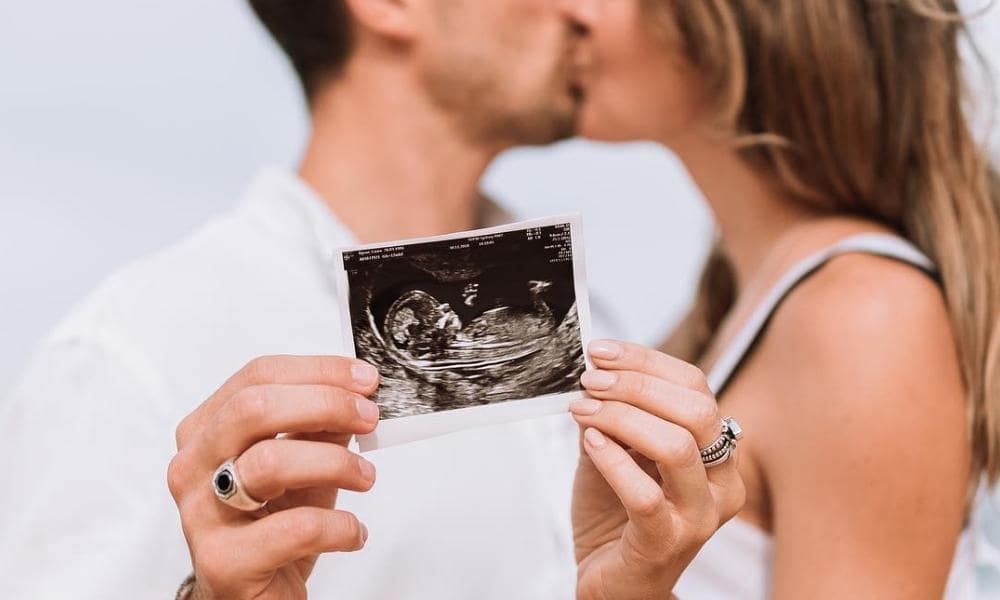 Laura is 15 weeks along and they have already started throwing out some baby name options with Laura telling Matt's co-hosts Matt De Groot and Sarah McGilvray about one time Matt made a name suggestion.
"Matt came home the other night and said 'look babe, I've got a name. And I don't want you to just say no straight away. I really want you to consider this," Laura was saying
That's when Matt's Nova co-host Sarah chimed in saying, "He's been bragging to us that maybe you don't get a say." Matt then claimed to not remember saying that at all.
Sarah went on to explain that she had been schooling Matt on how things go and that the mum has the final say in any baby name debate and that he shouldn't go up against a pregnant woman.
Laura quickly agreed saying, "He gets Johnson. So I get the rest."
But this won't prevent the couple from having a tough time settling on a name with Matt sharing some of his top picks which could be seen as out-of-the-box, including River, Phoenix, Moon and the really interesting suggestion Metallica.
Laura gave the impression on the show that she had already vetoed these options saying, "I think some of them are a bit too…Bondi…maybe," although she's not against out-of-the-box thinking adding, "I'd be okay with something alternative though."
We are sure the happy couple will love whatever name they decide on for their bundle of joy but if they want some inspiration we have 2018's top trending baby names.
A bachelor baby is on the way!
It's official! And we are so excited for them!! After sad news earlier in the year with a devastating miscarriage, it has now been confirmed that Matthew Johnson and Laura Byrne are expecting their first child together – HOORAY!!
The former Bachelor stars made the announcement in an interview with The Daily Telegraph revealing that they are 15 weeks into the pregnancy.
"I couldn't think of a better way to end the year,'"Matty, 31, told the newspaper.
"We'd heard so many stories about how it had been so difficult for some people, and obviously, we thought it was going to be difficult for me because of what had already happened," Laura, 32, said of falling pregnant a second time around.
Coming soon! The former Bachelor stars made the announcement in an interview with The Daily Telegraph on Saturday, revealing they are 15 weeks into the pregnancy
Excited: "I couldn't think of a better way to end the year," Matty told The Daily Telegraph of the couple's pregnancy
"When you've had a miscarriage, you worry if there is something wrong with you."
The couple is due in June 2019, but are uncertain as to whether or not they'll find out the gender of the baby before then.