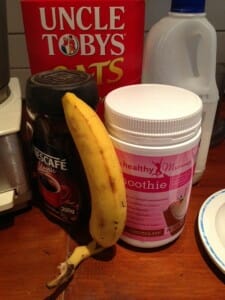 With the colder months, a 'heartier' Healthy Mummy Smoothie is in need to help you stay on your healthy eating plan or weight loss diet. Try this Banana Mocha Smoothie!
This combination is great as there is potassium rich bananas, additional fibre from the rolled oats and the hint of chocolate from our Healthy Mummy Smoothie mix with the taste of coffee. Perfect.
What you need is:
2 tbs of chocolate Healthy Mummy Smoothie mix
1 banana
1 tsp of coffee granules (decaf if you like)
2 tbs of rolled oats
200ml of milk
Blitz it and enjoy! The best way to start the day.
Special Offer & 10% Discount