Beetroot, Walnut and Fetta Tart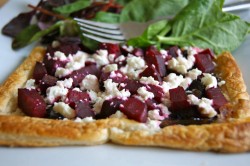 Beetroots are incredibly beautiful to eat, their colour is mesmerising.
They are a source of iron, vitamin A, B6, C, potassium and lots of health beneficial antioxidants. A great addition to a healthy eating diet and a weight loss plan.
Prep time: 10 minutes
Cook time: 20-25 minutes
Serves 4
Ingredients
200g reduced-fat feta cheese, crumbled
4 large red onions chopped
400 grams of baby beetroots cooked or 1 can of baby beetroots rinsed and drained
2 sheets ready-rolled reduced fat puff pastry, partially thawed
2 tablespoons milk
2 tbs of crushed walnuts
Milk for glazing.
Oil spray
Directions
Spray and pan with oil spray and cook and caramelise the red onions in a pan over low heat for 15 minutes.
On two separate lined baking trays, place one sheet off puff pastry on each tray.
Score the base with a fork.
Leave a 2cm edge and spread the red onion mixture out on the two pieces of puff.
Halve or quarter the baby beetroots and place evenly on top of the caramelised onion.
Crumble the feta and walnuts over the top.
Fold up the edges and brush the edges with milk.
Bake for 20-25 minutes in a preheated oven at 200 degrees celcius. For more delicious salad recipes try this healthy beetroot and feta salad recipe!
120 cals per serve
Special Offer & Discount
If you are ready to lose weight then The Healthy Mummy plans offer a healthy and safe exercise and diet routine that are safe if you are breastfeeding and you can use code LOYALTY for a 10% DISCOUNT at the checkout