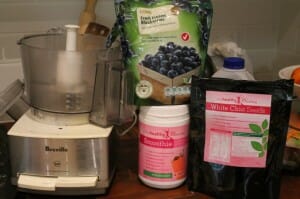 Frozen blueberries are so irresistibly sweet. They are picked at their prime and snap frozen.
A perfect way to enjoy the flavour, antioxidants, and deliciousness of them on a budget healthy eating plan.
Try this Healthy Mummy Smoothie today to enjoy the freshness of the blueberries and the miracle of chia seeds.
Chia seeds are a complete non meat protein having all 9 amino acids present.
What you need is:
2 tbs of strawberry Healthy Mummy Smoothie mix
1 cup of blueberries
2 tbs of chia seeds
200ml of milk
Blitz them together and scoop out any chia seeds clinging to the sides and enjoy this fresh, thick and smooth drink for breaky, a snack or even lunch.
Special Offer & 10% Discount
If you are ready to lose weight then The Healthy Mummy plans offer a healthy and safe exercise and diet routine that are safe if you are breastfeeding and you can use code LOYALTY for a 10% DISCOUNT at the checkout