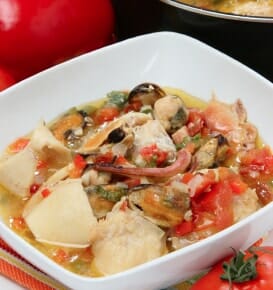 Fish is a fantastically healthy food, perfect for serving as part of any healthy eating or weight loss plan. Oily fish such as salmon, mackerel and tuna and trout contain lots of omega-3s, which are essential for health, protecting the heart, eyes and kidneys, improving circulation and reducing the risk of heart disease.
Omega-3s can also reduce the risk of certain cancers and they are also known for boosting brain health, reducing your levels of bad cholesterol while increasing your levels of "good" cholesterol.
Certain compounds in omega-3s, EPA and DHA that you can take in by consuming a fish oil supplement can actually boost metabolism, thus boosting weight loss – which is why we include fish oils in our Healthy Mummy health and weight loss plans.
Fish is also full of protein, which is one of the best compounds to fill up on as your body has to work twice as hard to digest it – meaning that you burn off twice as many calories by doing nothing more complicated than chewing and swallowing.
It's also low in calories and fat, making it an excellent addition to any low-calorie meal. There is also a huge variety of fish, meaning that there is definitely something for everyone. Meaty fishes such as sea bream or plaice stand up well to stews and broths and delicate fish such as prawns or scallops are delicious when pan-fried.
To give you a little inspiration for using this yummy ingredient for weight loss, we've come up with a summery Mediterranean fish stew, made with prawns, capers and sea bream. Yum!
Capsicum and Fish Stew
Ingredients
400g baby new potatoes
400g sea bream, trimmed of skin and boned
300g prawns, heads removed, deveined, ready to cook
1 small red onion
1 small onion
1 small red capsicum
1 small yellow capsicum
2 garlic cloves
½ fresh red chilli
2 tbsp. capers, drained
1 tbsp. pitted green olives, drained
650ml chicken stock
Salt and pepper
1 tbsp. extra-virgin olive oil
Directions
Halve the potatoes. Thinly slice the sea bream. Halve the onions and thinly slice into half-moons, then separate the onion strands with your fingers. Halve the capsicum and remove the seeds and pith with your spoon, then slice into strips. Mince the garlic cloves. Slice the chilli in half, remove the seeds with the back of your knife and then finely dice the flesh. Halve the olives.
Heat oil in a large saucepan. Add the onion, capsicum, garlic and chilli and fry together gently until softened. Add the olives and capers and fry for a minute or two, then add the chicken stock and potatoes. Simmer for 10-12 minutes until the potatoes are tender.
Add the bream and the prawns and simmer for 3-4 minutes until the fish is completely cooked through. Season to taste with salt and pepper.
Recipe serves 4. Calories per serving: 306. If you like, stir in some spinach right at the end to up the iron and folic acid content of your meal, or add some thinly sliced basil.
If you are ready to lose weight then The Healthy Mummy plans offer a healthy and safe exercise and diet routine that is safe if you are breastfeeding.
And don't forget to check out our current promotions and discounts page to see what specials we have on this week on our Healthy Mummy product range