Carlie Obtains Her 64kg Goal!
Hi everyone, I wanted to write to you to let you know that I am so happy that I reached my goal weight, lost my pregnancy weight and it is all because of your fabulous 28 day program and Healthy Mummy Smoothies.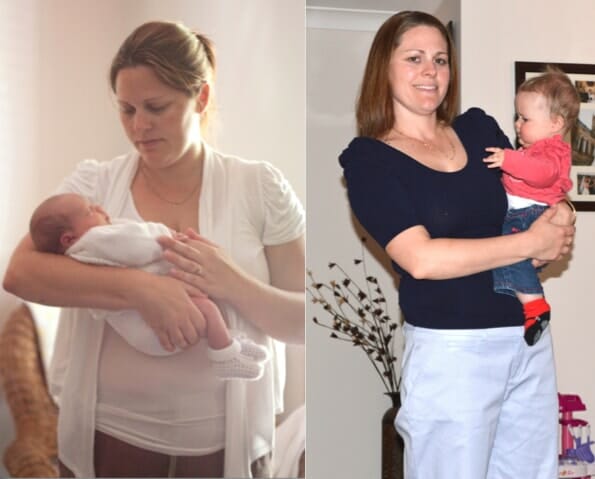 In February I gave birth to my gorgeous little baby girl. On arrival I weighed 86.6kg in hospital.
In the first few weeks with fluid loss and the combination of breastfeeding I did lose around 10kg but then I was stuck at 76.6kg.
This is the same weight where I got stuck with my first baby. Last time I didn't really do anything about it, but this time I did.
I started the Healthy Mummy Range when my daughter was around 7 weeks old. As she was still very dependant on me and because I had had a C-section, I took it pretty slow. I started with some light exercise and very light jogging. I wanted to make sure I was stronger before pushing it further.
I used your 28 day program (which I adore) and also the Healthy Mummy Smoothies and was so surprised to lose 3.1kg in the first week!! That initial weight loss hooked me for sure!!!! They were delicious and easy to follow, both the smoothies and the recipes.
I kept going and after 28 days I had lost 6.6kg and was now at my goal weight of 64kg. I have maintained this weight for 9 weeks now which I am thrilled about.
Of course through the whole period I have had ups and downs. There has been chocolate days, bad days, a few binges, but all in all the trend has been positive. The best thing about the Healthy Mummy range and the 28 diet and exercise plan is once you have it, you can repeat it as many times you like. I have done this over the 9 week period to reboost and remotivate myself. You just get the plan out, re read it, shop and cook and hey presto, you are following a great healthy eating plan the whole family can enjoy.
I am so grateful for this program as it has really helped me regain confidence, feel good about myself and make me a happier healthier mummy for my two little angels.
Thanks so much!!
Carlie Craig
If you are ready to lose weight then the Healthy Mummy Plans offer a healthy and safe exercise and diet routine.