2016 Was THE Year Of Ultra Cool Celebrity Baby Names
As this year is nearly at a close we thought we'd revisit some of the celebrity babies that were born AND their often unusual names. For a while there, it seemed like there was at least one a day.
From Luna Legend to Dream Kardashian, here's a snippet of the long list of 2016 celebrity babies and their oh so funky names!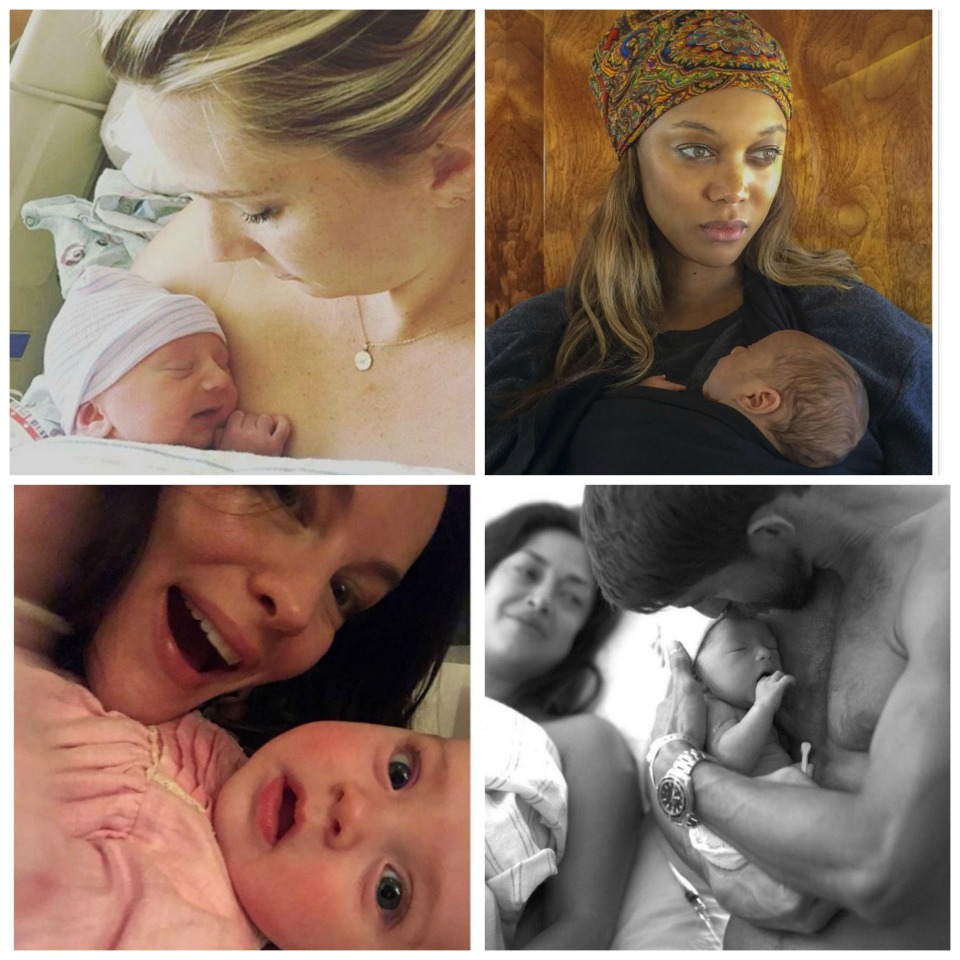 January
Michael Buble
Michael Buble and his gorgeous wife, Luisana Lopilato, welcomed their second son, Elias, on the 22nd. What started out as an awesome year, turned sad when Buble shared the devastating news of his eldest son's cancer. Three-year-old Noah is having treatment at the moment.
Tyra Banks
Tyra Banks welcomed her first child, a boy, on the 27th. The America's Next Top Model beauty used a surrogate for her son, York. Sharing the first picture in February.
February
Rose Byrne
Aussie actress and funny girl Rose Byrne and her actor husband Bobby Cannavale welcomed their first son together on February 1st, naming him Rocco.
Heather Morris
With complete glee, this Glee actress welcomed her second child on the 11th. Sharing her news via Instagram, she also shared her excitement at being able to birth her son, Owen, via VBAC after her first baby was born via c-section.
March
James Van Der Beek
The actor most known for his role as Dawson in Dawson's Creek, James and his wife welcomed their fourth child on the 23rd. A little girl by the name of Emilia.
April
Kelly Clarkson
Kelly Clarkson had her second baby, Remington (and her tubes tied) on the 12th. She also made sure there would be absolutely no accidental pregnancies by making her husband get a vasectomy.
Chrissy Teigen
Chrissy Teigen and legendary singer, John Legend, welcomed their first baby together on the 14th. Little Luna has brought so much joy to the couple and us. They love sharing their happiness on social media.
Nick Carter
On the 19th Backstreet Boy Nick Carter welcomed his first boy, Odin Reign.
Eva Mendes
Ryan Gosling and Eva Mendes are pretty good at keeping a secret. News broke of her pregnancy only three weeks prior to her giving birth to her second baby. On the 29th they welcomed daughter, Amada Lee.
May
Michael Phelps
The 31-year-old Olympic gold medalist welcomed his first child, Boomer, only months before the games in Rio this year. Born on the 5th, this boy has one of the cutest names!
Kerri Russell
Kerri Russell welcomed her third child, Sam, on the 30th. Although third for her, it is her husband's first baby.
June
Ginnifer Goodwin
Ginnifer had her second baby with husband, Josh Dallas, on the 1st. Naming him Hugo, it's the second boy for the couple.
Emily Blunt
Emily Blunt and John Krasinski welcomed their second daughter in early June. Her exact birth date isn't public knowledge but we do know that her name is Violet.
Alanis Morissette
Morissette gave birth to a girl, Onyx, on the 23rd.
Audrina Patridge
Audrina and her Aussie husband had their first baby together on the 24th. A little girl by the very cute name, Kirra Max.
July
Nicky Hilton
Hotel heiress Nicky Hilton and husband James Rothschild welcomed a little girl, Lily Grace on the 8th.
Liv Tyler
This American beauty welcomed her third child, Lula Rose, on the 10th. She even travelled with her precious bundle when she was only 7-weeks-old.
A photo posted by Liv Tyler (@misslivalittle) on
August
Megan Fox
The TMNT actress welcomed her third lot of testosterone into the house on the 4th. Little Journey River was a BIG surprise after her and Brian Austin Green announced they had separated.
September
Blake Lively
Although we don't know the exact date, we do know that Blake Lively and Ryan Reynolds welcomed their second child, Ines, in September. Attempting to keep everything a secret, Ryan accidentally let the cat out of the bag about the gender of the baby, sending Blake a sweet apology after the fact.
October
Kerry Washington
Kerry welcomed her first child on the 5th, Caleb Kelechi.
Candice Swanepoel
Victoria's Secret supermodel Candice Swanepoel welcomed her first baby. Anaca was born on the 7th.
Olivia Wilde
Wilde and Jason Sudeikis welcomed Daisy Josephine on international day of the girl, aka the 11th. 
November
Blac Chyna
Blac and Rob Kardashian welcomed their first little bundle of delight on the 10th. With a super cute name, Dream Kardashian. 
Mila Kunis
Notoriously private couple Mila and Ashton were the first ones to announce both the gender AND name of their second baby, Dimitri, born on the 30th.
December
Mick Jagger
The 73-year-old rocker fathered his eighth child on the 8th. Jagger and 29-year-old ballerina girlfriend named their son Deveraux Octavian Basil Jagger. Probably the coolest name around. 
Jarryd Hayne
Although we don't know many details on the birth of his first child, we do know that Hayne is now the proud father of a little girl.
What an absolute baby boom! We wonder how many celebrity babies will be born in 2017!!
Still trying to find a good baby name, have a read of what's expected to be HOT next year.