I began having the Healthy Mummy smoothies on 4 September after thinking about giving your weight loss plans.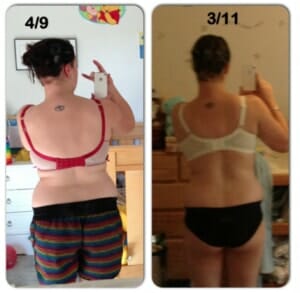 I gained a lot of pregnancy weight but decided enough was enough in my second pregnancy and stayed much healthier.
I didnt want to go on a diet as I new I had to change my lifestyle that would also benifit my children.
I downloaded the 28 day diet and exercise plan to begin with and I took many tips from the plan.
The Healthy Mummy smoothies are great so easy when we are home and busy with the kids, the website is a great resource when I am doing my weekly 'menu' planning.
We are also saving money because I write a dinner menu for the week and only buy according to what we need.
I don't own scales so im not sure how much I have lost in the last 2 months but you can just see the results

I feel great my confidence about myself is slowly coming back!
I no i still have a long way to go but I'm doing it at a rate I can control. I still allow myself 'normal' food I dont think of it as a diet, if I'm hungry I eat, I just eat better

thank you I look forward to updating you with my progress in the future!
Charmaine
(children Charlotte 2yo and Cohen 9m)
If you are ready to lose weight then The Healthy Mummy plans offer a healthy and safe exercise and diet routine that are safe if you are breastfeeding.
And don't forget to check out our current promotions and discounts page to see what specials we have on this week on our Healthy Mummy product range