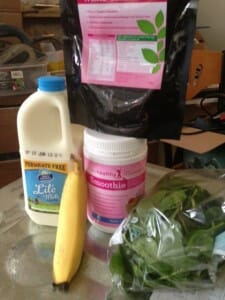 Oh yes, this is a great one to have.
Chia seeds are a brilliant source of omega 3 fatty acids which are great for our brains, eyes, immunity and overall health.  You can also purchase them from our site.
Combined with some tasty green baby spinach, this Healthy Mummy Smoothie will have you pumping through the day.
Ingredients
2 tbs of vanilla Healthy Mummy Smoothie mix
2 tbs of Healthy Mummy chia seeds
1 banana (could be frozen if you like)
1 handful of baby spinach (less tough then the full grown spinach)
200 ml of milk
Blitz it all together and breathe. A delicious and nutritious way to start the day.
Special Offer & 10% Discount
If you are ready to lose weight then The Healthy Mummy plans offer a healthy and safe exercise and diet routine that are safe if you are breastfeeding and you can use code LOYALTY for a 10% DISCOUNT at the checkout