How to turn one roast chicken into 5 healthy no-cook meals
If you've been reading Healthy Mummy blogs or taking part in the 28 Day Weight Loss Challenge for any stretch of time, you'll know about our #1 tip for weight loss.
Meal prep!
If you can take the guesswork out of what to eat for 5 of your meals for the week by having the ingredients all ready to roll in the fridge, that's one tick in the box for a day of healthy eating.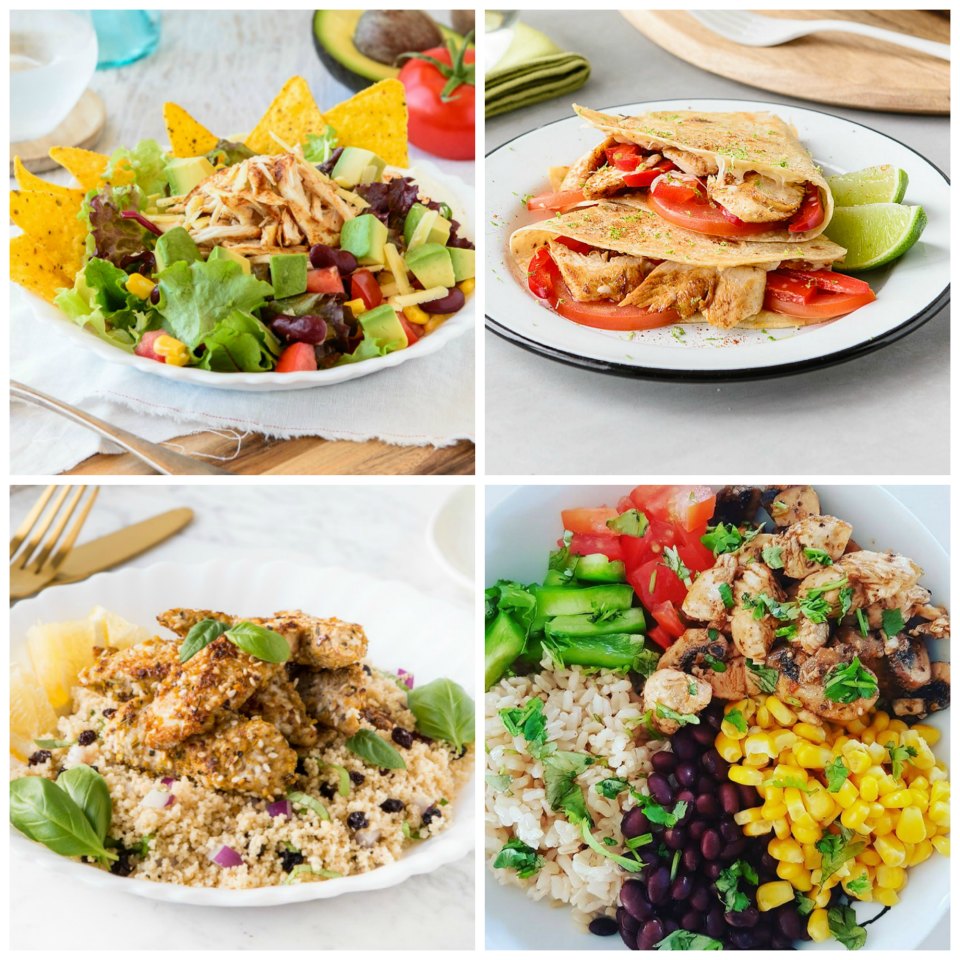 Today we have a great way to stretch your dollar further at the same time – by grabbing one cooked chicken from your local supermarket and making FIVE healthy single-serve meals. NONE of these require you to do any cooking on the stove or in the oven either, so that's another win.
Often you can get roast chickens on sale near closing time too, so keep your eyes peeled! Want to feed the family? Grab two chickens and bulk out the recipes to make enough for everyone. Want to cook your own chicken? Try this recipe.
At the supermarket, stock up on fresh produce like onion, carrots, tomatoes, cucumber, salad leaves, bok choy, bean sprouts, and capsicums. Grab a few tins of corn and legumes, plus some grains too (like wholemeal cous cous, quinoa or some brown rice). The grains are interchangeable in these recipes.
Once you've got your chicken home, shred it, taking all the meat off the bone and popping it into a container.
Cook a batch of your chosen grains and set aside. You'll need to use the chicken and grains within 3 days to keep within the safe guidelines for food storage. Chop your vegetables up and store them in a container in the fridge.
Making chicken stock
TIP: Make some chicken stock to use for other meals later in the week. Place the chicken carcass in a big stock pot, and throw in an unpeeled halved onion, an unpeeled chopped carrot, a teaspoon of peppercorns and some woody herbs such as rosemary or thyme. Top the pot up with cold water and bring to the boil, then turn down to simmer (ideally for 2-3 hours). You can also pop all of this in the slow cooker and let the stock simmer away for 8 hours or overnight.
Use the stock to make soup, laksa, butter chicken (or just search 'chicken stock' in the 28 Day Weight Loss Challenge recipe hub for lots of ideas).
5 no-cook recipes using roast chicken
Now it's time to give you the recipes that you can enjoy using your shredded chicken. All of these are flexible with ingredients, so make them to suit your tastes and what you have on hand.
1. Chicken Burrito Bowl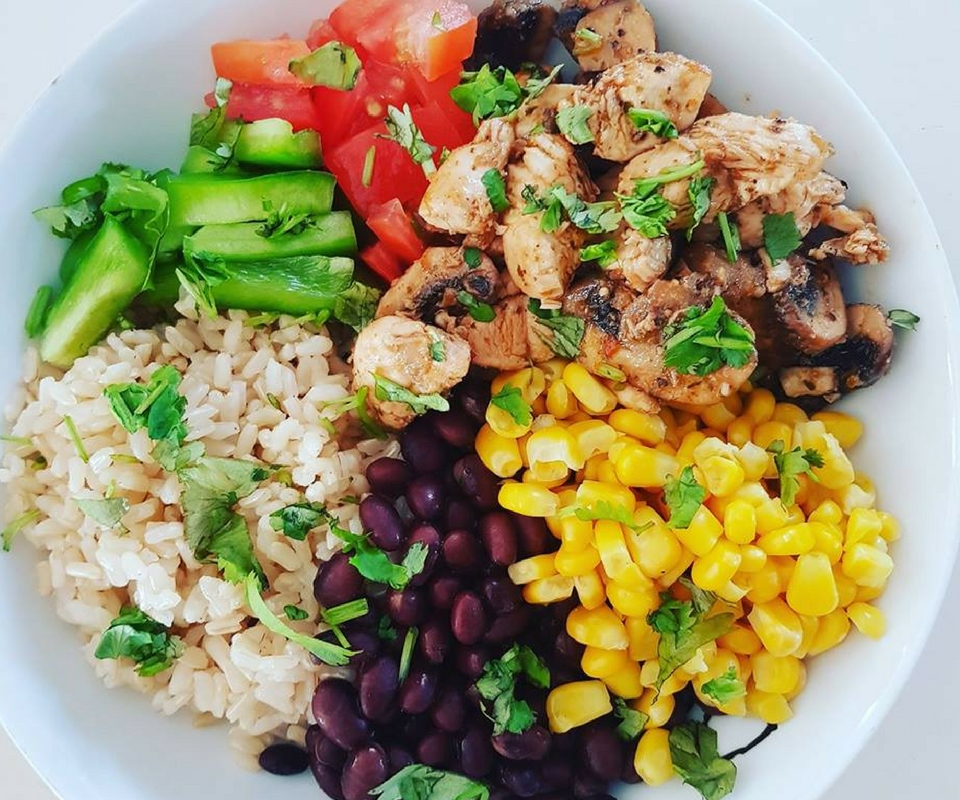 451 calories
You can leave the mushrooms out of this recipe so that you don't have to turn the stove on at all. Use any grain you like and fill your bowl with the colours of the rainbow.
2. Dukkah Chicken and Cous Cous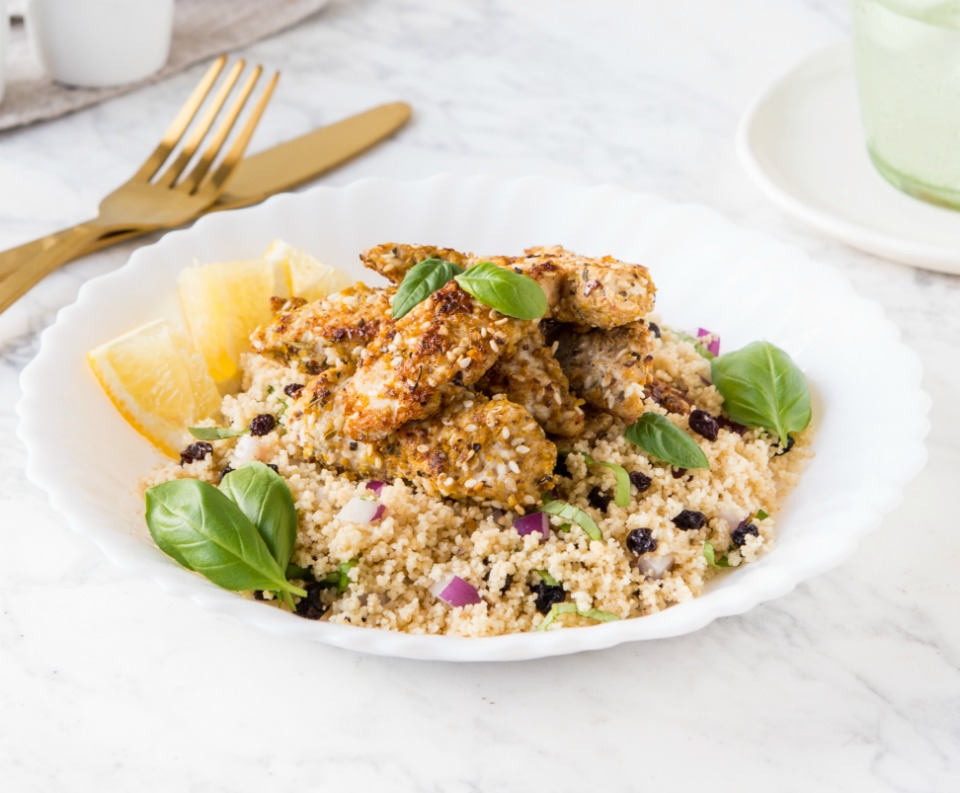 446 calories
Such a simple concept, but this 28 Day Weight Loss Challenge recipe is a winner as it makes the most of flavoursome dukkah to spice up the meal. The cous cous just needs to have hot water added, and it helps bulk up the meal and making it extra filling.
Find the recipe in the 28 Day Weight Loss Challenge recipe hub.
3. Chicken Rice Paper Rolls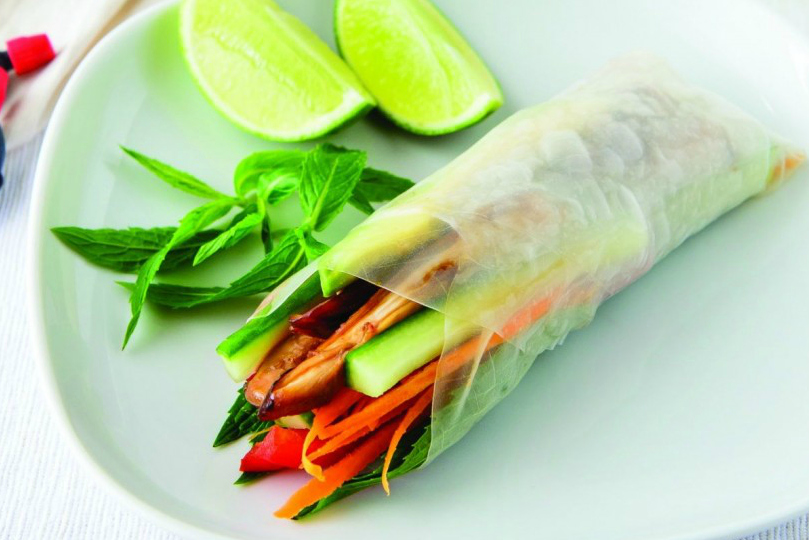 415 calories
If you don't want to bother cooking the noodles (save time!) just use some crisp bean sprouts instead. Use any veggies you like in this, the crispness of carrot and cucumber work well.
4. Chicken Taco Salad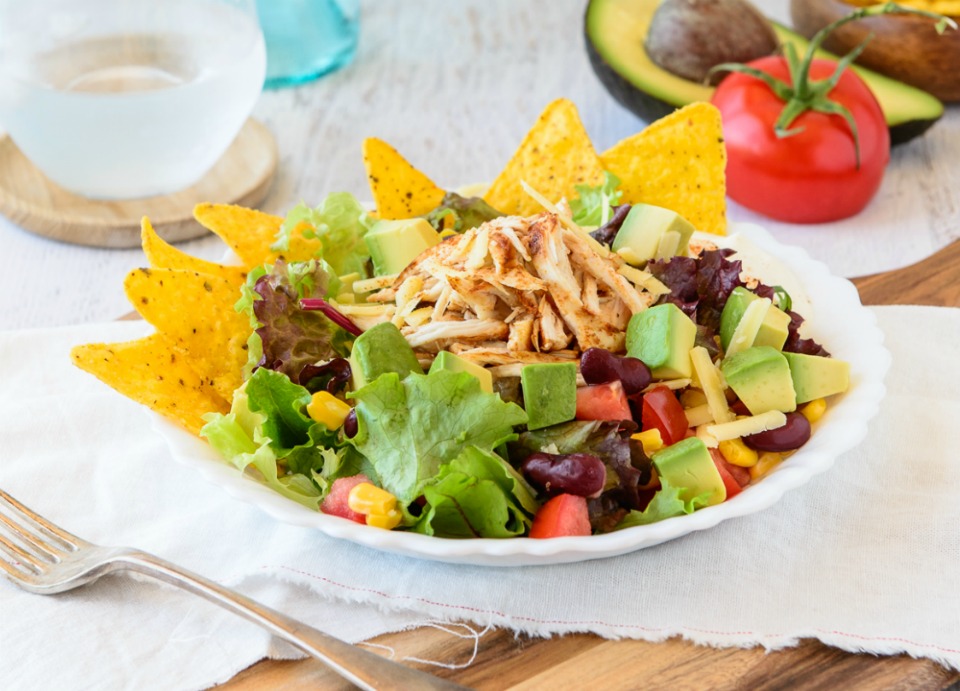 284 calories
Tacos aren't just for Tuesday! Enjoy this healthy take on a Mexican classic, with beans, tomato, cheese, avocado, corn and of course crispy corn chips. Grab the recipe from the 28 Day Weight Loss Challenge recipe hub.
5. Chicken Quesadillas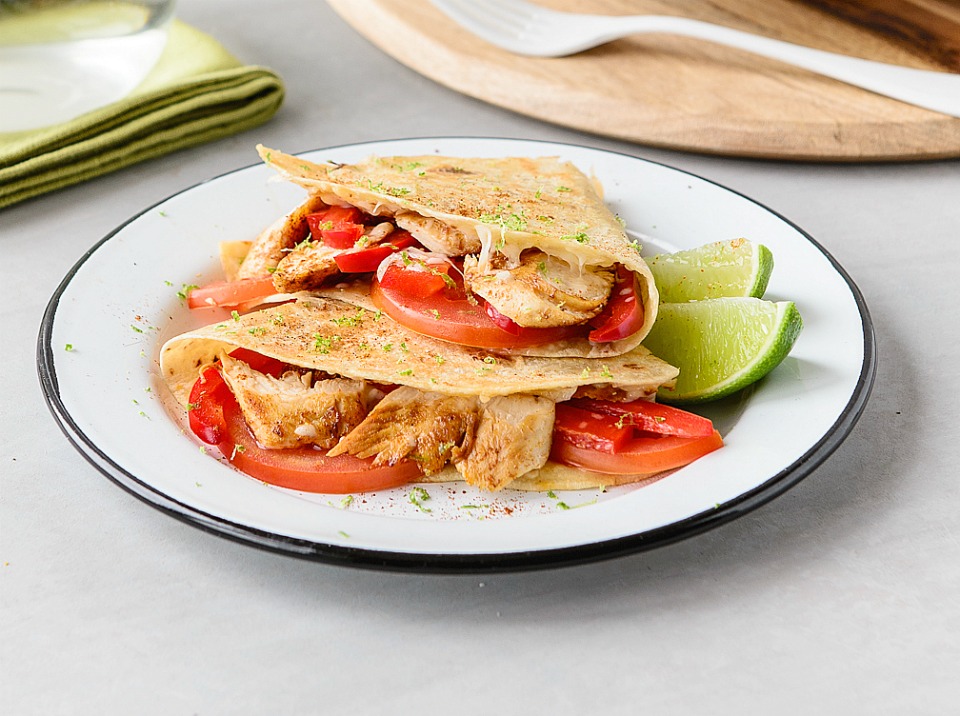 256 calories
These are so adaptable to what you have on hand in the fridge. A simple combo like chicken, cheese and tomato will fill a hungry belly (and the kids will enjoy this too).
See these Chicken Recipes That You Can Make In Under 30 Minutes
Are you ready to lose weight in a healthy way?
If you want to take charge of your own health and weight – then join our 28 Day Weight Loss Challenge TODAY.
With more than 4,000 delicious (and healthy) recipes, 350 exercises & 24/7 support – the 28 Day Weight Loss Challenge  is designed (and proven) to help busy mums like you lose weight!
To learn more about our challenge OR to join – click here.