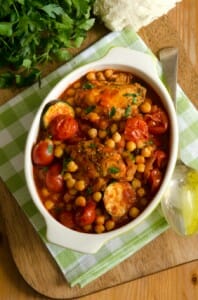 This dish is delicious and incredibly nutritious. It is low in fat, high in protein and fibre with the addition of the chickpeas.
A perfect warmer for every healthy eating plan this Autumn and Winter.
Prep time: 5 minutes
Cook time: 40 minutes
Serves 4
Ingredients
2 chicken breast cut in fillet size strips
1 onion diced
2 cloves of garlic crushed
1 can of drained and rinsed chickpeas
1 can of diced tomatoes
1 zucchini sliced
2 tbs of tomato paste
1 tbs of oil
2 tbs of sumerac spice
1 handful of diced parsley to serve
Directions
In a hot pan, pop in the oil and pan fry the garlic and onion until soft.
Add in the chicken, sprinkle the sumerac over the top and brown the outside of the chicken.
Place the chicken into an oven proof dish.
Cover the chicken in the diced tomatoes and stir through the tomato paste, chickpeas and sliced zucchini.
Bake in a 180 degree oven covered in al foil for 30 minutes.
Serve with some brown rice/cous cous and some broccoli.  For more chicken recipes try this delicious five-spice chicken recipe!
290 calories per serve (without rice and additional veggies)