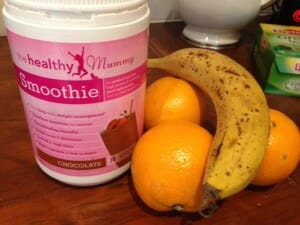 What, we at the Healthy Mummy are permitting you to eat/drink chocolate?! Yes!!!
And we've discovered that chocolate and orange really do go together.
Try this delicious, yet quite nutritious Healthy Mummy Smoothie combo today.
It is smooth from the banana, high in vitamin C and packed full of protein and fibre.
Nom nom nom!
What you need is:
2tbs of chocolate Healthy Mummy Smoothie mix
3 oranges to squeeze the juice (you could use bottled orange juice if you like).
1 banana (frozen for extra freshness)
Optional: 2 tbs of additional cocoa or raw cacao powder for extra chocolately flavour.
Blitz it together and voila. You might need to remind yourself that you are actually on a healthy eating plan or even weight loss diet with this smoothie.
If you are ready to lose weight then The Healthy Mummy plans offer a healthy and safe exercise and diet routine that are safe if you are breastfeeding and you can use code LOYALTY for a 10% DISCOUNT at the checkout