Chocolate Macadamia Squares
These healthy eating Chocolate Macadamia Squares taste a bit like a snowball cheesecakes. But there is a surprising key ingredient – macadamias!
Soaking the nuts helps to soften them, creating a creamy texture.
Naturally sweet, macadamia nuts contain high levels of fibre, healthy fats, calcium, iron and magnesium. Perfect for when you are running around after little ones, and trying to lose weight.
You can add texture by retaining a handful of macadamias to chop and stir through the mixture.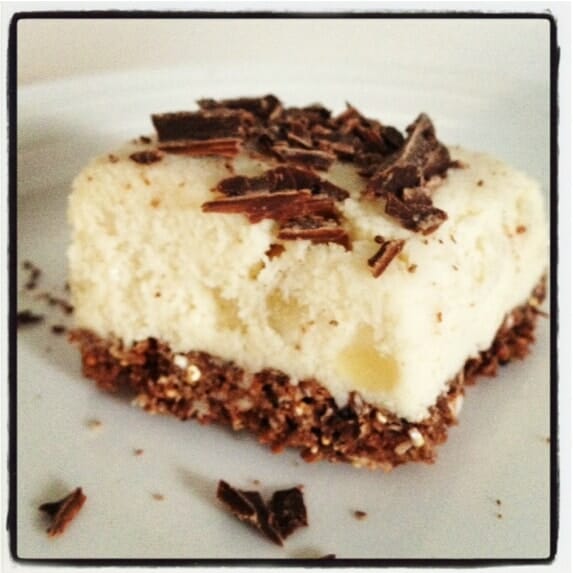 Ingredients
300g raw macadamias, soaked at least 4 hours
½ cup pure maple syrup
¼ cup milk
½ tsp pure vanilla extract
¼ cup Greek or Natural Yoghurt
3 ½ tbsp coconut flour
1 cup desiccated coconut
75g dark chocolate
1 tbsp coconut oil
Method
Line a 20 cm x 20 cm baking dish with baking paper.
Over a low heat, melt chocolate and coconut oil.
Stir in coconut and spread evenly in the base of baking dish.
Drain macadamias and add to a food processor with maple syrup, milk, vanilla and yoghurt.
Process until creamy (approx. 2 minutes)
Mix in coconut flour.
Spread over chocolate base.
Cut into 16 squares and refrigerate.
Serves 32
120 cal per serve
Need to stock up on Healthy Mummy Smoothies? Then see our shop here
And join our 28 Day Weight Loss Challenges here