Ahhh chocolate milk... what fond memories we all have of our parents giving it to us when we were growing up.
But as much as we'd love to also give this yummy drink to our kiddies all the time, we are now more aware of the high sugar content, artificial flavourings and fillers in the drink – especially cafe and commercial bought shakes.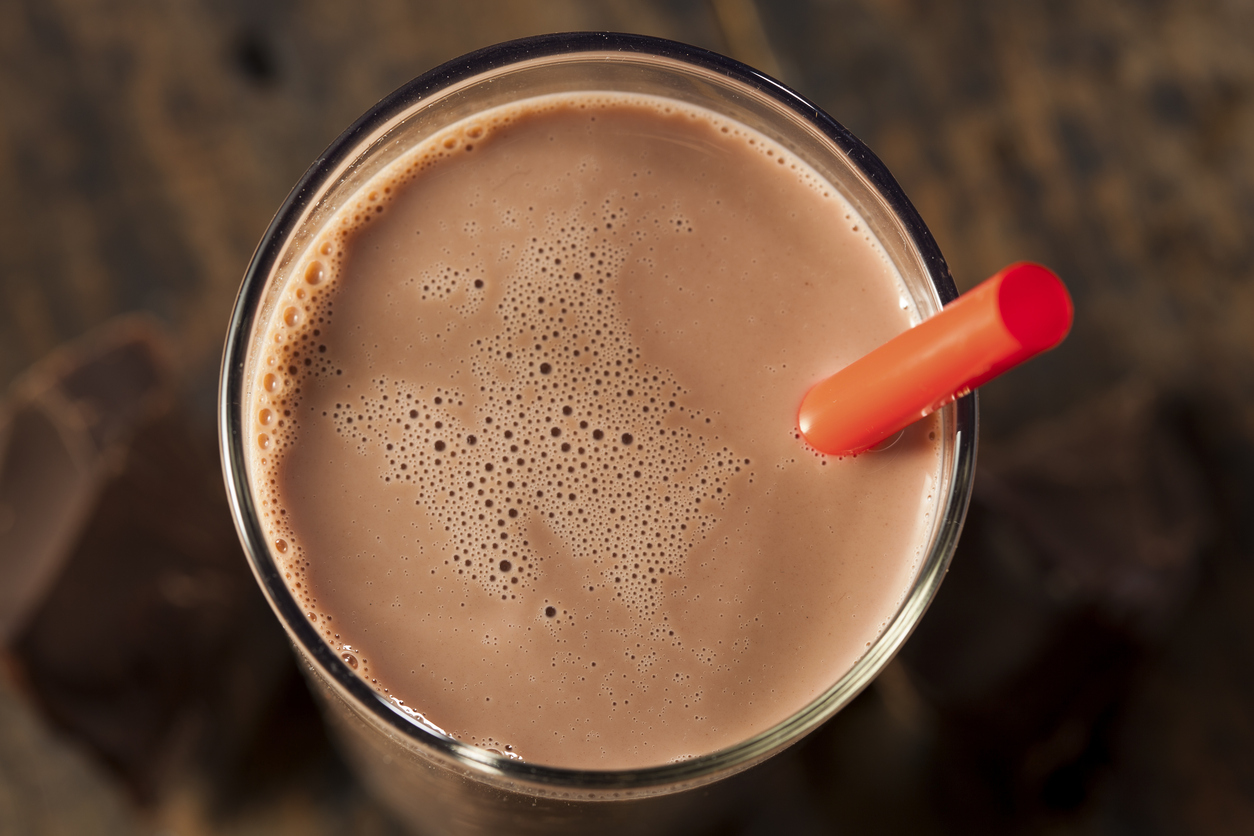 Sugary drinks can not only rot our children's teeth but they may also cause obesity, as well as other health risks including diabetes and heart disease.
NESQUICK Chocolate milk is made with cane sugar and has 8.8grams of sugar per serving. Which is 23 per cent of an individuals reccomeded daily sugar intake. There is also 23 grams of sugar in a 250ml bottle of chocolate Moove milk.
There is no doubt chocolate milk has had such a bad rap lately. Schools in United States have banned it along with strawberry flavoured milk – as have some schools and preschools in Australia.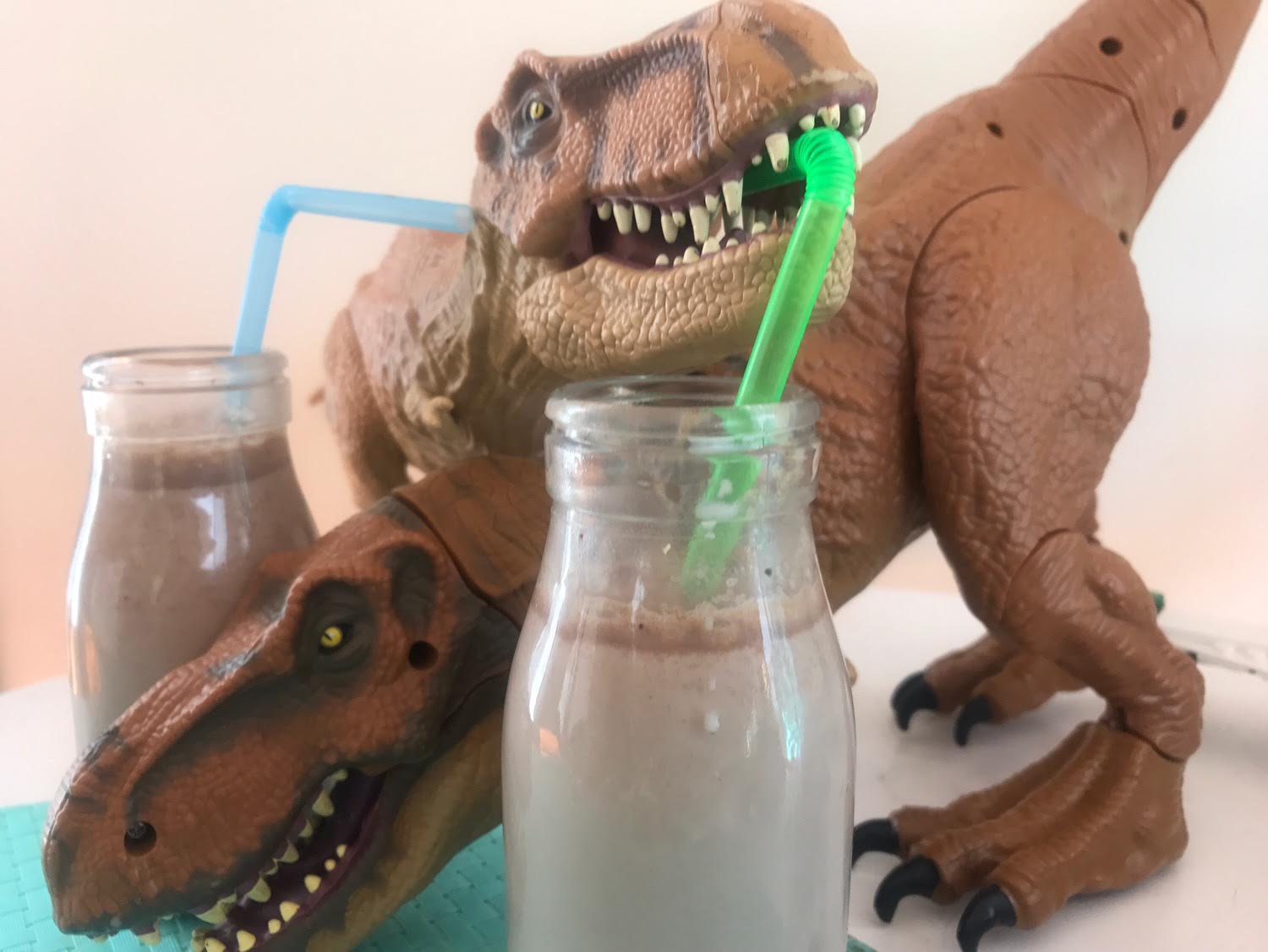 Dairy industry data reveals milk consumption in 58 schools dropped by an average of 35 percent when flavoured milk was removed or limited.
But is chocolate milk really all that bad?
However there are some BENEFITS of drinking chocolate milk, believe it or not.
Especially when homemade using cocoa powder and dark chocolate chunks, it can actually help encourage children to drink milk (and try other dairy products), which is a vital source of calcium and is essential for growing bones.
According to Nutrition Australia As one of the five food groups, dairy foods have an important role to play in a healthy diet. Dairy foods such as milk, cheese and yogurt contain at least 10 essential nutrients, including:
Protein
Carbohydrate
Vitamins (A, B12 and riboflavin)
Minerals (calcium, phosphorus, magnesium, potassium and zinc).
So, are children better off drinking chocolate milk than not having any milk?
Here at the Healthy Mummy, our philosophy is everything in moderation. Sure, a cafe or canteen bought chocolate milk here and there for your little isn't too bad. But, daily wouldn't a great thing either.
It's important we do our best to encourage our kiddies to try and eat food from a variety of foods from across the food groups, including vegetables, meats, grains and dairy.
However, if you were keen to find a healthier chocolate smoothie alternative for your kids – one that is high in calcium, free form artificial preservatives and colours and provides kids (and fussy eaters) with a nutritious milk drink – then we have the perfect solution for you!
The Healthy Kids Smoothie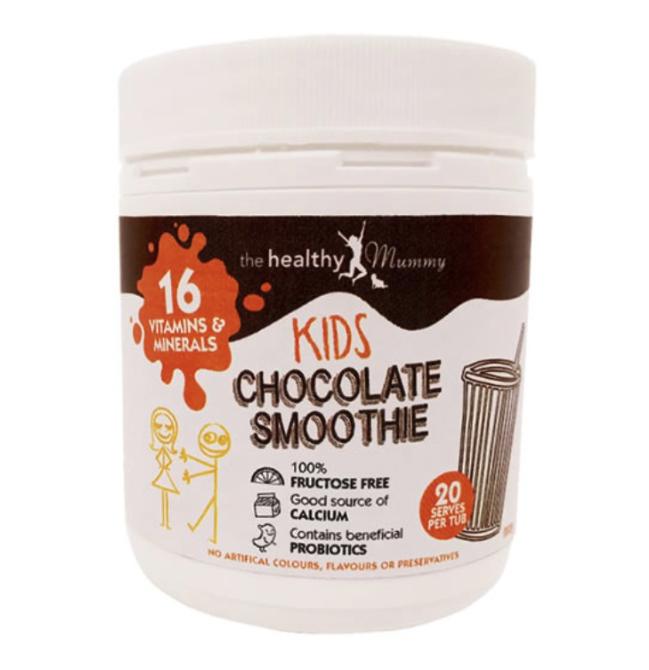 The good news is we've launched our Healthy Kids Smoothie! Hurrah!
The Healthy Kids Smoothie is jammed with nutrition and probiotics for kids and tastes DELISH- we have tested on over 100 FUSSY EATING kids and they all LOVED IT!!
Here are the answers to the most commonly asked questions about the smoothie:
Is it high in sugar?
It contains NO added sugar at all. The sugar content in The Healthy Kids Smoothie is from NATURAL sugars from the lactose in the milk and is FREE from added sugars. The WHO (World Health Organisation) recommend aiming for 5% added sugars in the diet and this product provides NO added sugar. They do not recommend reducing natural sugars found in food.
The sugar in the smoothies is entirely NATURAL – so treated very differently to added sugars that we all need to try and avoid – as it comes entirely from the dairy in the smoothies.
How is it different to Milo?
The difference with The Healthy Kids Smoothie and most commercially bought chocolate drinks is that THEY do contains lots of added sugar.
Other brands also do NOT contain the vitamins and minerals that we do.
For example – Milo has 9 vitamins and minerals and we have 16 vitamins and minerals. Milo also has added sugars and is 46% sugar – with a high proportion of this being added sugars – not lactose. Milo also does not have probiotics. Milo provides 170mg of calcium per 20g serve (without adding milk) and The Healthy Kids Smoothie provides 188mg of calcium per 10g serve (without adding milk).
Why do my kids need it?
We have created this range based on feedback from consumers wanting a healthy kids smoothie.
We have created a healthy version of the many of the kids chocolate drinks on the market. We have also created a kids smoothie with the RDI needs of a child – we have listed the RDI of a standard adult as well as a 1-3 year old on the label and hopefully this provides a good guide on the nutritional guide for your children.
We don't recommend children under age 1 drink it due to their differing nutritional requirements. There is no maximum age for use.
What nutritional benefit does it give kids?
The Healthy Mummy Kids Smoothie is rich in carbohydrates and protein and is a natural energy packed smoothie made for kids.

It contains 16 essential vitamins and minerals and when combined with milk, provides children with 50% of their Calcium RDI. 

It also contains probiotics needed for healthy guts and is free from fructose.
What are the ingredients?
Ingredients: Full Cream Milk Powder, Skim Milk powder, Organic Cocoa powder, Natural Flavours, Calcium carbonate, Magnesium phosphate, Natural sweetener (Thaumatin), Ferrous fumurate (Iron), Ascorbic acid (Vit C), d-alpha-tocopheryl acid succinate (Vit E), Zinc oxide, Nicotinamide (Vit B3), Vitamin A, Pyridoxine hydrochloride (Vit B6), Riboflavin (Vit B2), Thiamine hydrochloride (Vit B1), Folic acid,Potassium iodide, Cholecalciferol (Vit D), Cyanocobalamin (Vit B12). 
The Healthy Kids Cookbook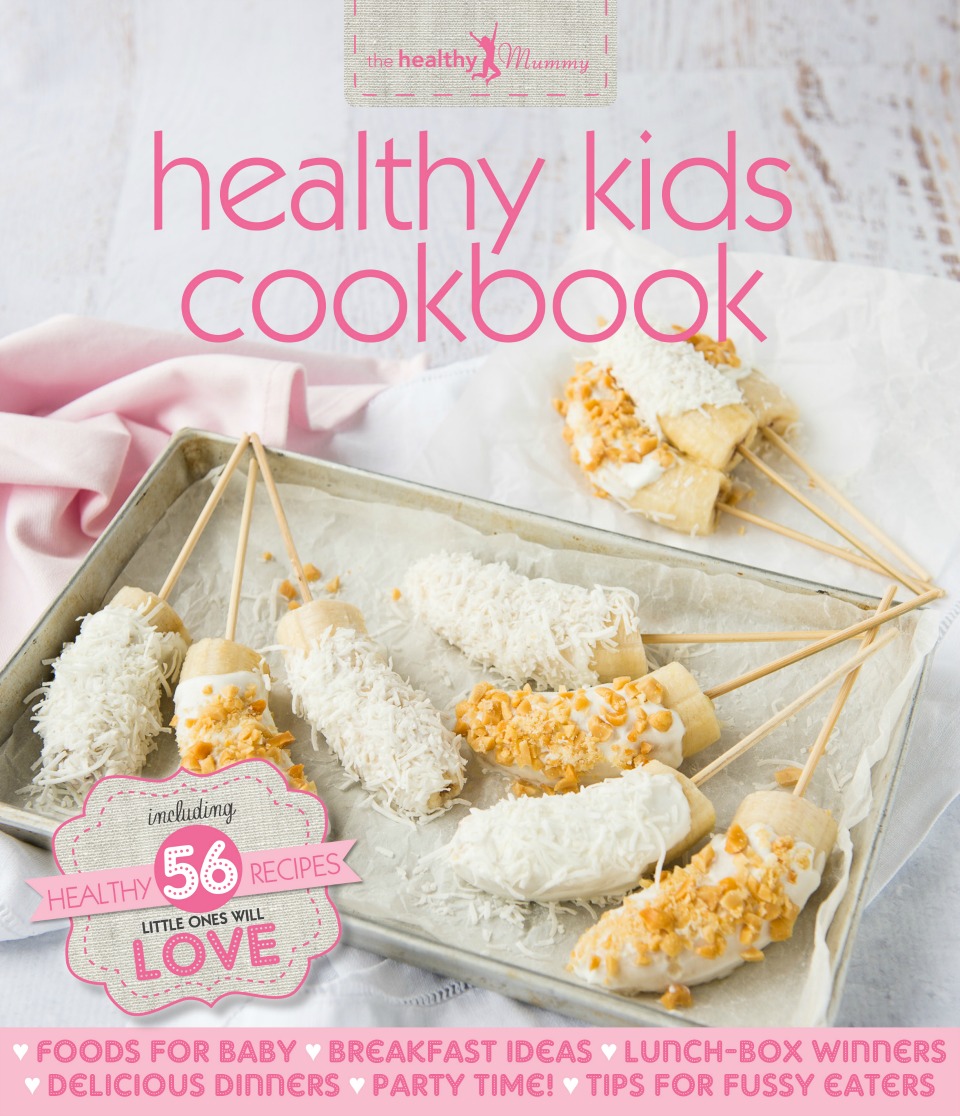 Our Healthy Kids Cookbook comes in a hard copy and an ebook and it's JAM-PACKED full of healthy recipes that even the fussiest eaters will LOVE!
To purchase yours, click here.