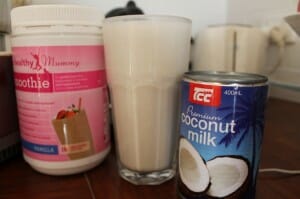 Everybody loves a traditional banana smoothie, but this banana smoothie comes with a fresh twist and a lot of flavour.
If you are nervous about using coconut milk, try using half coconut milk, half regular milk to start with. Or if you would like to add the coconut flavour you could try coconut water or even shredded coconut instead.
What you need is:
2 tbs of vanilla Healthy Mummy Smoothie mix
1 banana (frozen if you like)
A shake of cinnamon
200 ml of coconut milk
Blitz it and enjoy the creamy sweetness of the coconut. Delicious.
You could also freeze it off in chunks and re blend it for a dessert like icecream.
If you are ready to lose weight then The Healthy Mummy plans offer a healthy and safe exercise and diet routine that are safe if you are breastfeeding