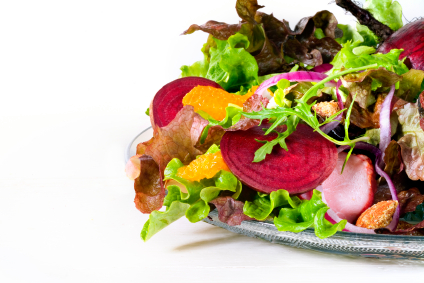 This salad is bursting with flavour and texture.
The combination of beetroot and orange is delightful and the crunch of the walnuts gives it hidden surprises throughout the meals.
This Crazy Colourful Salad is one which will make you feel great and it is also a great addition to a healthy eating plan.
Eat a rainbow they say, well you sure are here!
Prep time: 15 minutes
Serves 4
Ingredients
1 can of baby beetroots rinsed and drained
1 orange peeled and diced
½ red onion sliced finely
½ cup of walnuts crushed
2 cups of green lettuce or mixed salad
The juice of 1 orange
2 tbs of extra virgin olive oil
1 cup of cooked quinoa or brown rice
Salt and pepper to season
Directions
Cook your brown rice or quinoa and drain once done.
In a separate bowl, add you salad, dice up the red onion, beetroots and orange and mix together.
In a pan, lightly pan fry the walnuts and crush on top of the salad.
Serve on a bed of cooked rice or quinoa and drizzle with the orange juice and extra virgin olive oil.
380 calories per serve
If you are ready to lose weight then The Healthy Mummy plans offer a healthy and safe exercise and diet routine that are safe if you are breastfeeding