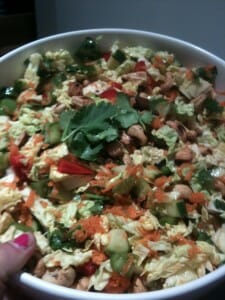 We had this salad last night and it was AMAZING. This is why I love getting into the warmer months. It makes healthy eating a little easier as you can feel satisfied with a delicious hearty salad.
This salad is great as it is scrummy with the Asian cues along with the delicious cashews. It is filling by itself, but also a great side to some fish or chicken.
Salad ingredients
½ white cabbage
2 carrots grated
1 continental cucumber
1 capsicum
1 spring onion
1 cup of cashews lightly pan fried and tossed
1 large handful of coriander
Dressing
2 tbs of fish sauce
½ lemon squeezed
1 tbs of oil (sesame oil if you have it)
1 tbs of sweet chilli sauce (I didn't add it because of the kids but it tastes delicious with it on)
Directions
Finely chop or dice all the salad ingredients and toss them together
Add you dressing and lightly toss
Pan fry your cashews dry and add them to the salad and VOILA!
I also think you could put in some rice noodles or even some crunchy noodles too. Ooooooieee!
We ate this with some BBQ chicken tenderloins marinated in some lemon juice, soy and sweet chill sauce. I can also imagine it going nicely with some lightly pan fried or oven roasted fish. Delicious.
You could also sub the cashews for some roasted peanuts too. Mmmmmmmm.