Crunchy Peanut Butter Delight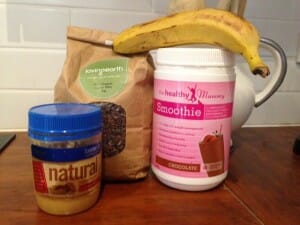 Oh yes, that is right.
Even on a weight loss diet or healthy eating plan you can enjoy these delights.
This superfood, peanut butter smoothie is actually great for 'that time of the month' as cacao nibs are a raw superfood which is full of magnesium and alleviates PMS symptoms.
When choosing a peanut butter or nut butter, choose one with no added salt or sugar to get the full benefits of this flavour-packed protein punch.
What you need:
2 tbs of chocolate Healthy Mummy Smoothie mix
1 large tbs of peanut/nut butter
1 banana (frozen if you like)
1 tbs of cacao nibs (you can use raw cacao powder if you like)
200ml of your choice of milk (a nut milk tastes great with this combination)
Blitz it together and if you are using cacao nibs don't be alarmed, they will not fully break down. Just a bit of added crunch.
If you are ready to lose weight then The Healthy Mummy plans offer a healthy and safe exercise and diet routine that are safe if you are breastfeeding